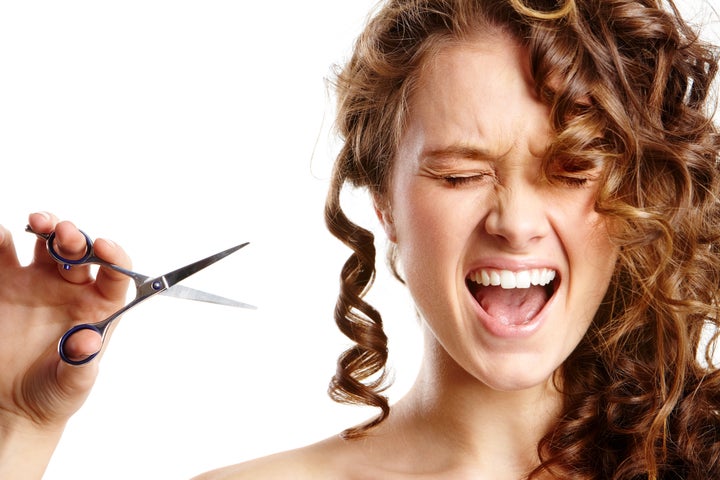 by Amber Gallegos, professional hairstylist for GalTime.com
Do you ever get bored with your look and think, "My stylist makes doing hair look easy. Maybe if I make a quick snip here, or go for a little color change there..." Believe it or not, even as a professional hairstylist I'm here to encourage you to experiment with your hair, that is, after you've set boundaries with your trusted stylist.
That said, allow me to offer a few general suggestions for at-home hair care and maintenance:
Bangs. I mean really, why do those pesky bangs seem to grow a million times faster than the rest of your hair? That's the first question I'm asking when I get to heaven. A lot of salons offer free bang trims so be sure to check on that. If your salon doesn't offer free bang trims or you've decided to tackle the task yourself, here are a few pointers:
Gather your bang section, making sure not to add additional hair.
Pull all of your bangs forward parallel to your part
Hold the hair between your fingers with one hand and point cut into your hair with very sharp scissors with the other.
Note: If you think you have messed up, do not keep cutting. Go see your stylist pronto!
Covering gray. If your hair needs to be touched up every four weeks, but your budget wants you to stretch it to eight weeks, you have a few options:
A partial color retouch from your stylist
A retouch by your stylists' assistant
A retouch at home. If you're going to attempt a color retouch at home, start by asking your stylist for your formula, not the teen working the counter at your local beauty supply store. After you've obtained your formula, purchase the color, gloves, color brush and bowl. Section your hair neatly and apply the color directly to your new growth. Try to avoid overlapping the color that is already on the hair shaft. Don't run the color through your ends -- leave that to the professionals. After all, your ends should not be looking dull after just four weeks.
At-home conditioning treatments. I personally love to use coconut oil in my hair as a deep conditioner. I take a tablespoon out of the jar, warm it up in my hands by rubbing them together, and apply the oil to my mid-lengths and ends. I recommend doing this between salon visits. When you go into your salon, check with your stylist about what conditioning treatments they offer. It's important to keep your hair hydrated and protected if you are using hot tools or have color-treated hair!
Blow-Out. My favorite place for a blow-out is The Dry Bar. However, if you're short on time and money, check out this YouTube video for inspiration and tutorials.
Don't hesitate to ask a professional for advice and tips; the worst they can say is no! Good luck and go play with some hair!
My name is Amber. I've been a hairstylist in Downtown McKinney for five years now. I am passionate about healthy, beautiful hair, and making sure you achieve what you are looking for! Feel free to connect with me on Facebook.
Popular in the Community