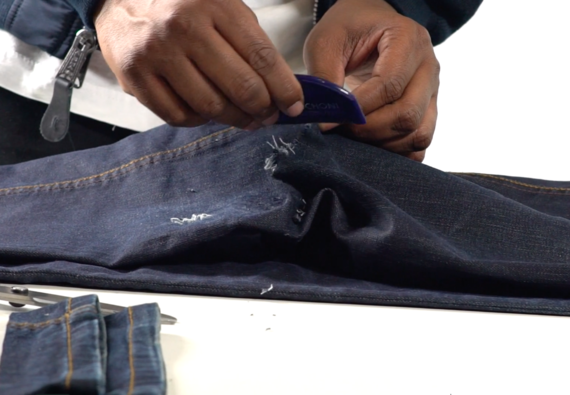 In the early 20th Century, it was the American workingman who originally wore denim. Its functional five-pocket and shuttle-loom construction made it an incredibly durable piece for the expectedly harsh conditions they would be working under. You could find denim jeans in the field, the factory, in the mines, pretty much anywhere hard labour was needed.
For the longest time afterwards, jeans were signifiers of the working class and its hard working values. To the growing subcultures in the 1950s and onwards, represented conformity. It slowly became something that represented rebellion and a free spirit.
Subcultures ranging from hippy, punk, to biker gangs appropriated jeans to fit the codes of their group. They did this by distressing them, adding patches, changing the rivets, or cutting them shorter. These personalization's helped to identify members of their group, the type of music they listened to, and more. The bigger message that they wanted to deliver was one of non-conformity to the mainstream culture that they felt misrepresented by or simply did not want to be a part of.
Today, distressed jeans are a common sight and you can purchase a pair already torn up in all sorts of variations. We find that buying them already ripped takes away the emotional and the personal connection that you'll develop over time. Distressing your own jeans can give you a newfound appreciation for an old pair that you don't really wear anymore. It will also be a cool story to tell people when they ask you where you got your ripped jeans!
Not only will it make you look stylish but you can also wear them with almost anything. You can smarten up your new ripped jeans with an oxford shirt or channel your inner James Dean with a leather jacket.
With that being said, we put together a short do-it-yourself video to show you guys how to give your jeans, favourite or old, some new life! Right now, we are cutting our jeans at the legs because we love cropped pants. If you are going to the same, we recommend that you start by measuring the length you wish to cut, and make sure that you are comfortable with it because you won't be able to take it back. If not, just start with the knees but don't cut all the way through, just enough to make it noticeable. This is because the tears will get bigger as you wear them and have a character of their own.
All you need are the following tools.
Fabric brush
Tailor's chalk
Box cutter
Scissors
Ruler
Watch the video to see how we personalize our denim: