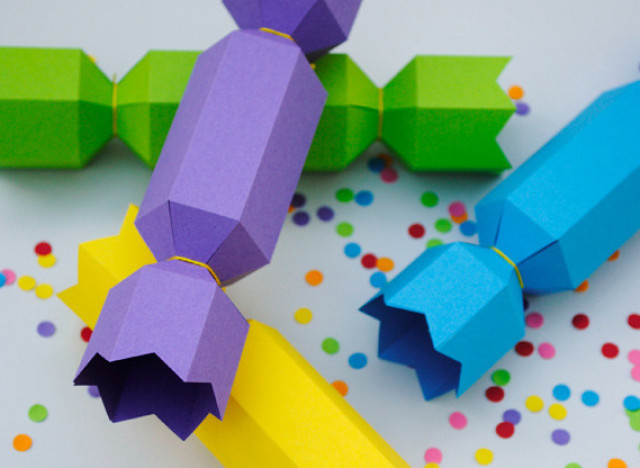 Photo by Kate Petty of MiniEco
In our households, crackers are a New Year's Eve tradition! But, instead of purchasing ones and being surprised by the often underwhelming present inside, make your own with this great DIY idea. Fill them with little gifts of your choosing, from candy to small trinkets, for a thoughtful New Year's surprise.
What You'll Need
Printer
Paper
String
Scissors
X-acto knife
Cracker bang (optional, easiest to get these by taking apart a leftover unused party cracker)
Double-stick tape
Template (available at MiniEco)
Candy/trinkets
How To Make Them
1. Print out the template and cut around it using scissors.
2. Use a X-acto knife to cut out the diamonds.
3. Fold along the vertical and horizontal lines. (If you are inserting a cracker bang, tape it into place now).
4. Fold the cracker into a tube, taping the ends together, and tie one end with string.
5. Insert candy or small trinket, and tie the other end with string.
6. Place them around the table for some dinner time excitement!