Old suitcases are great for holding your things -- in more ways than one! Blogger Korrie Bastian of Red Hen Home dressed up an empty wall in her entryway by turning vintage luggage into a sturdy set of unique shelves. Just large enough to hold a framed photo or flower vase, these clever suitcase wall shelves give off a fun, quirky vibe -- and they're functional too. Want to give this project a try? Just keep reading for the how-to.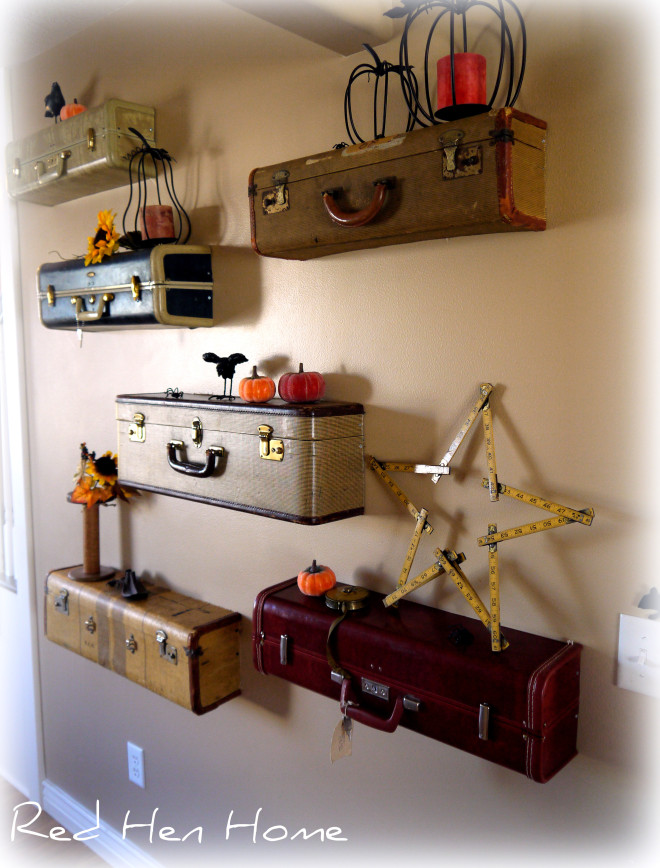 Photo by Korrie Bastian of Red Hen Home
For this project, you will need the following supplies:
Vintage suitcases
1 x 10 inch wood board
Screws that are 2 1/2 inches
Screws that are 3/4 inches
Level
Table saw
Jigsaw
Electric drill
Painter's tape
Scrap paper
First, wrap a piece of painter's tape around your suitcase about 6 inches in from the front and draw a line. Then, use your table saw to cut as far into the suitcase as it will go. To make this process easier, it's best to remove your suitcase's fabric lining before running it under the table saw. If your table saw isn't large enough to cut all the way through the suitcase, use your jigsaw to finish off the job. Next, measure your wood board to fit the cut-off back part of your suitcase. Decide where you want your shelves to fit on the wall, and tape up scrap paper to use as a visual guide for shelf placement.
Once you've found the perfect placement, mark the wall around each piece of scrap paper. Using the markings as a guide, take your drill and 2 1/2 inch screws and attach your wooden boards directly onto the wall. Use your level to make sure the boards are hung straight. To finish, fit your suitcases over each board and secure them with two 3/4 inch screws on each side. The end result? A unique vintage wall display perfect for holding all your knick knacks, photos and living room accessories.
Related