Chances are you probably have an old trophy or two collecting dust on a shelf somewhere. Why not put all that hardware to good use? In one of the more creative repurposing projects we've seen yet, blogger Cathe Holden of Just Something I Made used vintage trophies she bought at a garage sale to make these tiered cupcake stands. Painted a bright shade of pink, they're definitely a unique way to dress up the dessert table. Want to give this quirky project a try? You'll need an old trophy, two pie tins and some spray paint. Keep reading for the how-to.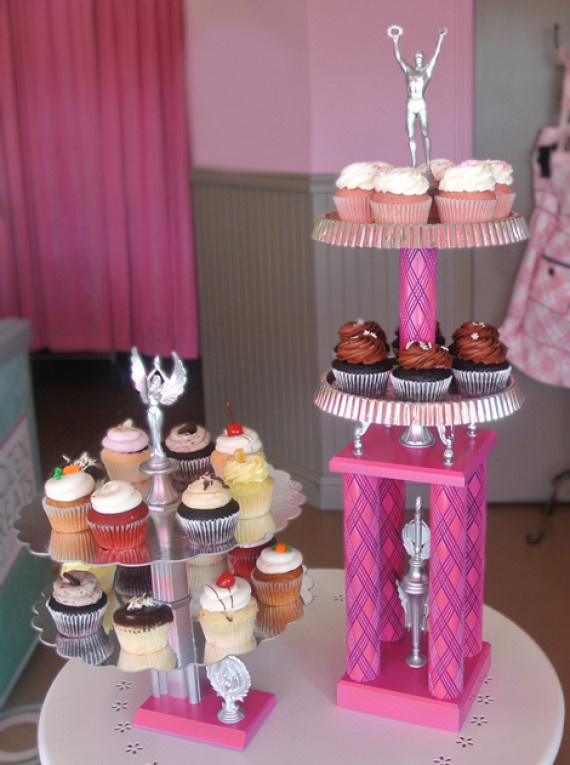 Photo by Cathe Holden of Just Something I Made
First, take apart your trophy. Unscrew the metal toppers and hardware and then spray paint them a shiny, metallic silver. To hold them up as you paint, try poking them into a piece of foam or cardboard. Next, paint the wooden base of your trophy whatever color you like. Prevent your paint from chipping by sealing over everything with a spray-on primer. When you are done painting, drill a hole through the center of each pie tin and then cut it until it is large enough to fit over where you want it to sit on the trophy. Once your pie tins are situated, reassemble your trophy by screwing the metal topper and other pieces back in place. For an extra sweet touch, add a paper doily to each pie tin by cutting a slit on one side and inserting it around the trophy post.
Popular in the Community