Cake stands can be a great way to serve food at a gathering. Not only are they elegant serving pieces, but a few of them grouped together on a table can make for a pretty focal point. But, cake stands in the marketplace can often be a bit pricey. So instead, we rounded up these two adorable stands that you can easily make on your own without breaking the bank. Keep reading for the simple how-to.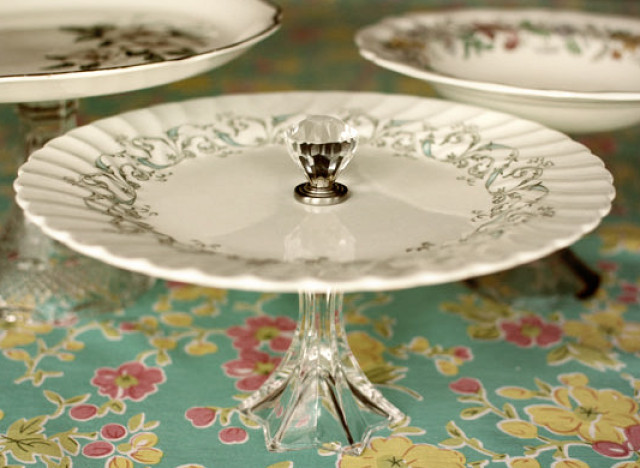 Photo by Christina Friedrichsen of Intimate Weddings
For this charming vintage-style cake stand, you can use one of your own plates or an inexpensive one that you may have found at an estate sale. First, turn the plate over and use a ruler to mark its center point. Using super or slow-drying epoxy glue, adhere a glass candlestick (or one made out of your desired material) to the center. Once dry, turn the stand over and glue on a crystal drawer knob for an elegant and luxurious finish. You can even go a step further and make a two-tier stand with a small bread plate. Just make sure the foundation is strong; fallen cupcakes would be such a shame!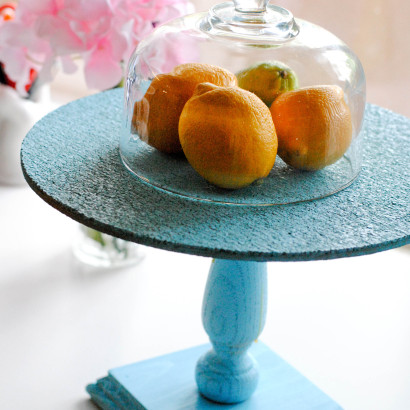 Photo by Kailani Andrade of Kailani's Korner

If something with a bit of flair is more your style, try your hand at this larger, bolder dessert display. To start, glue a short or pre-cut wooden leg to the center of a wooden base. After the wood glue dries and you're sure it's completely secure, affix a circular cardboard plate on the other side of the wooden leg with a nail -- and make sure everything is correctly centered. And finally, spray-paint a few coats of the color of your choice.
Popular in the Community