Whether you're trying to wrangle a meddling pet or keep an eye on your toddler who recently began crawling (and is now faster than lightning!), this Dutch door gate from Kelly Rae Roberts will do the trick in style. It's a charming alternative to standard safety gates. An added bonus? When the gate isn't needed, you can leave it in place because it isn't an eyesore, and will truly accent any room. Ready to create a gate that you won't mind seeing everyday? Keep reading for the how-to.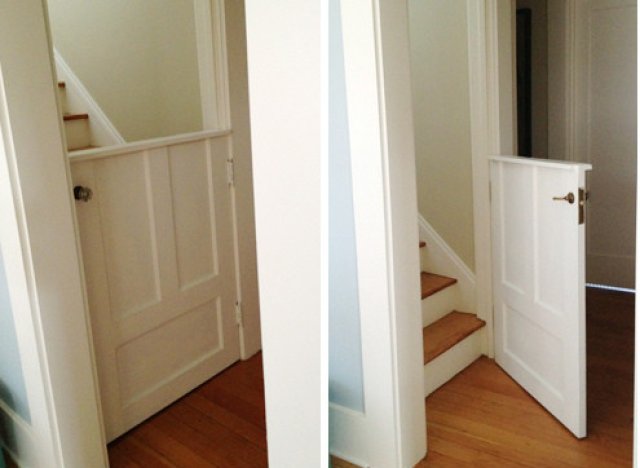 You'll Need:
One Full-Sized Door (makes two gates. Can be found at a garage sale or online)
Electric Saw
Knobs or latches (of your choice)
Stain or paint (of your choice)
4 hinges
2 pieces of pine board (same length as door's width)
Wood glue
Electric screwdriver
First, using an electric saw, cut the door in half. Next, using wood glue, attach the pieces of pine to the cut end of each of the halves, finishing off the top of each gate. After allowing it to dry, paint or stain each structure the color of your choice. Next, if you are installing the gate in a doorway, you can drill door knobs through the door. If this is the case, put the knobs on first, then secure the door to the wall with hinges using a screwdriver. Alternatively, you can use a latch of your choice. That's it, now you can rest-assured knowing your little one will be safe and your room still looks fantastic!