Forget the bouquet. This year, gift mom with a flower that'll last. This floral pillow cover features the rustic look of burlap but is actually made out of soft, comfortable linen -- perfect for Mom's couch or bed. Just take an old pillow cover or make a new one and add these romantic, easy-to-make flower petals. Keep reading for the how-to.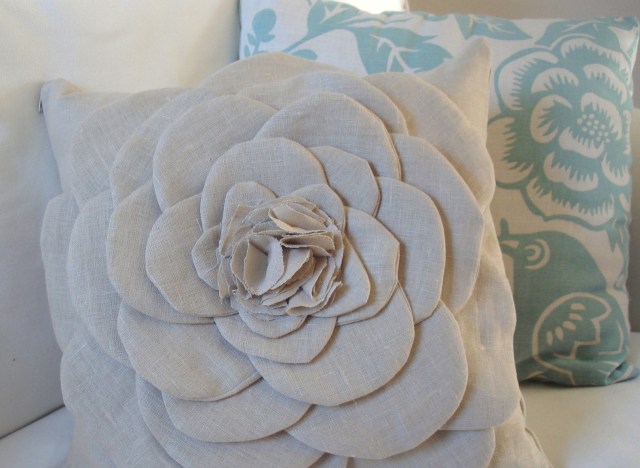 Photo by Linda of Burlap + Blue
The petals are easier to sew than they look. Simply cut a half-circle template out of card stock or cardboard. Then, place the template over two layers of fabric and cut. Attach the two layers together by sewing along the curve, leaving the straight edge open. Then, flip it inside out to hide the seam. Arrange a circle of petals on the pillow cover and stitch them down. Repeat the previous steps four or five times to create the petal layers, making the petal template smaller for each layer.
To make the flower's center, cut small circles of fabric. Next, fold them in half, and then in half again. Apply hot glue gun dots in between the folds so the petals remain closed but the edges are open (like a blooming rose). Repeat the previous steps. Take these smaller petals and layer them in a circle in the flower's center, like you did with the larger petals. Then, glue or stitch the center to the pillow cover. Finally, sew or zip up the cover on to the pillow. Voila!