With my family reunion coming up this Fourth of July (and coincidentally taking place in Washington, D.C.), I feel obligated to incorporate splashes of red, white and blue into my outfits. But I struggle with putting all the pieces together to avoid looking like an American flag. So, I've decided to keep it simple with a sleeveless cherry dress, curly hair and this star-spangled Fourth of July nail art idea.
Jane of the blog Nailside created an Independence Day-themed manicure that reminds me of Wonder Woman's costume. What's very impressive are the subtle changes, including ditching the white for silver and gold. And regular stationery tape was her trick to emulate fireworks. How savvy is that? Read on for the steps to get this look. Photos: Lynda Carter as Wonder Woman, Hulton Archive; China Glaze First Mate; Sephora by OPI High Maintenance; China Glaze Platinum; China Glaze 2030; Nailside's Fourth of July DIY nail art.
First, prep nails with a base coat and apply China Glaze First Mate (a deep blue). Then cut some triangles out of tape to make the zigzag pattern. You'll need two pieces for each layering color. Apply your first layer, Sephora by OPI High Maintenance (a rich red), with a thin coat. Carefully peel off the pieces of tape right away. Once dry, repeat with the second layer in China Glaze 2030 (a metallic gold), but now place the triangles a bit more towards the tip. For the picture-perfect stars, use a nail art stamp or pen. Long pieces of tape helped to create the stripes in red nail polish and China Glaze Millennium. The silver lacquer pop mores and prevent the design from looking like a candy cane. To finish, seal with a shiny topcoat.
Click through the slideshow below for more manicure inspiration.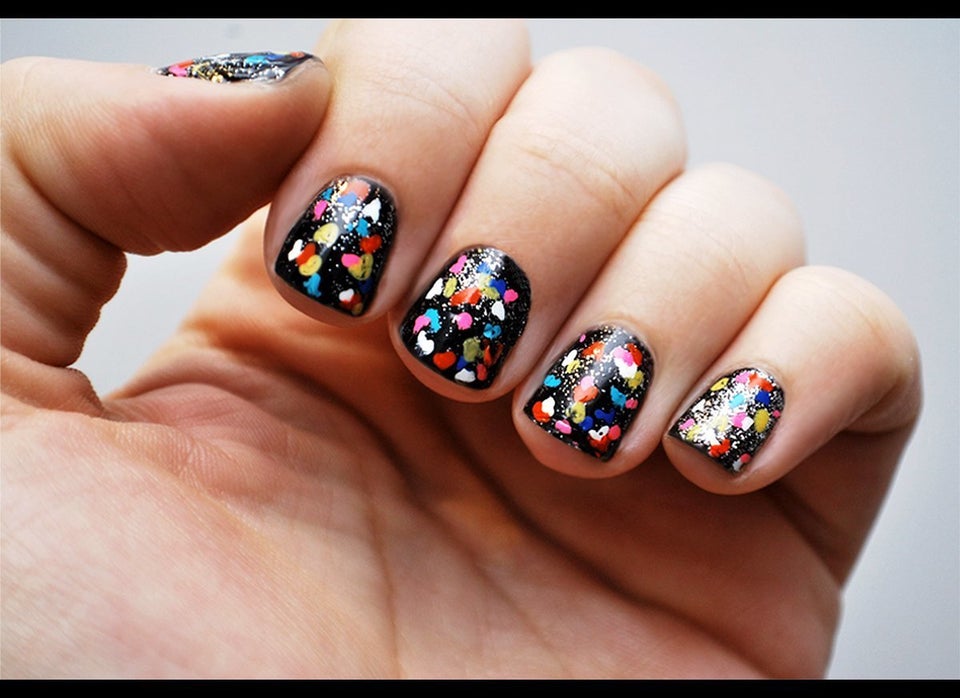 DIY Nail Art
Popular in the Community