As a few creative bloggers show us, creating a clutter-free home just takes looking at the items you can't get rid of (yet don't really use) in a whole new light.
Raising The Bar For Under-Sink Space
Whether they're in your bathroom or kitchen, those little cabinets under your faucet can be a cleaning-solution hideaway: products go in, multiply with every "As Seen on TV" commercial (or half-off sale) you see/encounter and before you know it, you open the doors to an avalanche of all-purpose, lemon-scented, stain-fighting, odor-absorbing potions. One easy way to avoid being buried alive -- and to maximize your storage space -- is to install a tension rod inside the cabinet. Yes, the very same kind you'd use to hang a curtain. You can let spray bottles hang from their triggers along the rod, freeing up the bottom of the cabinet for your scrub brushes, garbage bags and other supplies. Before buying the rod, measure your cabinet and opt for a slightly longer size, so the rod won't collapse under the weight of the bottles, recommends blogger Jennifer Morris of Jen Thousand Words.
The Wine Rack That's So Much More Than A Wine Rack
That vino holster is no one-trick organizer. Hang it in the bathroom and it can hold rolled-up towels, which you can see demonstrated on the décor blog Rustic Living. In a craft area, spare bedroom or closet, it can store rolls of wrapping paper, so you're armed and at-the-ready whenever a birthday or holiday comes your way. And, in a living room or bedroom, that old wine rack can tidily tuck away magazines and newspapers so they don't pile up.
The Trick That Keeps Earrings From Getting Lost
If jewelry boxes aren't your style -- or yours is filled to the brim with items you don't want to pare down -- there are three simple alternatives that are probably hiding out in the back of one of your kitchen cupboards. As the Frugal Girls show us, an old ice cube tray's compartments are just the right size for rings, pairs of earrings and dainty necklaces, and it can easily tuck inside a dresser or nightstand drawer. Ditto for your grandmother's decorative egg tray, though ceramic styles may be pretty enough to show off on a side table (see the Sew Many Ways blog for a great example). The third option, for those who don't mind having their jewelry on display, is to hang a clean baking cooling rack on the wall. The small grids are perfect for hooking on earrings or clasping necklaces and bracelets.)
An Old Candle's Second Act
Lidded glass-jar candles can beautify your home long after the scent has faded. In this Snapguide tutorial, author J. Angel offers a photo-by-photo guide to carefully removing the leftover wax, peeling off the label and turning the container into a sleek storage jar. (Spoiler alert: You'll need a freezer, butter knife, baby oil and paper towels to get the job done, but it's surprisingly easy to do.) The jar is just the right size to store cotton balls, Q-tips and other essentials.
One Outdoorsy Bookshelf Alternative
Leftover white-vinyl rain gutters from your last home-renovation project can serve a new purpose -- and this one doesn't require you to periodically scrape leaves out of them. With the help of a saw, a level, some screws and end caps -- which close off the ends of the gutter -- you can create rows of floating shelves. They're perfect for displaying books and art: just mount/secure the gutters against the wall, and the lip will keep the items from sliding or falling down. Plus, creating two 5-foot-long shelves only costs $18, says Selene Galindo, who offers a full how-to on her blog, Restoration Beauty.
The Organizing Wonder That Works In Any Room
Sure, you can use this to hold your magazines, folders and loose papers, but a spare magazine file can also be a clutter-buster in the kitchen or bathroom. At PBJstories, blogger and owner Pamela Stephens uses hers to store canned vegetables, and on Pinterest, users recommend placing the file long-side-down to organize boxes of wax paper, aluminum foil and plastic wrap. In the bathroom, however, the file takes on a surprising new life: Tara Suel of the blog Home {Sweet} Home attached Velcro hanging strips to one side and mounted it to the inside of her cabinet door, where it's used to corral hair dryers, curling irons and other beauty gadgets. Suel suggests using a wooden file, which can be painted to match your interiors. (No matter which kind you use though, make sure your straightening irons and other items have cooled to room temperature before stowing them.)
Earlier on HuffPost OWN: 8 Organizing Strategies From Professional Purgers
Related
Before You Go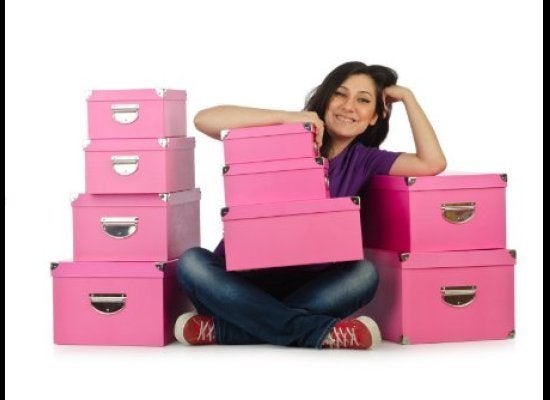 8 Organizing Strategies From Professional Purgers