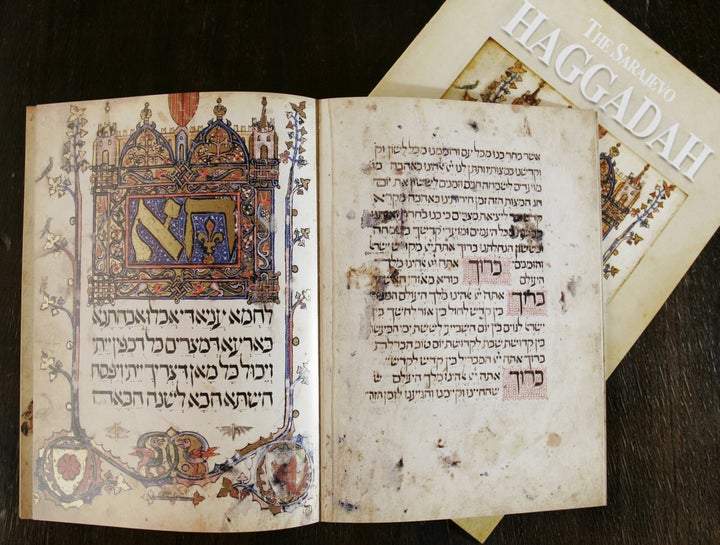 By Nicole Neroulias
Religion News Service
(RNS) As newlyweds, Cokie and Steve Roberts wanted to host a Passover seder that could be enjoyed by her devout Catholic family, his secular Jewish clan, and friends from a range of backgrounds.
Faced with limited options for interfaith families during those early years of married life, their professional instincts as writers kicked in: they read what was available and edited together their own haggadah, the ritual prayers, stories and songs that chronicle the Jewish Exodus story.

More than 40 seders later, the couple's fine-tuned labor of love, Our Haggadah: Uniting Traditions for Interfaith Families, has joined thousands of versions now in circulation, with alternative themes and design features ranging from gay-friendly to eco-conscious.

For this Passover, which starts sundown April 18, a growing number of families have opted for their own do-it-yourself route, aided by websites like Haggadot.com and Behrman House's Custom Family Haggadah.

"How terrific that families who want to create their own haggadahs, complete with family pictures, have the opportunity to do so fairly easily," said Cokie Roberts, a news analyst for NPR and ABC News. "It's a far cry from the day when I struggled with the Smith-Corona
(typewriter) and mimeograph machine!"

It's now common for American Jewish families to combine several Haggadahs, shorten the readings or add modern twists to the text, explained Vanessa L. Ochs, a religion professor at the University of Virginia who's working on a biography of the haggadah.

There's no one definitive haggadah, although the free booklet distributed by Maxwell House since the 1930s is perhaps the best known. Major deviations started to spread in the 1970s with the rise of feminist and civil rights versions, aided by the availability of self-publishing technology, Ochs said.

The gradual acceptance of intermarried couples like the Robertses -- now estimated to comprise about half the U.S. Jewish community -- also fueled a desire for more accessible texts, with less Hebrew and more contemporary themes.

"This was an American phenomenon," Ochs said. "You no longer had to rely on a scholar or a rabbi to get your access to sacred text, and people wanted their Passover experiences to be relevant to their own life and politics and sense of social justice."

Interfaith families, especially, want a haggadah that "will be welcoming to the 'stranger' in their midst -- the 'strangers' who are now their son-in-law, daughter-in-law, maybe their grandchildren," Ochs said.

Some observant Jews still frown upon alternative and do-it-yourself haggadahs, but Ochs said a seder remains legitimate as long as it communicates the Passover story and retains the core traditional elements: asking the four questions, drinking the four cups of wine, eating the symbolic foods, welcoming the Prophet Elijah and sharing the afikoman, a blessed piece of matzo.

Even the traditional Passover observance has evolved over time, Ochs added, noting that Jews no longer sacrifice a lamb at the Temple as their ancestors did. What's more, Judaism's Ashkenazi and Sephardic branches developed different dietary restrictions and seder staples for the weeklong observance.

"The seder is something you can do in your own home, in your own style, in your own way," said Steve Roberts, who teaches at George Washington University. "We just added things to make ours more understandable and less intimidating."

At Haggadot.com, a free venture that collects non-copyrighted texts and artwork, Jews of all backgrounds can pool their knowledge and create a personalized haggadah that reflects their specific religious, philosophical, linguistic and political preferences.

"Jews were quite literally cutting and pasting texts," said Eileen Levinson, the Los Angeles-based artist behind the project. "Now they can more easily fashion their own (haggadahs), easily updating it and inviting new and stimulating story-telling, which is, after all, the entire purpose of the haggadah."

One Haggadot.com user, Matthue Roth, said he grew up in an Orthodox home using the Maxwell House Haggadah, and has since read from hundreds of versions. This year, he would like to create one haggadah that combines his favorite rituals, commentaries and illustrations.

"I might end up with 20 haggadahs worth of material," he said, laughing.

Behrman House, a Jewish publishing company, began selling a Custom Family Haggadah last year, enabling users to upload photos and information from their family history to create a gender-neutral, predominantly-English text, for a 45-minute seder that children and non-Jewish guests can enjoy.

"It's as much a family album as a haggadah," said Vicki Weber, a company spokeswoman, who said the original author had his son pose as different examples of the 10 plagues. "Some have said they want to make one each year as their family grows. Also, kids like to see themselves in it -- it helps engage them in the seder."

The Roberts' haggadah is relatively close to the traditional text, except the substitution of "four children" for "four sons," a minimal use of Hebrew, and the additional references to non-Jewish freedom fighters like Nelson Mandela, Martin Luther King Jr., Mohandas Gandhi and Sojourner Truth.

This year, they may also discuss the parallels between the ancient Hebrew struggle against oppression and the recent protests in Cairo's Tahrir Square against deposed Egyptian President Hosni Mubarak.

And even though their haggadah is now available in hardcover to the masses, the Roberts family will still pull out the stacks of photocopies to pass around their crowded seder tables.

"Our regulars are deeply devoted to the wine-stained, stapled-together version, with all of the splotches," Steve Roberts said. "There would be an outcry if that changed."
REAL LIFE. REAL NEWS. REAL VOICES.
Help us tell more of the stories that matter from voices that too often remain unheard.