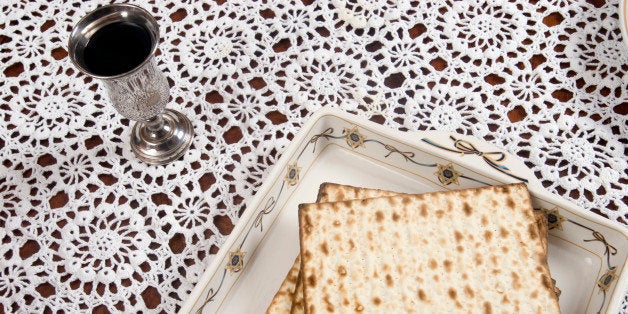 Ella Fainaru was a college student at Columbia University, separated from her family in Tel Aviv, Israel, when she realized how much she missed celebrating the Jewish holidays.
She missed the traditions, the songs, the food and all that went along with the occasions. Now 26 and studying for a master's degree in economic development, also at Columbia, Fainaru has teamed up with friends to host their second "do it yourself" Passover seder to maintain the traditions they grew up with -- and create some of their own.
"You don't really feel holidays while you're abroad," Fainaru told The Huffington Post. "It would be weird to have all the holidays go by without knowing they're going by."
Fainaru is expecting about 30 friends to come to this year's seder, which will take place at her New York apartment on Friday, the first day of Passover. If her previous seder was any indication, this year's will be lively and festive as guests read from the Haggadah and enjoy a potluck dinner off of makeshift tables.
"Everybody's drinking and singing, and it's just like tons of friends having a good time," Fainaru said.
Rabbi Kelilah Miller, the Jewish student adviser at Swarthmore College, said young people need to stop thinking they need an immense knowledge of Judaism in order to host their own seder.
"It requires a certain level of Jewish empowerment and less knowledge," Miller, 33, said. "People think you need a huge amount of knowledge to do a DIY seder, but I think the real bar to get over in terms of getting folks to do their own seders is really just a sense of ownership and empowerment of their own tradition."
Many synagogues and Jewish organization offer Passover seders and other holiday celebrations for young adults who may be in college or working in new cities and missing their families' traditions. NEXT, a division of Birthright Israel Foundation, offers monetary assistance -- $10 per person for up to 15 guests -- and tips to Birthright alums who want to host their own seders.
Miller said that many Passover seders are inherently "DIY" because people are constantly reinventing the holiday to suit their own needs. The rabbi said she prefers her seders to have a thematic topic to guide the conversation throughout.
"It's not just the discrete acts themselves but the structure that allows you to pause and make meaning out of your own experience," she said. "Sometimes that's more traditional and sometimes it's less traditional."
For Fainaru, the theme of the evening will be innovation. From the tables to the meal, her seder will be a group effort. "We're kind of make-shifting everything," she said.
Here are five steps to hosting your own DIY seder:
Print And Bind Your Own Haggadot
The Haggadah (Haggadot plural) is a Jewish text read and sung throughout the Passover meal that tells the story of the Jewish liberation from slavery in Egypt as described in the Book of Exodus. There are many different versions of it to suit almost any cultural and spiritual preference. Find one you like and print out copies to bind and distribute to your guests for the meal. After the seder, they get to take it home as a party favor!
Make Your Own Seder Plate
The seder plate is at the center of the Passover table, with different compartments designated for different foods, each rich with religious significance. There are many ways to makeshift your own DIY seder plate if you don't own one. Find a style you like and get creative.
Forget About Buying New Tables
Fainaru doesn't have enough tables in her apartment to accommodate all her guests, so she and her roommate are buying wood planks and using cushions to make low, homemade tables. Follow their example and visit your local hardware store for some inexpensive lumber, or forgo the tables altogether and lay blankets and cushions on the floor to make a picnic out of it.
In addition to the seder plate with its bitter herbs and shank bone, the Passover table is typically covered with a feast guests enjoy over the course of the evening. Instead of taking on the responsibility to cook the entire meal, ask your guests to each bring a dish and beverage to share.
Tell Your Guests To Bring Instruments
No holiday would be complete without songs. Singing is common during and after the seder meal, and people raised with Jewish customs will likely know the melodies by heart, Fainaru said. Invite your guests to bring instruments and be ready to sing late into the night.
REAL LIFE. REAL NEWS. REAL VOICES.
Help us tell more of the stories that matter from voices that too often remain unheard.
BEFORE YOU GO
PHOTO GALLERY
Passover Haggadahs