If you are out of options for dinner reservations this Valentine's Day, or just prefer to create a romantic dinner for two at home…I've got a few great recipes for you.
While dinner is in the oven, mix up one of these great cocktails to get the evening started: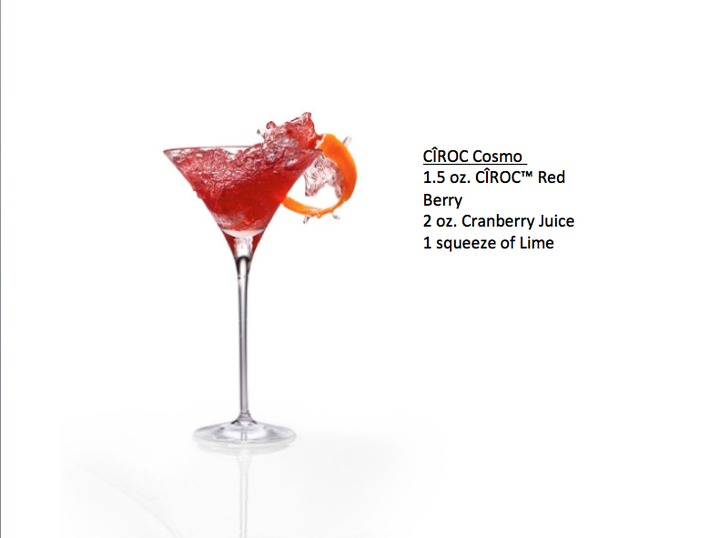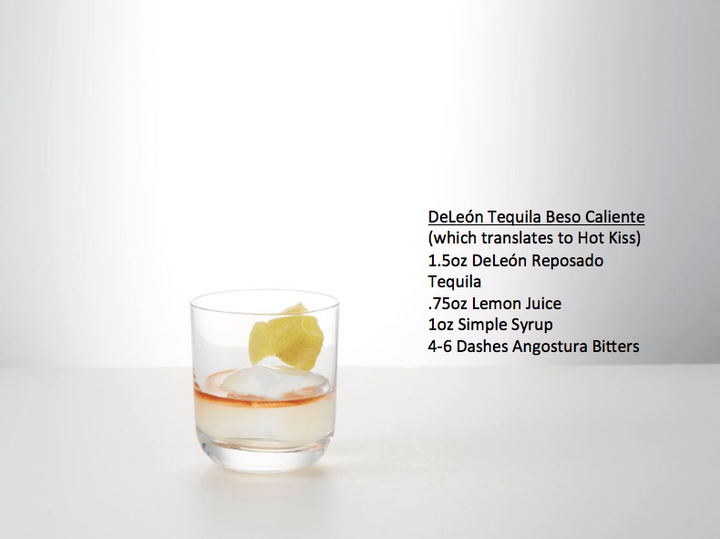 Whether you're ready to be the next contestant on Chopped, or a fledgling in the kitchen, here are a few Main Course selections you are sure to love!
NEW YORK STRIP STEAK W/ MASHED POTATOES, GREEN BEANS AMANDINE - Courtesy of Hello Fresh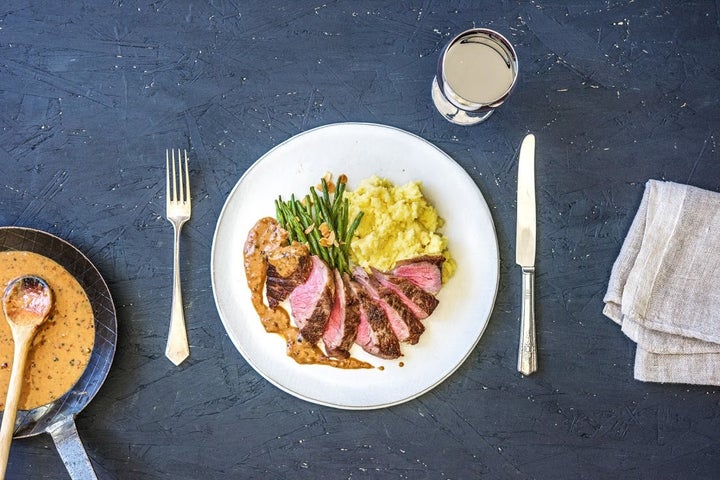 2 Tsp oil 1 Tsp Olive oil
2 Tbsp Butter 16 oz Yukon Gold Potatoes
6 oz Green Beans ½ Tsp Tri-Color Peppercorns
1 oz Sliced Almonds 10 oz New York Strip Steak
1 Tbsp Beef Demi-Glace 4 Tbsp Sour Cream
Sabatino Tartufi Truffle Zest
BOIL POTATOES Wash and dry all produce. Preheat oven to 425 degrees. Peel potatoes, then cut into ½-inch cubes. Place in a medium pot with a pinch of salt and enough water to cover by 1 inch. Bring to a boil and cook until fork tender, about 15 minutes. Drain and return potatoes to empty pot.
PREP AND ROAST GREEN BEANS Meanwhile, trim any tough ends from green beans. Use a mallet or heavy pan to crush peppercorns in their bag until coarsely ground. Pick parsley leaves from stems and discard stems. Finely chop leaves. Peel and chop shallot. Toss green beans, almonds, a drizzle of olive oil, and a pinch of salt and pepper on a baking sheet. Roast in oven until tender, 12-15 minutes.
COOK STEAK Heat a drizzle of oil in a large pan over medium-high heat. Pat steak dry with a paper towel and season all over with salt and pepper. Add to pan and cook to desired doneness, 3-6 minutes per side. Remove from pan and set aside to rest. TIP: Loosely cover steak with aluminum foil to keep it warm.
MAKE SAUCE Reduce heat to medium-low and add a drizzle of oil to pan. Add shallot and cook until softened, 1-2 minutes, tossing. Stir in ¼ tsp crushed peppercorns (more or less to taste), demi-glace, and ½ cup water. Bring to a boil, then lower heat and simmer until reduced, 2-3 minutes. Remove from heat. Stir in 1 TBSP butter and half the sour cream until butter is melted. Season with salt and pepper.
MASH POTATOES When potatoes are done, add 1 TBSP butter, remaining sour cream, and ½ tsp Sabatino Tartufi® Truffle Zest (more or less to taste) to pot. Mash with a fork or potato masher until smooth. Season to taste with salt and pepper. TIP: Add a splash of milk to make potatoes extra creamy.
FINISH AND PLATE Thinly slice steak against the grain. Divide mashed potatoes, green beans, and steak between plates. Drizzle sauce over steak and potatoes. Garnish with parsley.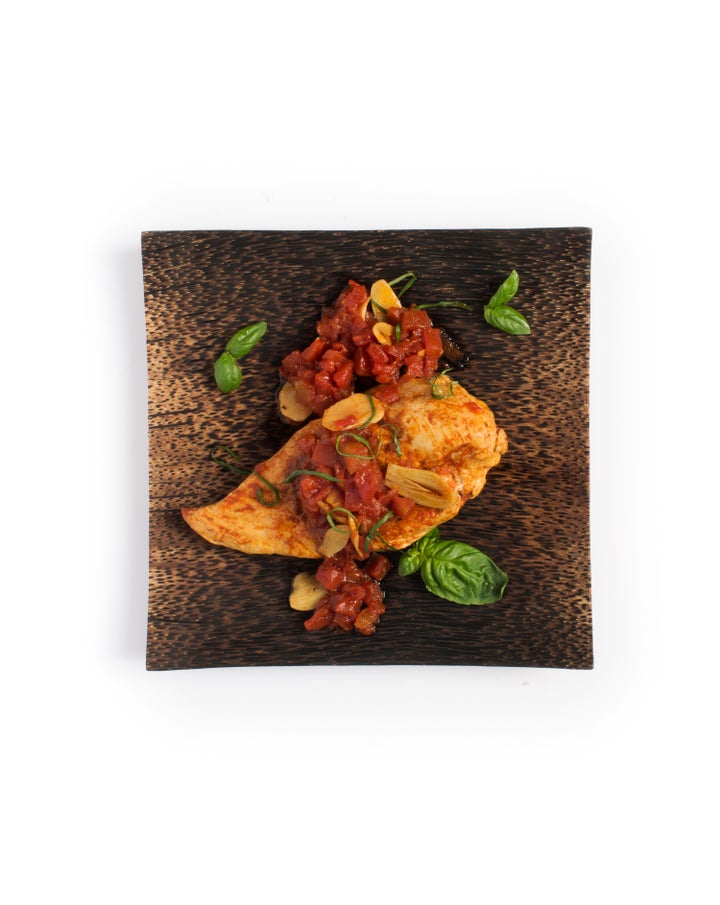 Chicken Breasts - 4. Paprika - ½ tbsp
Olive Oil - 2 oz Garlic, Sliced Thin - 8 cloves
Diced Tomatoes - 14-16 oz Fresh Basil ½ cup
On the induction top heat a sauté on setting 8. (or medium for stovetop) . Season the chicken with salt, pepper, and paprika. Add the oil. Sear the chicken quickly on both sides to brown being careful not to cook the meat through. Remove and return the pieces to the refrigerator.
Add the garlic and briefly sauté to brown slightly. Add the tomatoes and sauté for 2-3 minutes. Combine with the chicken and cool.
Place into a 1 quart vac snap bag. Hang the bag off of the side of a counter to keep the liquid to the bottom of bag when removing air. Cook for 1 hour.
Serve immediately with polenta (bonus: you can refrigerate and then freeze the leftovers! )
Something sweet for your sweet? Check out these great dessert options!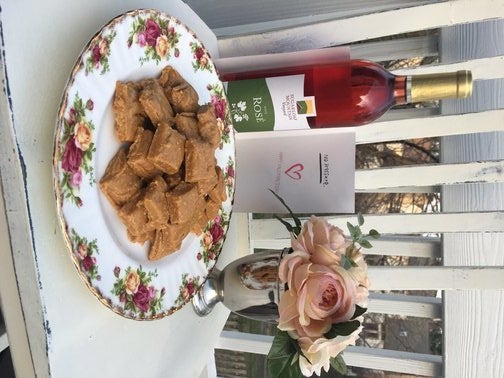 2 Tbsp butter, melted. ¼ cup honey
½ cup fresh grind peanut butter
2 Tbsp butter 1 cup fresh grind cashew butter
1. Mix all of the filling ingredients in a bowl.
2. Line a baking sheet with parchment paper.
3. Spread the mixture ¼ inch thick onto the parchment paper.
1. Boil the honey in a medium sized pot on low to medium for about 6-8 minutes. The honey should boil as vigorously as possible without boiling over. Stir the honey as it boils.
2. Turn off the heat and keep the pot on the burner.
3. Add the butter and cashew butter to the honey and mix all together.
1. Pour the toffee coating over the filling until it is completely covered. It will be thick.
When the candy starts to set, slice it into pieces and then place the pieces into the refrigerator until they harden.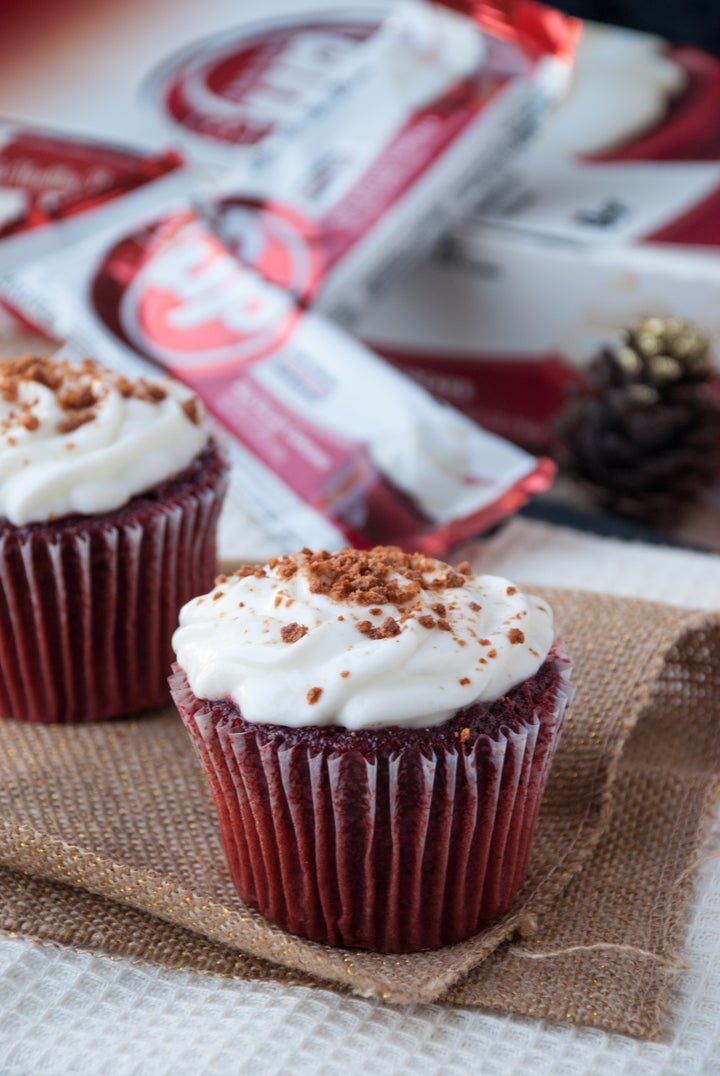 1 tbsp. coconut flour 32g vanilla protein powder
1 tbsp. cocoa powder 2 tbsp. beet root powder or red food coloring
1/4 c plus 2 tbsp. unsweetened almond milk 1 tbsp. unsweetened applesauce
1 tsp. vanilla extract 1 tsp. baking powder
3/4 c greek yogurt 16g vanilla protein powder
Pre-heat oven to 350F and prepare a cupcake pan with 4 liners.
Bake Red Velvet Cupcake B-Up bar for 7 minutes. Let cool. Place the bar into a food processor or blender until finely ground.
In a large bowl, mix together the almond flour, coconut flour, ground Red Velvet Cupcake B-Up bar, baking powder, protein, beet root powder and cocoa powder. Whisk in remaining ingredients until smooth. Pour an even amount of batter into cupcake liners. Bake for 14-17 minutes and let cool.
Once cooled, stir together your frosting ingredients and place the frosting into a piping bag.
Decorate cupcakes and top with ground bar pieces. Enjoy!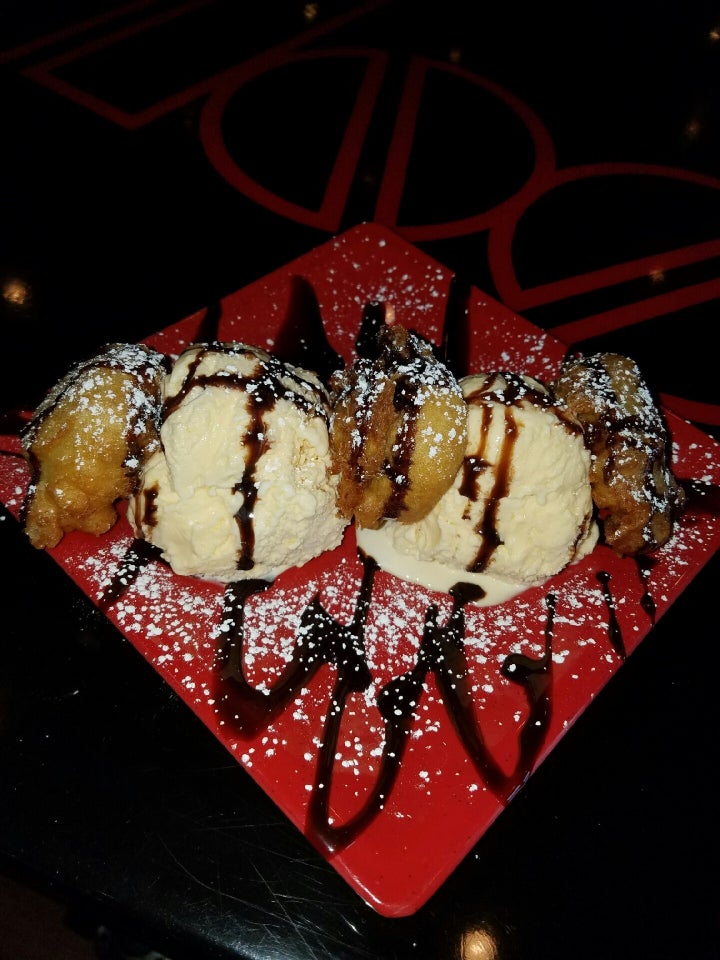 1 cup Liquid Eggs or equivalent amount in raw eggs. 2 1/2 cups water
3 cups all purpose flour 2 tablespoons baking powder
Beat eggs in mixing bowl. Combine all ingredients in mixing bowl. Mix together using a whisk.
Allow to sit at room temperature for 30 min for baking powder to react and batter to thicken up
3 Oreos Dipped in Batter and Fried for 30 Seconds on each side in 350 degree fryer oil. Place gently into oil and dredge it. Don't drop into oil!
Place 2 scoops ice cream in center with 1 Oreo on each side and 1 on top of ice cream for height. Drizzle chocolate on top liberally. Top with powdered sugar. Serve with a spoon.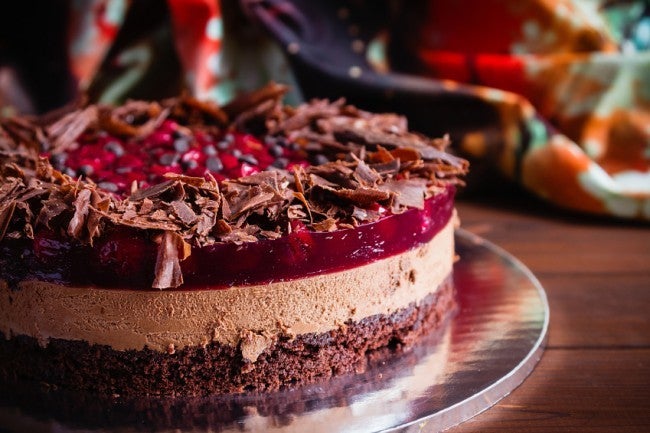 1 cup cacao butter. 4 Tbps. cacao powder
4 Tbps. maple syrup ½ cup Vitacost peanut butter
1 Tbsp. extra virgin coconut oil
14 oz Vitacost peanut butter 14 oz organic jam
In a small pan over low heat, melt cacao butter. Transfer to a mixing box and combine with cacao powder, maple syrup, ½ cup peanut butter and coconut oil. Mix until fully combined.
With extra coconut oil, grease a baking pan or pie plate or line with non-stick paper. Pour half the cacao mixture into plate and smooth top. Set aside other half for the top.
Place pie plate in the freezer to harden, about 15 minutes.
Once crust is set, remove plate from freezer. Layer peanut butter filling on top of the chocolate layer and then top with a layer of jam. Pour remaining half of cacao mixture over the top. Set plate in fridge for a couple of hours before serving.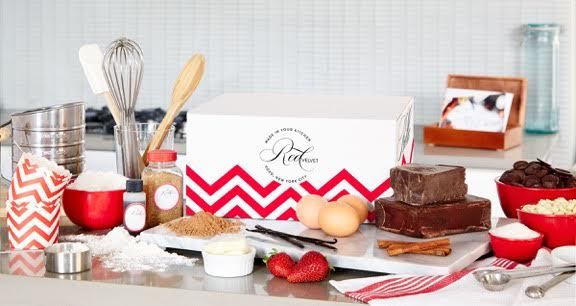 Perhaps you're having dinner as his place and want to bring the dessert. The amazing folks as Red Velvet NYC take the hassle of shopping for ingredients off your plate by delivering recipes and ALL the ingredients right to your doorstop. Just visit their website (www.redvelvetnyc.com) - choose the dessert you want to make and purchase!
If you're not a baker, I've got a tip for an amazing after dinner treat!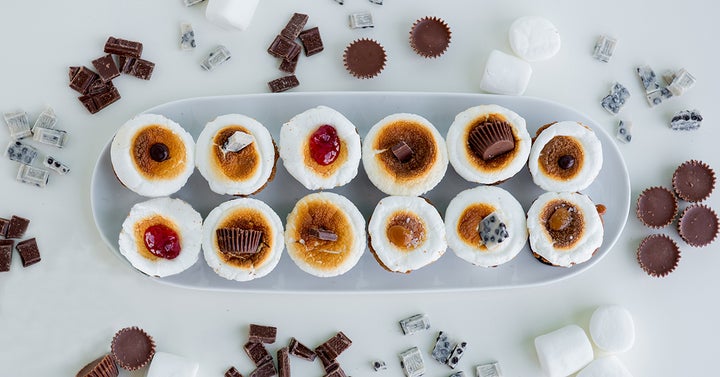 You know it's one of your favorite childhood desserts. Who can turn down a s'more? And these are gourmet! Bite size goodness with a little extra on top.
Nationwide delivery for Valentine's Day, or just because…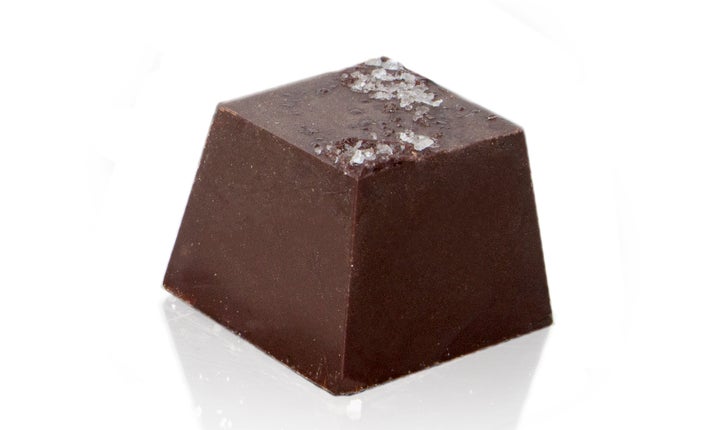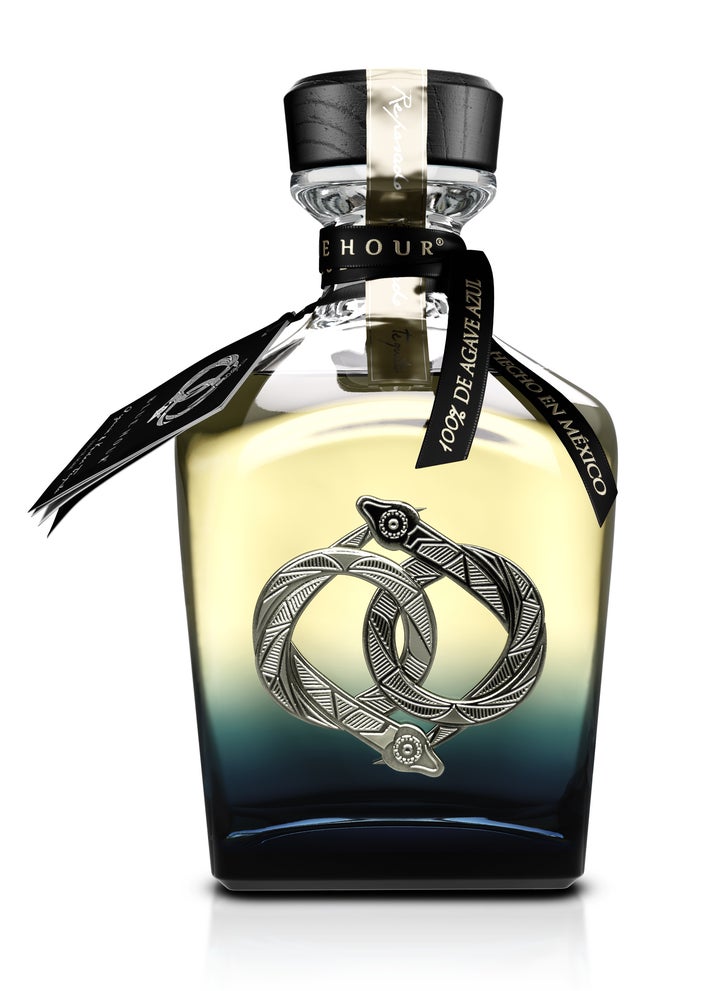 AFTER DINNER DRINK – PAIRING
Did you know chocolate goes with tequila? Neither did I, but the great folks at Blue Hour Tequila have enlightened me.
The citrus notes found in this premium tequila perfectly match and enhance the orange notes in the chocolate.
The tequila opens the palate and allows you to enjoy the creaminess of the ganache at the center of this rich dark chocolate. Slight smokiness and caramel notes combined with the barrel-aging of the tequila add another dimension to the taste.
Related
Popular in the Community