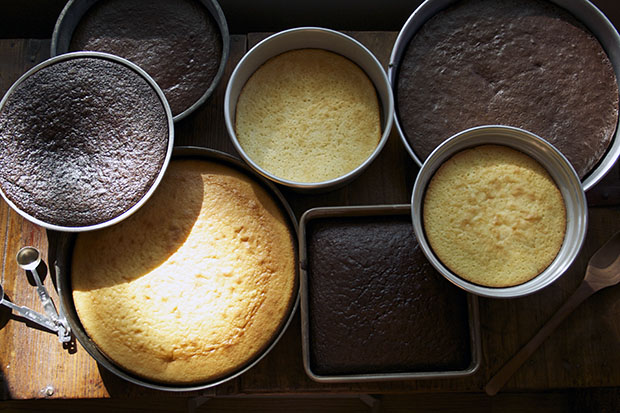 For those of you who are just tuning into this blog series, I'm a rookie wedding cake maker after a friend asked if I'd take a stab at her wedding cake. Piece of cake, right? Not exactly. Every week, I'll be fleshing out a different aspect of this process and writing about it here. This week I breached the question: chocolate or vanilla?
I started my hunt for the best chocolate and vanilla cake recipes in my mother's kitchen, sifting through her culinary library (close to 200 books, if I had to guess). My next move was to recruit my mom as a baker. Here's a clip of our conversation:
Me: Mom, want to help me make some chocolate and vanilla cakes?

Mom: Sure. You want to make one of each?
Me: Uhh...I was thinking more like four of each flavor.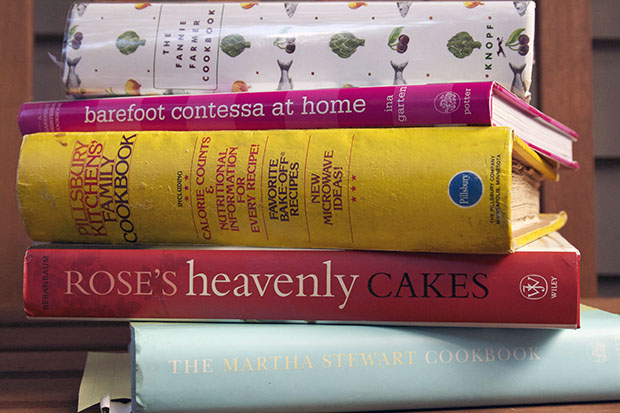 An endlessly altruistic woman, my mom couldn't say no to me. So I tried to make our task easier by selecting recipes from foolproof cookbooks:

Chocolate:
1. Rose Levy Beranbaum's "Deep Chocolate Passion"
2. Ina Garten's "Beatty's Chocolate Cake"
3. Pillsbury's "Delicious Devil's Food Cake"
4. Fannie Farmer's "Chocolate Buttermilk Cake"
Vanilla:
1. Martha Stewart's "French Pound Cake"
2. Food Network's "Simple White Cake"
3. Pillsbury's "Basic Yellow Cake"
4. Fannie Farmer's "Boston Favorite Cake"

Ten hours later, covered in flour, my mother and I were kitchen zombies. We only perked up when it was time to taste the fruits of our labor. Here's a quick run-down of our cake evaluations:
Chocolate:
1. Rose's cake: Cocoa flavor was intense. Rose's recipe melts the cocoa powder with boiling water before adding the other dry and wet ingredients. The other recipes just instructed to throw everything together.
2. Ina's cake was super moist and addictive, but it was made with oil and buttermilk, which compromised the density of the cake. We ruled this one out for fear of structural issues.
3. Pillsbury's cake held its shape nicely, but it didn't have an even rise.
4. Fannie Farmer's chocolate buttermilk was too spongy, but was perfectly moist. Ron Ben-Israel, master pastry chef, was 100 percent right: An oil-based cake isn't as structurally sound as denser butter batters.
Vanilla:
1. Martha Stewart's citrus-spiked pound cake was awesome. My mom and I found the flavor complex and the cake was super dense, but not dry. We instantly thought "Winner!" That is, until our wedding couple sampled it...
2. Food Network recently changed their basic white cake recipe, which I think is a mistake. I've made their previous recipe and it always turned out super moist. This edited version came out drier and tasted like box cake.
3. Pillsbury's basic yellow cake reminded us of birthday cake; we didn't think it was special enough for a wedding cake. Again, the wedding couple thought differently. (See below.)
4. Fannie Farmer's Boston Favorite cake had a lighter consistency--thanks to the egg whites folded into the batter--but we made an executive decision to wipe this one from the contenders because it'd never hold up to the weight of buttercream and a six-hour car ride to New Hampshire (wedding destination).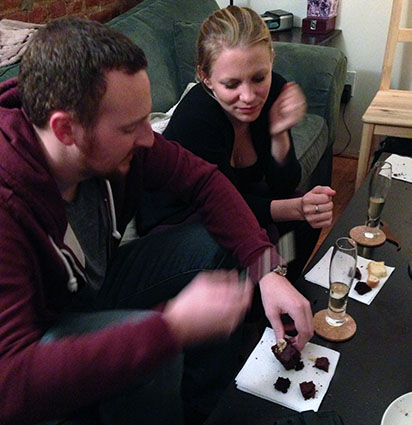 The funny part? Our taste buds were the complete opposite of the wedding couple, Pat and Theresa. They loved Pillsbury's chocolate and vanilla cakes, but it only took one bite of the first chocolate cake to decide they wanted to go with chocolate. And when they sank their teeth into Rose's Deep Chocolate Passion cake, they were sold. It helps that this cake is soaked with a chocolate syrup. They described it as "fudgy," and I couldn't be happier they went with Rose because her recipes are like scientific manuals. Every ingredient is weighed by volume and weight, and has copious notes on how to make and assemble the cake. And this cake was designed to be a wedding cake. I see smooth sailing from here. And I picked up a few tips from scanning hundreds of cookbooks:
→ Baking a 12-inch, 9-inch, and 6-inch layer cake will feed 150 people.
→ Parchment cake strips lining the rim of a pan will keep the cake edges from burning.
→ If you're simultaneously baking two cakes, stagger the cakes so they can evenly bake without blocking airflow for each other.
→ Flip the cake on its top end (so the flat end is facing up), and use a serrated knife to level the cake.
→Cakes need to cool for 20 minutes before handling.
→Frosting should be 1/8- to ¼-inch thick; a 6-inch cake uses 1/3 cup of frosting, an 8-inch cake uses ¾ cup of frosting, a 9-inch cake uses 1 cup of frosting, and a 12-inch cake uses 1 ¾ cup of frosting.