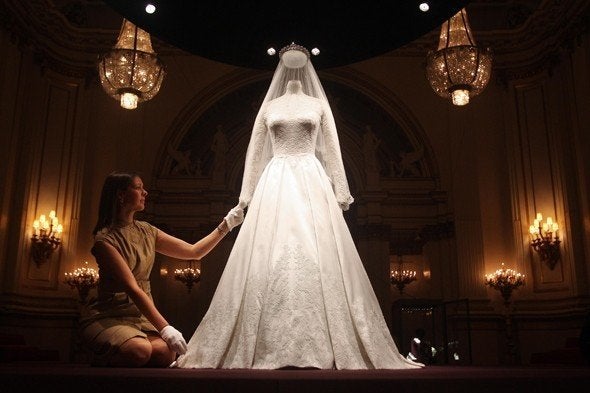 How often have you been to a wedding of completely epic proportions (fireworks! DJ! Live band! 500 guests!) only to be completely underwhelmed by the totally cheesy photo slideshow screening in the corner?
This is because photo montages are an afterthought. Videographers offer them as a bonus feature of their packages, or they're cobbled together by a well-meaning friend who doesn't have much time on their hands. Just a loop of pictures overdubbed by Nat King Cole, wedding photo montages are like the redheaded step children of weddings.
But this needn't be the case! While there is certainly a time and place for the classic montage, with weddings so untraditional these days and technology so simple, there's never been a better time to create a DIY wedding video of complete and total badassiness.
I know because my company, Punchbowl Pictures, crafts wedding videos of the super fun variety. I fell into this business by accident (as many do) a few years ago. One of my best friends was getting married and I offered to make the couple a video as their wedding present. I had no idea what it would look like; I just knew I was feeling creative and my friends were very open to whatever I came up with. Also, as a writer of films and articles (and an amateur photographer and avid music lover) I thought I could come up with something unique, or at least something sassier than the usual montage.
I began the venture by grouping photos from the bride and groom by era: childhood, teen, college, post-college, etc. I then laid the pictures out on the floor of my apartment, taking time to absorb and look them over. Soon enough, I began to see patterns in the images emerge, as well as similarities in their histories and personalities. I jotted down notes and interviewed the couple and their closest friends and family to round out the story that was beginning to take shape. Finally, on a corkboard, I pinned up the photos, added in some narrative on index cards, creating the story of their story -- with their imagery and my point of view.
One thing I have learned as a storyteller is that it's extremely important to add my angle, my personality, the lens of how I see the world to anything I create. The less I hold back and the more personal I get, the better the wedding video will turn out -- because if I'm not getting emotional as I'm crafting it, than neither will anyone who's watching it.
A week before the wedding I was at my computer, daunted by the idea of editing, but I found iMovie incredibly intuitive and very simple once I got the hang of it. I weaved together the photos, words and music, everything from Bo Diddley to Kiss to Vampire Weekend, and the finished product came to about twelve minutes, the perfect length. Not too long but not too short.
The weekend of the wedding, the couple decided it would enhance the weekend immensely to screen the piece at the Saturday night dinner. And when the time came, we ended up projecting the video drive-in size up onto the roof of the canvas tent. And as the first chords of The Rolling Stones's version of "Little Red Rooster" strummed, the guests got quiet and hunkered in because they knew they were in for something different.
Needless to say, sitting in the dark watching a documentary-style video of your best friends and family went over as well as Cher at a Gay Pride Parade. It captured the couple's essence and it was so fun to watch! It played out just like the idea I'd had in my head. Everyone laughed and cried at all the right places, and at moments I didn't expect. It was glorious!
So if you're planning a wedding or have friends getting married and want to make your own video, keep in mind there are only three things you'll need: iMovie, a little time, and a lot of heart.