Every Monday morning you can expect to see a social-media spike in one topic: #coffee. More and more, people are opting to save a few bucks by making their own coffee at home and taking it to-go. The DIY community over at our sister-site, The Snug, are no exception. They take their coffee pretty seriously...
...from building contraptions to brew the perfect cup: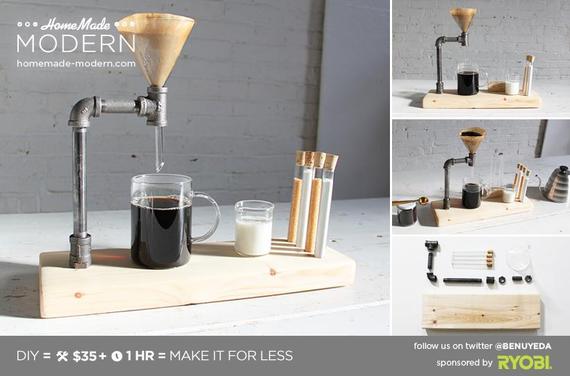 More on this DIY + more of our favorite DIY coffee makers VIA The Snug.
Snowy Plover, Andytown Coffee Roasters; San Francisco, CA.
Baristas at Andytown Coffee Roasters create their signature cocktail by pouring a shot of espresso over an absinthe spoon of brown sugar to create a sweet, caffeinated syrup. The blend is then poured over iced sparkling water and topped with a dollop of whipped cream for a bubbly treat named after the area's shorebirds.
You can join our community to start posting YOUR DIY tips and tricks, and you could be featured on The Snug's homepage right alongside the editors of Time Inc.