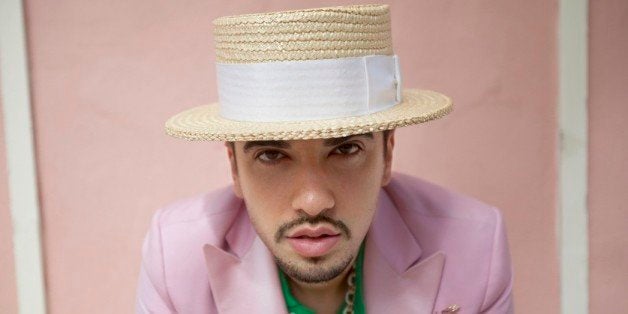 Cassidy arrived at this conclusion after playing at various iconic events, including President Barack Obama's 2009 inauguration and his 50th birthday party. The epiphany helped him form the soundscape to his debut Columbia Records album, "Paradise Royale." Four years in the making, the 10-track record features an all-star lineup of artists and musicians, including Robin Thicke, Jessie J, R. Kelly, Mary J. Blige, Earth, Wind & Fire, Passion Pit, CeeLo Green, Usher, and Nile Rodgers, to name a few.
During a recent interview with The Huffington Post, the New York native dished on recording the album and tapping Robin Thicke for the lead single, "Calling All Hearts." He also shared his thoughts on the resurgence of disco-soul music.

Capturing the essence of late '70s and early '80s music required you to reach out to some of the legendary musicians from the era. What was your process like to contact the likes of Earth, Wind & Fire and others?
The very first step in the process was I made a playlist in iTunes of my favorite 25 songs of that era. I put them in chronological order and they all fell between 1978 and 1982. So there was a very clear five-year sweet spot of the music that was inspiring me that I wanted to channel. And I said, "How do I get my songs to bring the same emotion and energy like these songs?" So the second step was, I made a list of every musician who played on every one of the songs ... and after I made 25 lists, I saw the same names repeating over, over and over. And it became very clear that the recording artists and producers of the greatest songs of that era were essentially recruiting the same session musicians.
So I said to myself, "In order to really capture the essence of the music, I need to go to the source." So over the past four years I reunited 22 of the most renowned musicians in the late '70s and the early '80s for the first time in over 30 years to channel their definitive sound. No machines, no samples, no interpretation.
How did the album's lead single "Calling All Hearts" come about?
Robin recorded the song over 12 months ago and he invited me on the tour about four months ago. So the song predated the tour by many months, if not a year ... I had played Robin some very early tracks on this album and he had sketched out a few ideas, but nothing really came to fruition. And cut to a couple months later, I'm driving around New York City with [former Motown Records CEO] Andre Harrell and I'm playing him my album. He's listening to the record going crazy, screaming out the window, and he calls Robin like, "Robin, you have to hear this album. I can't believe you're not on this album."
So later that night I went to Robin's hotel room at two in the morning and I'm playing him my album, and the fourth or fifth song that I played him was "Calling All Hearts," by Jessie J. And after one verse, he stops the song and says, "I'm recording this song with Jessie." And the next day he flew back to LA and recorded the song.
The timing of the single's release seems perfect, since Robin struck chart-topping success with his disco-eque single "Blurred Lines." What are your thoughts on the sound coming full circle to popular music?
I was thrilled to watch the success of "Get Lucky" and "Blurred Lines" unfold. And I would also put "Treasure" by Bruno Mars in that category as well. I'm absolutely thrilled to see the success and the popularity of those three songs unfold. They all in different ways draw inspiration from the era that I draw inspiration from. And they all succeeded in bringing soul back to the dance floor. And that could not have excited me any more.
Has the creation of the album inspired you to expand your musicianship by pursuing an instrument aside from the turntables?

No. To be honest, I wish I would have taken up instruments at a very young age. But I've found a lot of joy and professional success in the one instrument that I did take up. And I'm now finding joy and success in the ability to produce other musicians and other singers. And I find so much joy and fulfillment in producing other people's musicianship. So that's what I'm really focused on now. If I did ever take up an instrument it would be as a hobby, not professionally.
"Paradise Royale" is scheduled to hit stores and digital retailers in May. Check out the video for "Calling All Hearts" below.

Calling all HuffPost superfans!
Sign up for membership to become a founding member and help shape HuffPost's next chapter
BEFORE YOU GO
PHOTO GALLERY
DJ Cassidy Photos