by Coral Lee, Heritage Radio Network Research & Radio Intern
I sat down with Cynthia Cherish Malaran, AKA DJ CherishTheLuv, this past Friday afternoon at Roberta's patio. Swatting away summer flies, we chatted about the music we love, versus music we like, versus the music we've missed. This is how Cynthia, also an ordained minister and self proclaimed "music missionary," has come to define her DJing style– her "creative formula." By mixing nostalgic tracks into today's hits, she touches the mind, heart, and soul, allowing those on the dancefloor to– even if just for 3 minutes– wiggle away the nonstop stresses of life. "Music is a happy pill. One you swallow through your ears."
On surviving breast cancer, Cynthia attributes her wellness to keeping her head in the music. She continued to DJ all throughout chemotherapy, even to other patients through the walls of the chemo suites at Memorial Sloan Kettering. "If you're miserable, and getting that kind of hardcore treatment into your body, you will barely survive it. I told myself that if I could project manage my cancer, help others and grow because of it, it would all be worth it. Otherwise, I'd just be destroyed."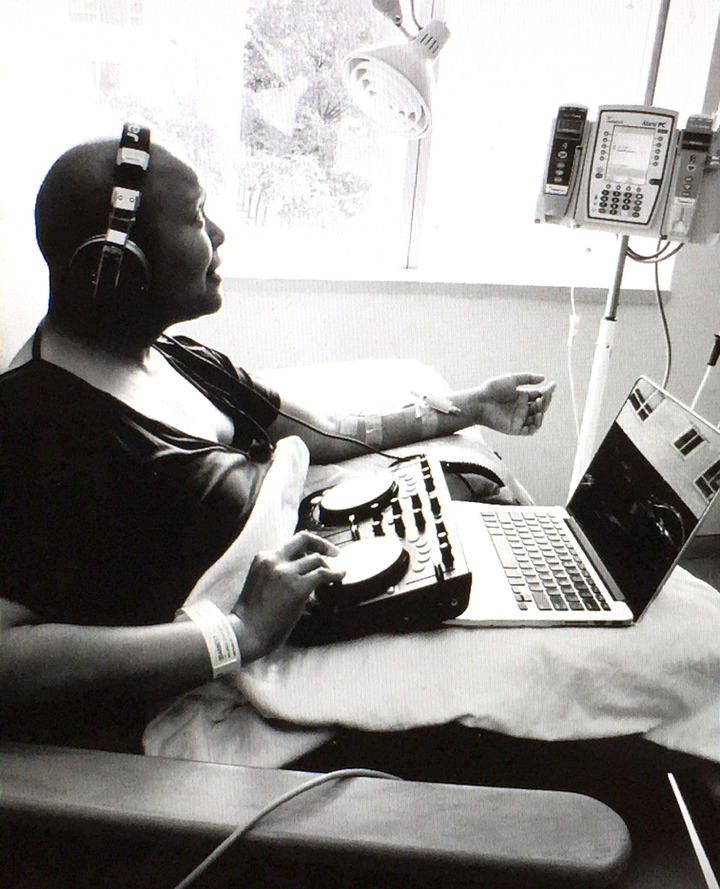 DJ CherishTheLuv DJing from her chemo chair to fellow patients at the Evelyn Lauder Breast Cancer suites at Memorial Sloan Kettering
As a result of making her positive attitude public over social media, Cynthia was invited to become a voice on Heritage Radio Network, by then-Executive Director, Erin Fairbanks. She started by producing her first show Primary Food, in which she documented the good things she "fed" herself with. While "secondary food" refers to what you put in your mouth, "primary food," a concept she learned at Institute for Integrative Nutrition, is everything else in life that nourishes you before you eat. "So you'll notice, if you had a crappy day, you will go eat some crappy food. DJing is a form of primary food for me– when I am DJing, being fed by a great crowd, I always end the night like 'how did I not eat for 6 hours?' Because I was being fed– spiritually, psychologically, emotionally– and I knew I had to keep this concept first and foremost as I was going through cancer treatment. I knew I had to load my life with really good primary foods: friends, music, art, entertainment, petting my dog, traveling, to keep my happiness levels high, so my body could repair itself."
Refusing to see life as mean and cruel, Cynthia, armed with music, is now working to re-introduce as much good as she possibly can into the world. She recently returned from a 3-week trip to Ecuador, in which she taught young girls at an orphanage how to DJ. "Actually, I taught these young teens how to express themselves creatively and loudly, under the guise of DJing. These girls have been traumatized. Silenced. Teaching them how to express themselves gives them the green light to ask for what they want. To say 'no!' To ask for a raise at work. It can change their life. Even save their life. I went there thinking I had something to teach them. But actually, they taught me… I came back a few days ago," Cynthia reports, "and I was looking at all these sad, unhappy faces here in our awesome New York City, and I was so confused. I came back and realized we have everything. We have everything and yet, we're not happy. The girls at the orphanage have the bare minimum, yet they are so happy. Why? Because they have each other. Here, we have objects and things like cars, smart phones, wifi… things we love… but they will never love us back. We may have everything but we don't have one another. I learned that the more things I have doesn't contribute to happiness at all. Maybe I even have so much stuff I can't see what my life is really about or like, maybe I have so much stuff I don't really know who I am."
A few months ago, Cynthia got a phone call from Maike Both, founder of the "Unfuck the World" movement. Maike asked Cynthia if she would be interested in coming down to Ecuador and meet with legendary recording engineer/producer, Erwin Musper, who has worked with David Bowie, Bon Jovi, Elton John, Metallica, Def Leppard and more, with his name on 80 million records sold, and counting, to spread some good vibes and cheer. "When I was asked to fly down to Ecuador and meet the orphans, I immediately pictured myself teaching them some DJing so I jumped at the opportunity to help out."
"I packed my portable Pioneer mixer, thinking 'OK, I'm going to gift these kids ME,'" Cynthia laughs. "Of course you go into something like this, just like with my work at Riker's, thinking you're going in with something to give them. And then you realize it's you who has the deficits, and they gift you so much knowledge, understanding, eye-opening love. I think in the past 2.5 weeks, I've gotten hugged more than in the past two years."
Cynthia shares how teaching the girls– products of rape, abuse, neglect, subject to silencing– how to express themselves was profound in so many ways. "I don't speak Spanish; they don't speak much English, but music is the universal language, and rhythm transcends words. The kids had never heard a song sped up or slowed down before, they were totally shocked! I didn't want to teach them how to be a DJ, but how to express, how to experiment, how to feel free. I didn't learn how to express myself and be free until my thirties, and I'm a born and bred Manhattanite. Even just teaching them to hit pause or play when they wanted to, adjust the volume to their liking—I could see it was doing something for them. It was giving them the green light to make a difference. And I know that they'll take that lesson and apply it somewhere."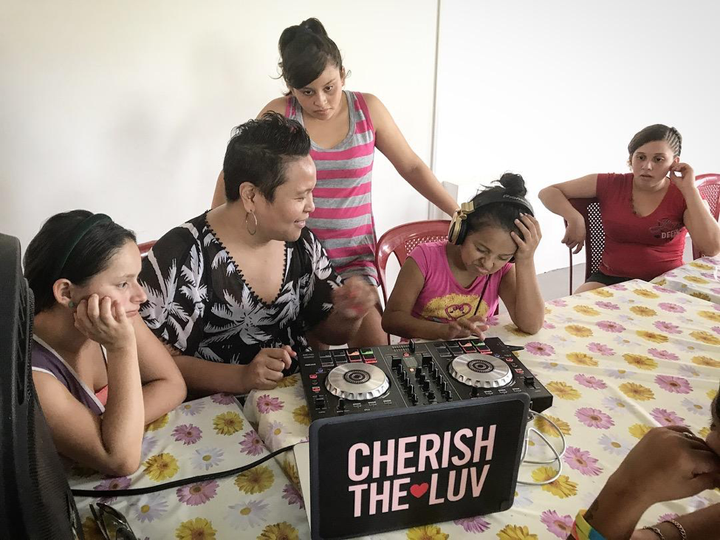 DJ CherishTheLuv teaching young teenage girls DJing basics at an orphanage in Ecuador.
Cynthia tells of how on one of the last days of her visit, one of the shyest girls became Cynthia's student teacher. This student stepped up and would say in Spanish, to the other girls, "no, this is how you do it," and would show the other girls while Cynthia just stood back back and watched in awe. Shy and reserved for a myriad of reasons– the girl was new to the orphanage– she was, for the first time, speaking up and being heard and respected. Through DJing, she had a way to confidently and comfortably socialize with the others at the orphanage.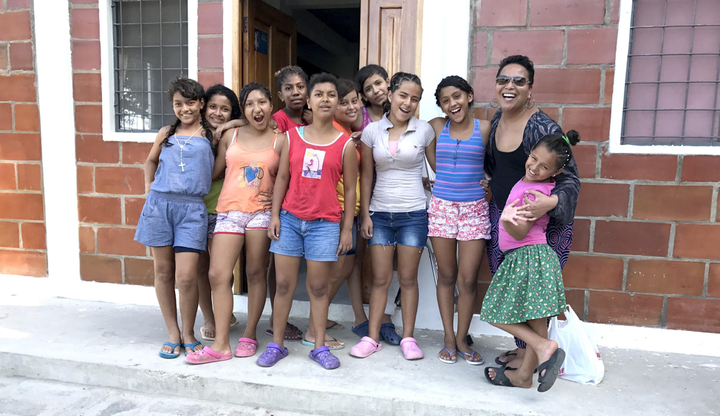 DJ CherishTheLuv and some of her DJ students at the orphanage.
"These girls taught me how to think about survivalism. As a breast cancer survivor, I thought I had the understanding of surviving down pat… but there's really so much more. The youngest is a 2 month old orphan who was brought there at 2 days old. Her mom is 12. She was a product of rape by the uncle, and the orphanage is raising this kid like family. It's a paradise there, because they all have each other. There are the mamitas (the women who run the orphanage and keep daily order) and the psychologists on-site. They do everything they can to make sure the kids are really cared for, and the kids care for each other. The way they experience love might not be from their parents, but learnt from this layer of their life."
Cynthia told me about a typical day at the orphanage. "They wake up 4 or 5 in the morning, they start preparing food, take care of their own needs (showering, fixing up their space, getting dressed), and get their school supplies together. Kids that are old enough, go to school– regular schools. They come back at 2pm to the orphanage. They eat. There's playtime. Erwin Musper has set up English classes (taught by volunteers), and guitar classes where Erwin teaches them how to play Beatles songs and more. Each week the mamitas choose a few of the girls to have a special night on the town on the Muspers. "I got to go along for pizza night. The girls were drinking soda after soda after soda, so happy– it was so sweet."
One evening, Cynthia remembers, a taxi cab pulled up with a young woman. "Erwin explained that she was raised in the orphanage, got old enough to leave and go to university to become a social worker, and she returns to visit her younger sister, living at the orphanage. Their system works! All these boys and girls have transcended their traumatic pasts enough to now envision a future with dreams to be something: one girl wants to be a marine biologist. They know what they want to do. They have dreams because of all this incredible love and support. I want to keep helping them get support."
Erwin collected funds to help them get a refrigerator; they just recently got ceiling fans because the orphanage is made of cinder blocks and metal tin roofs that trap the heat when the sun is out, making sleep very miserable. The older boys live in a place called "Gandhi" a bit down the road. Cynthia has donated money from her earnings DJing at Whole Foods Bryant Park, for the construction of raised beds, so that each of the older boys can have their own garden and learn how to grow food, feed one another, share, and learn about responsibility.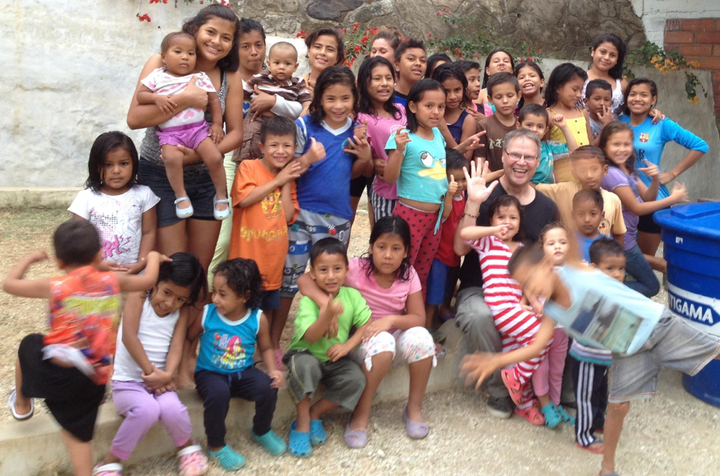 Erwin Musper and half of the children at the orphanage.
Erwin photographs everything; kids are able to watch themselves grow. "If you're already robbed of your identity– who you are and where you're from– and then you're able to get pictures, physical pictures, and see yourself grow... these kids are going to value this so much decades from now. This is the stuff they can look back on. The good stuff."
Going to the orphanage was another piece of healing for Cynthia. "Yes, going through cancer was heavy, scary for me, but if I also experience really great stuff, it crowds out the bad. Being at the orphanage teaching DJing outweighed other negative experiences. I feel like everyone needs to see that genuine love, happiness, and care exists. This is a place where the kids are happy, dancing and celebrating everyday, because if you have 60 kids and there are 52 weeks in a year, there's going to be a birthday all the time. You can't just focus on the bad; you're going to see this world as mean and cruel. But instead, see the good: Erwin being there, me being there, the kids eating birthday cake every week, singing happy birthday more than you'll ever do in a month's time. I feel like my family grew. I never gave birth to children in my life, but I feel like I have 60 kids. That's really something."
Meet the children in this video created by DJ CherishTheLuv and Erwin Musper. Consider donating to the orphanage and becoming a part of the family by visiting this link.
Cynthia Cherish Malaran, Rev. DJ CherishTheLuv, is host of Primary Food and Wedding Cake on Heritage Radio Network. She is a graduate of the Institute for Integrative Nutrition's Health Coach Training Program, where she learned about Primary Food and other nutrition and health coaching concepts. Learn more about the Institute for Integrative Nutrition.
Popular in the Community