BOSTON -- In February 2011, when a New York grand jury declined to indict anyone involved in the shooting death of DJ Henry, Henry's family called for a federal investigation.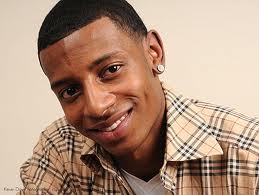 I telephoned Assistant U.S. Attorney General Thomas Perez to get an update. Perez heads the Justice Department's Civil Rights Division.

"When these shootings occur, oftentimes you will have a local investigation and we monitor that investigation very carefully, and at the conclusion of that we will make a judgment as to whether or not the facts support a criminal civil rights prosecution."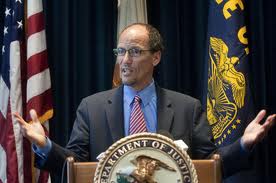 [WGBH Series and Audio Reports]

When the division reviews a case, the team works with a series of experts that often include former police chiefs, Perez said. "So we can go in, analyze training policy and procedures, identify challenges and weaknesses, and correct them. We are able to play a very constructive role because our teams that conduct these reviews are teams that include not only lawyers but experts in effective policing."
Danroy Henry Sr., sitting in the living room of his home in Easton, says he thinks often about the meaning of "effective policing", especially when he reflects on the early morning of October 17, 2010, as his son lay on the ground of a strip mall in Mt. Pleasant, New York.
It just speaks to this general recklessness that was the tone and tenor or the evening, confirmed again by video of police with weapons drawn on unarmed college kids who are looking at their friend on the ground, yelling and telling them to get back or they'll be next. It's just looks like there was an absolute loss of control because there was sort of this absence of good training, good judgment and good protocols that night.
WGBH Radio obtained a copy of police protocols for the town of Mt. Pleasant, NY, where the shooting took place. It specifically states that Mount Pleasant police are, quote, "prohibited from using firearms or other lethal weapons" in various circumstances including at and from moving vehicles: "The discharge of a firearm at or from a moving vehicle is extremely inaccurate and presents an unacceptable threat to the public."
This protocol does not seem to have been followed in the lead up to the police shooting of DJ Henry. However, It should be noted that Officer Aaron Hess belongs to the neighboring Pleasantville police department. Still, protocols and training for both departments, which sit side by side, according to a Westchester County police source, do not differ in any significant manner, and the moving vehicle stipulation pertains to both.

It is not known when the Justice Department will offer its opinion. It is the second time in recent years that the Civil Rights Division of DOJ has investigated a controversial police shooting in Westchester County. That's why Officer Damon Jones of Mount Vernon New York said he was not surprised when he first heard the news in October of last year about the shooting death of DJ Henry.
"We knew it was going to happen again. It was just who and where, and I say that in reference to the Christopher Ridley case."
Christopher Ridley, a 23 year old African-American policeman, was shot and killed by fellow Westchester County officers in January 2008, while trying to break up a fight between two men outside a county building. Ridley was wearing street clothes at the time. District Attorney Janet DiFiore declined to charge the accused officers, who included black, white and Hispanic policemen. But race relations experts argued that racial stereo-typing of Hispanics and blacks is widespread in society and that minority cops are not immune to its effect. Black cops and lawyers in Westchester County decried what they described as a "botched" investigation. Damon Jones, a corrections officer and New York representative of Blacks in Law Enforcement of America, said better race relations training and county-wide oversight are needed in Westchester County to "prevent more Christopher Ridley's and DJ Henry's", he says.

Meanwhile, the Henry family has moved ahead with a $120 million civil lawsuit against two police forces in New York.

Aaron Hess, the officer who shot and killed Henry, sued a liquor store that he alleges sold alcohol to the underage football player. He claims it was alcohol that led to the incident; a view that is contested by witnesses who were with Henry that evening.

Hess was injured that night. His lawyer Mitchell Baker claimed the officer's life had been turned "upside down" since the shooting.

"His knee is terribly injured. Several broken bones, broken kneecaps, torn ligaments, tendons. He has been out of work for eight months."
Mitchell said that Hess is undergoing rehabilitation and that his ability to return to police work is in doubt.

In the broader culture, the DJ Henry case has become a cause célèbre, inspiring a tribute from hip-hop artists Kanye West and Jay-Z, and postings on YouTube and Facebook.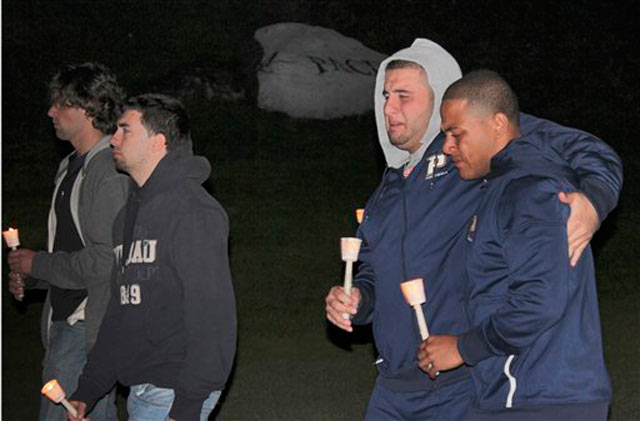 His hometown of Easton, Mass. has just named a sports field after him and his family has established the DJ Henry Dream Fund, a nonprofit providing resources for promising young athletes.
Stacey Murphy, a white neighbor, lives diagonally across the street from the Henry household . Like many in that affluent neighborhood dotted by ranch style houses, her mailbox sports an image of a young athletic man whom scores of people in this racially integrated community fondly recall as one of Oliver Ames High School 's finest athletes.
"We used to sit here in the grass and he was still in high school and he was a running back. His dad, Dan used to put the parachute on his back and he would run and the parachute would go off and he would resist, and they were training him. And Angela and Dan supported him. Every game the family would come out and root for him."
His parents were his biggest fans. They still are. Danroy Henry Sr. spoke for the family.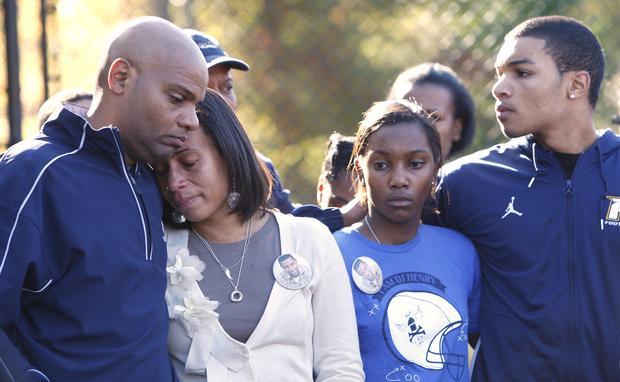 "Danny, DJ, was a focused young man. Just driven to be his best. Just an incredibly, incredibly hard worker at things that he loved. Determined to be a great athlete. And just full of potential. Pregnant with it and promise, and he hadn't given birth yet to all of his potential. But it was beginning to germinate in him, even in those days."
Angella Henry looked out the window as the autumn sun ebbed into an early twilight and she thought aloud about what might have been.
"I imagine him with us at the dinner table, coming to church with us, coming out of his room in the morning," she said, her voice shaking. "I still think he'll call at night. I think he'll be home. There's not a day that goes by where we don't imagine him here."
Calling all HuffPost superfans!
Sign up for membership to become a founding member and help shape HuffPost's next chapter