He is the official DJ for the Miami Heat, an entertainer, an entrepreneur, a philanthropist, and a brand ambassador to some major corporate brands including Target, Carnival Cruise Lines, Premier Beverage Company (Grey Goose Vodka), and Cadillac. His name is DJ Irie and not only is he the unofficial mayor of Miami, he has made a name for himself across the country by building off his enthusiasm for what he loves most, music. Fifteen years ago, the chances of a hip-hop DJ building a multi-million dollar brand were unheard of. He was the first ever NBA DJ, a pioneer of music entertainment in professional basketball, creating a trend across the industry. I met up with DJ Irie in NYC at an event for SKAM Artist, the entertainment firm that manages Irie. We met in the lobby of Dream Downtown Hotel and our meeting was peppered by welcome interruptions from DJs around the world who saw Irie and would make their way over to give him a hug and say hello. The best word I can use to describe his personality is sunshine. He's upbeat, enthusiastic about what he does, and he loves people. What is most admirable about DJ Irie is that he has created an empire by doing what he loves most, spinning music. He embraced a career where a high level of success was improbable and he's killing it. Here are DJ Irie's 5 simple lessons to spinning greatness.
Daily Habits: DJ Irie says that success in life starts within. What we accomplish in life comes down to what we accomplish each day, which is a byproduct of our mindset when we wake up. He says that he makes a conscience decision to have a great outlook on every day. His first thoughts in the morning when he wakes up are positive ones. He says that when you start your day on the right foot, it's easier to stay on the right foot all day long. That's not to say that he doesn't have bad days, everyone does. DJ Irie has simply created a habit of starting every day on a positive mental note and this is his secret to staying upbeat and optimistic throughout every day.
Do What You Gotta Do: DJ Irie started spinning regularly in college. He had received a full paid scholarship to Florida International University where he had planned on studying medicine. He was going to school by day and then working the DJ booth at night, usually playing parties until 4am. He was in his second year of college when his grades went so low that he lost his scholarship. He says that his parents would have hit the roof if they had known he had blown the scholarship. So, DJ Irie made a decision that would forever change the trajectory of his life. He decided he'd stay in college and complete his degree and he would pay his own way through. He got serious about turning his music hobby into a business that would fund his college education. DJ Irie said that he worked himself to the bone to finish school while working events at night to pay for it. His parents never even knew that he had lost the scholarship because he turned his hobby into a business that funded his education. DJ Irie says that building the life you want will come down to your ability to do what must be done in times of crisis. He says that had he not lost the scholarship he may never have taken the steps necessary to turn his love and passion for music from a hobby into a business.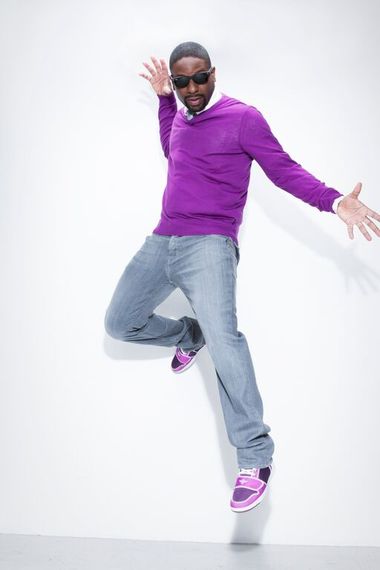 Keeping It Real: In 2000, DJ Irie had completed college and was working at the hottest, high profile night clubs in Miami every night. Little did he know that the Miami Heat, having just moved to their new American Airlines Arena, was looking to change up the entertainment at their games. They were seeking an official team DJ. They reached out and called DJ Irie in for a meeting to explain their concept. He didn't quite understand where a DJ would fit in at a professional basketball game. He left the meeting and didn't call them back. DJ Irie had built a massive following in Miami. He had his own style, and he worried that partnering with a professional basketball team would mean that he would no longer get to be himself and play his kind of music. To DJ Irie, if he couldn't keep it real for himself, he wasn't interested. The Miami Heat came back again and asked for a second meeting. DJ Irie explained his concerns. He couldn't lose who he was by melding into the Miami heat. He asked if he could reach out to the DJs of the NBA teams in LA or NY to see what their experiences had been. That's when he learned that no NBA team had ever had a DJ. They were handing him a blank canvas and they wanted him to keep it real. They wanted him to be himself and to play his music for their team. That's when DJ Irie took the job. Today, most of the NBA sports teams have an official team DJ, but back then, DJ Irie was the pioneer.
Give: Eleven years ago, Irie Foundation was born. The mission of the foundation is to empower South Florida's at-risk youth to lead productive lives through mentorship programs, cultural experiences and scholarship opportunities. By following the young people it serves from middle school through high school, the foundation's ultimate goal is to inspire and encourage its students to graduate high school, pursue higher education and develop into successful adults. Every year, DJ Irie hosts a massive star-studded weekend with VIP events including club appearances from major artists, golf outings, and more. His most recent event in June 2015 raised over $700K for the foundation. I asked him why he's so passionate about the foundation and at risk youth. Irie explained that thirteen years ago, Miami Heat player Alonzo Mourning, asked him to join him at an event he'd be speaking at. Mourning was asked to do a speech at a local high school. Irie tagged along and says the event was a life changer for him. Mourning stayed and talked to all the kids. Then a young man came over to DJ Irie and said, "Alonzo Mourning is amazing. He makes me want to be a better son and a better student. I don't want to let Alonzo down. I'm going to be a better person." DJ Irie realized then and there, he too needed to do more to impact the next generation. The DJ Irie foundation was formed less than two years later and today impacts thousands of South Florida at risk youth.
Do It Now: According to DJ Irie, impatience is a virtue. He admits that he has his hands involved in a lot of things. First and foremost, he's a DJ. Secondly, he's committed to changing the lives of teenagers and young adults by building the Irie Foundation. He owns businesses, endorses brands, and manages his empire. He says that he doesn't believe in putting off things he's passionate about to a later time, but rather finds a way to make time now. He says it's a myth that you can't do it all. If you want it bad enough, says Irie, you can be, do, and have it all, if you are willing to work hard for it. He says that new opportunities are presented to him every day and when his heart tells him that it's something he should do, he lives by a very simple motto; DO IT NOW!
He is humble, down to earth, hard-working, optimistic, and driven. He has achieved massive dreams in his life and is positively changing the world through the impact of Irie Foundation. And, he's not even 40 years old yet! If you have big, hairy, audacious goals for your life, do something about it. Stop waiting for greatness to be handed to you. If DJ Irie has taught us anything it is this; creating greatness in life requires each of us to spin our own.
You can follow DJ Irie at:
Calling all HuffPost superfans!
Sign up for membership to become a founding member and help shape HuffPost's next chapter