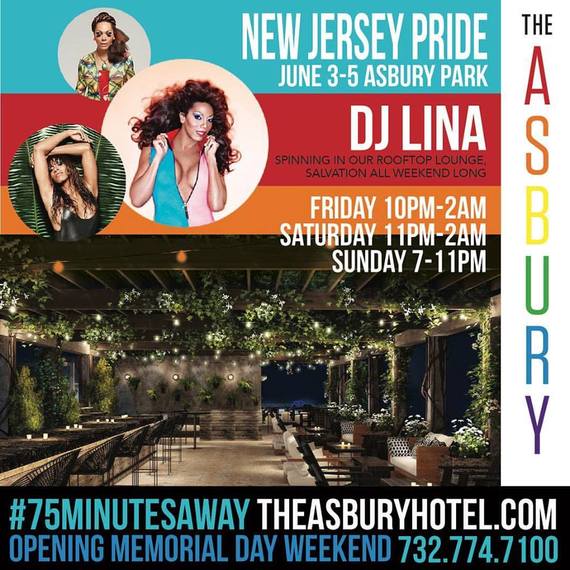 There has not been a summer in the past decade that DJ Lina was not synonymous with Fire Island. As her era there comes to a close, Fire Island's loss is Asbury Park's gain, as Lina is joining The Asbury to spin for Jersey Pride. She sat down to chat with us about her what the boys of Asbury Park can expect for her return, what she is doing with a post-Fire Island summer, and what Pride truly means to her.

You're coming back to spin for The Asbury Hotel all weekend for Jersey Pride. Is it your first time in Asbury Park?
You know, for Pride it is. A good friend of mine, Russell Lewis he owns Watermark. I've spun all of his anniversary parties after Lady Bunny did the first one, and I fell in love with it in Asbury Park. It's beautiful!
I've heard you spin and known you for many years on Fire Island and beyond. How would you describe your sound to someone that has never heard that quintessential Lina sound?
Well, it's always going to be soulful and you're always going to hear vocals. Then of course, it's all organic, so I will have a vibe on Friday, I'l have a vibe on Saturday, and I'll have a vibe on Sunday. It will definitely all be soulful though.
The "Twirlina" era of DJ LIna spinning on Fire Island is now over. While it's hard to comprehend a season on Fire Island without Lina, it opens up a whole new world for you in the summer.
You know, it's funny there is an article coming out this week saying just that. Last season in April, it was right before my birthday and I had an open house and I had this feeling; I said to myself "I think I'm done". It was my ten year anniversary, so I have always had these two cherubs and my guiding light that have always told me when it was time to go to the next place. I have done it a million times before and I would do it again. It spoke to me then and there was nothing more for me to do.

It was very hard for me to leave that community because I was so in it. Living there for seven months of my life for ten years of my life was a huge commitment to not return. At the same time, I have always gone with that guiding light inside of me and I always like to go on to the next level.
Does it feel surreal to have your summer so open ended without such a full calendar?
You know, it feels almost like a really positive separation. A friend of mine asked if i felt weird not being on the island, and it has been literally twenty years since i have been in New York City in the summer. Before that, I was in St. Tropez and Sardinia. I have never had a summer in the city since maybe the late 90's. I'm traveling, I'm here and there, but I wanted to stay based in New York, not just for my head, but for some of the things I've been working on that I hope to release in the next couple of weeks. I'm excited; I'm excited to be a part of Asbury Park and see a different part of New York that I don't get to see.

The one constant that we hear frequently in Asbury Park is that Asbury is very different from Fire Island in so many ways.
Absolutely; You can get in a car, you're not just walking. That's going to change the whole demographic in itself right?!

Pride month kicks off today; you have been such a vibrant and visible part of the community long before you stepped behind the decks. What does Pride mean to you?
Pride is every day. Waking up and knowing where you came from and where you're going. I say that to all the young kids out there. It's important not to let these phones and this technology be able to empower us and not break us down. If you are going to be on the phone 24/7 and not interact with people, at least do your homework and find out where you came from. These kids have these A.D.D. moments and it's so entitled; where it just happened to them and they want it a minute later; you have to take your time with life and know where you came from, where you're going. I find such a disconnect with that; not really with everyone, but a majority.
I do remember the 90's so visibly and New York City was a different world when people like you, Candis Cayne, and Mona Foot really owned New York City nightlife. It seems like such a different world now you know?
That's because we come from the world of see, eat, smell touch. Could you imagine if we had the technology that these kids have today? With what we knew back then? Honey we would have owned it! But kids, we handed you the baton. I thought that when the year 2000 starts, and this new generation started, they would knock it into the stratosphere. But do they even know what we had to do with ACT UP and how we made it possible for you to walk hand in hand and get married? HEL-LO guys, this was a real struggle!
I'm so passionate about this. I am so blessed to travel around the world and have moments where i get to speak with young children about this. I am going to be in Vietnam for their first pride ever with President Obama and a few other officials, and I am going to be working with universities and doing workshops with transgender children, so I am so excited about that. I became a Global Ambassador for HMI and a board member on GMHC over the winter. Philanthropy has been my backbone since i left the coop. Now that I have the ability to pay it forward, i am so all about that.

It's wonderful to see people from many years ago that started in what many consider a golden era of New York City to really be doing something with the platform they have worked so hard to have and not just still be in the clubs performing.
Yeah you just can't. Ten years is more than enough, I was there once, I will be there again. Fire Island spoke to me when it needed me and vice versa. Everything I got from that beautiful spiritual island has empowered me and made me the woman I am today and keep me going on and getting me where i need to go.
The boys of Asbury Park are going to absolutely fall in love with you. There is a good chance they may ask you to come back.
I would love to come back! I have lots of friends from New York City coming down and I have friends in Asbury Park that will be coming to see me. I really am looking forward to it, to see The Asbury; my man and I and our kids are so excited!
REAL LIFE. REAL NEWS. REAL VOICES.
Help us tell more of the stories that matter from voices that too often remain unheard.