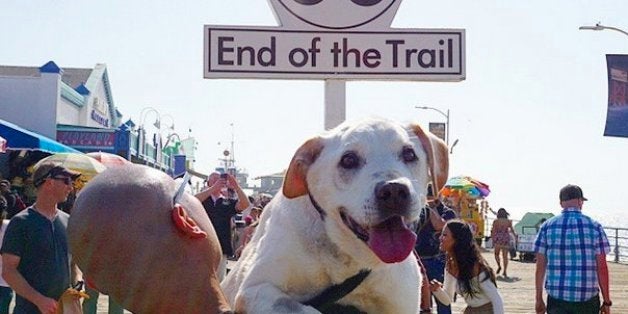 Every dog has his day, but Poh the dog had 46 days -- all spent traveling the country.
After inoperable tumors were found on Poh's liver and kidneys, his owner, Thomas Neil Rodriguez aka DJ Neil Armstrong, took the ailing pup on a bucket list road trip across the United States. Armstrong, his fiancee, Yuko Ogino, and their canine companion set out from New York for the west coast in March to make Poh's final days ones to remember.
"I had always wanted him to swim in the Pacific Ocean," Armstrong told The Huffington Post. "My assumption at the time [of the trip] was that he wouldn't make it there, but he made it all the way."
The 15-year-old canine cutie, who was a 8-week-old shelter dog when Armstrong gave him a home, was diagnosed with a cancerous tumor in his leg two years ago. Armstrong changed the dog's diet and took him for numerous treatments, but returned home after traveling four months ago to find Poh in bad shape. Fearing his days were numbered, Armstrong decided to take Poh on the road for what he called "Poh the Dog's Big Adventure."
Over the course of about 7 weeks, Armstrong, Ogino and Poh visited 35 cities and 19 states, cataloging the trip on Instagram. They drove down to North Carolina and cut across to Phoenix, Arizona, before landing on the west coast for Poh's special swim.
"I know for sure this guy loved the water," Armstrong told HuffPost. "It was a fountain of youth type of deal. His energy was so high."
Poh and his family returned home to New York five weeks ago, where he has continued to splash around at beaches on the New Jersey shore. Armstrong is hopeful another, smaller road trip is in Poh's future.
"We might try and do a short trip, maybe to Chicago or Miami, to get him in the nicer weather" he said. "The adventure isn't over."
Scroll for more photos of Poh's big adventure.

Calling all HuffPost superfans!
Sign up for membership to become a founding member and help shape HuffPost's next chapter
BEFORE YOU GO