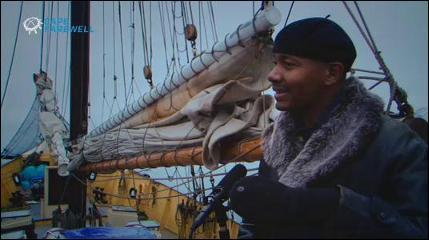 Paul Miller (AKA DJ Spooky, That Subliminal Kid) is a peripatetic New York-based writer, artist and musician. Active globally, he has been DJing around the world since 1995. When not scaling glaciers and circumnavigating Arctic fiords, as he has been for the past two weeks, he is well known internationally for his open-source attitude to recombinant music, and his experimental avant-garde hip hop and electronic music.
As part of the Cape Farewell crew of artists and scientists working together to develop a cultural response to climate change, he is interested in activating a broader awareness of climate issues. "I like to start with simple things and keep building up. Music is a powerful tool to foster more climate change literacy."
He is spending his time with the Cape Farewell expedition as a collector of impressions, with the intention of distilling these "acoustic portraits" into music compositions that will eventually become part of a large-scale concert piece.
His thoughts on the state of climate denial in North America: "Right now the planet is in a delusional situation. Climate change deniers are like drug addicts who seek to avoid responsibility and constantly frame the problem with illusions. When you see thousands of year glaciers melting, seeing geological time being activated in real time... It's like saying your shoes need to be tied."
In this interview with David Buckland, founder and director of Cape Farewell, Paul shares his thoughts on his work, on the inspiration he finds in the Arctic, his interest in the difference between nature and urban culture, and his upcoming multimedia concert in Toronto for Nuit Blanche on October 2 that will incorporate footage and sounds collected in the Arctic.
This interview was recorded near the Monaco Glacier, somewhere north of the 79th parallel, on the upper deck of the Noorderlicht. The 100-year-old schooner is the floating home to the scientists and artists of the Cape Farewell project as we move down the west coast of Spitsbergen on our three-week venture.
Related
Popular in the Community