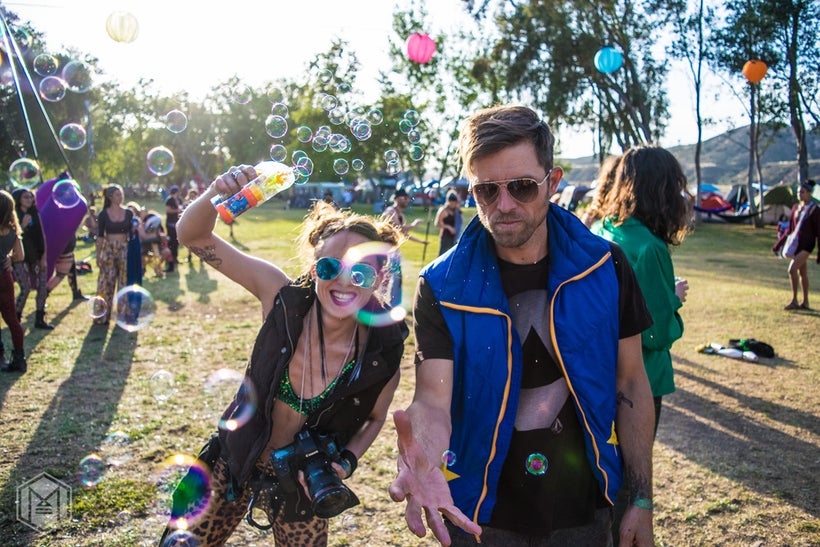 Elaborately decorated art cars galumph their way across rocky terrain that borders a lake as shiny as liquid mercury. A halo of voluptuous trees encircles a patch of velvety grass where festivalgoers will soon dance, cartwheel, fraternize, laugh and play. Awash with ornamentation that enhances the already colorful beauty of nature, Boogaloo Art Car and Music Festival awaits with bated breath for patrons to begin streaming in.
Every April, Oak Canyon Park in Silverado, California lights up with the love and splendor of Boogaloo Festival. Founded by The Dirty Beetles, a well known Los Angeles-based Burning Man camp, this event is a small, family friendly gathering of folk, hip hop, and electronic music lovers that projects a cozy 2,500 people in attendance.
The largest gathering of art cars outside of Burning Man, Boogaloo facilitates a place for those who spend thousands of hours and dollars tending to and storing these behemoths, to showcase their creations. These art cars double as stages, turning the campgrounds into a renegade smorgasbord after the main art car stages—Boogaloo and Charlie the Unicorn—wrap it up for the night.
Celebrating the renegade party is an aspect that makes Boogaloo so cherished by the underground festival community. With many venues often battling sound ordinances or conflicting schedule times with the main lineup, campground shenanigans are often shut down early. Not at Boogaloo, though—there, the music goes all night. As patrons shuffle from the luscious grass to the rugged campground, the after party begins as sound waves wiggle their way between teepee spires and E-Z Ups.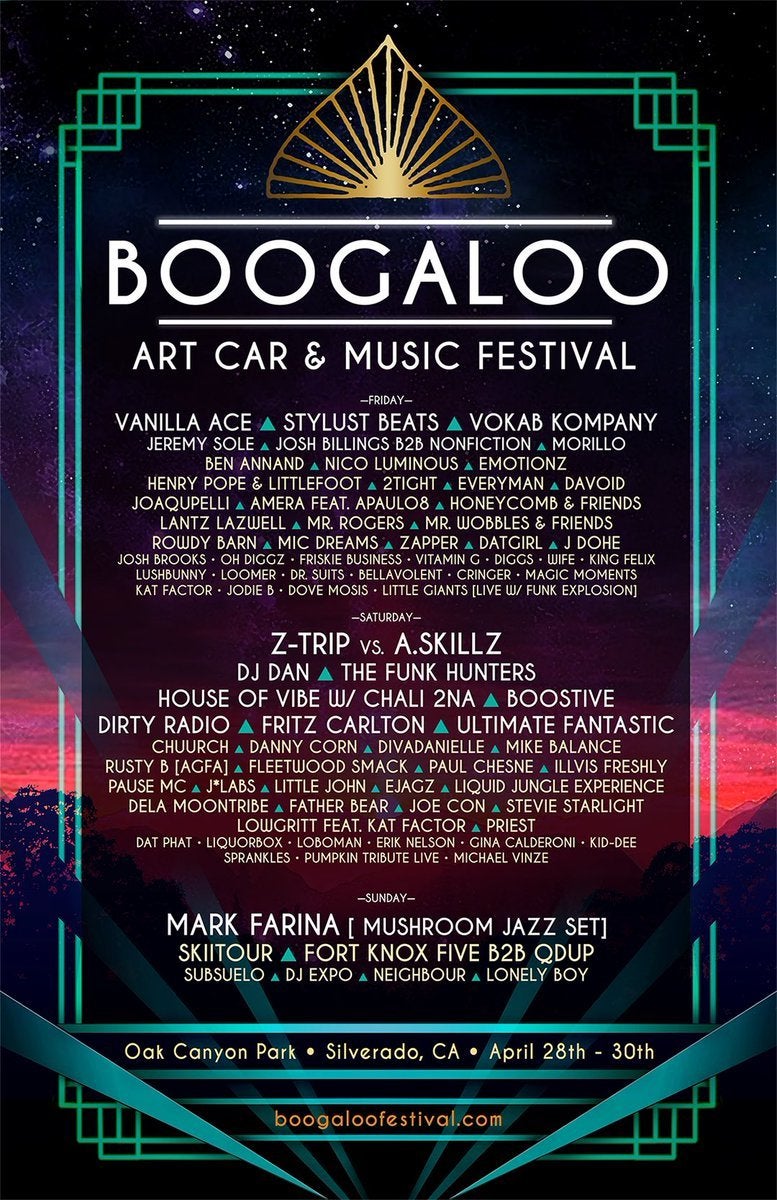 Most of the talent is curated by Brian Crain, a multi-hyphenate Dirty Beetle with an ear for good music and a diverse sonic palette. In addition to being on the lineup with his rapping girlfriend Annie Dolly (together they form 2Tight), he is also joined by close friend Evan "EVeryman" Shafran, another key player on the Boogaloo team.
Both on the lineup and behind the lineup, Crain enlisted some of the underground's most talented musicians, two of them being legendary turntablists Z-Trip (Zach Sciacca) and A.Skillz (Adam Mills). A longtime fan of both, Crain had a revelation about them playing together at Boogaloo—side by side with their own set of turntables, bouncing tracks off of each other. Because Sciacca is stateside and Mills is based in the U.K., this was a feat that had long been in discussion between the two (unbeknownst to Crain).
"It was karmic perfect timing," Sciacca says as he describes when Crain propositioned him with this opportunity. "This is a long overdue show for us because we've been wanting to do it for a couple years and it's just great that Brian had tapped into this without even knowing."
In the game since 1989, Sciacca's diverse style of music has taken him all over the world. From Chile to Bali to Canada to Colorado, each set is customized to the particular event and audience, creating a fully unique experience at every one of his shows. One of his most memorable performances was at Canada's Shambhala Festival where during his set, he discovered his spirit animal: the elephant.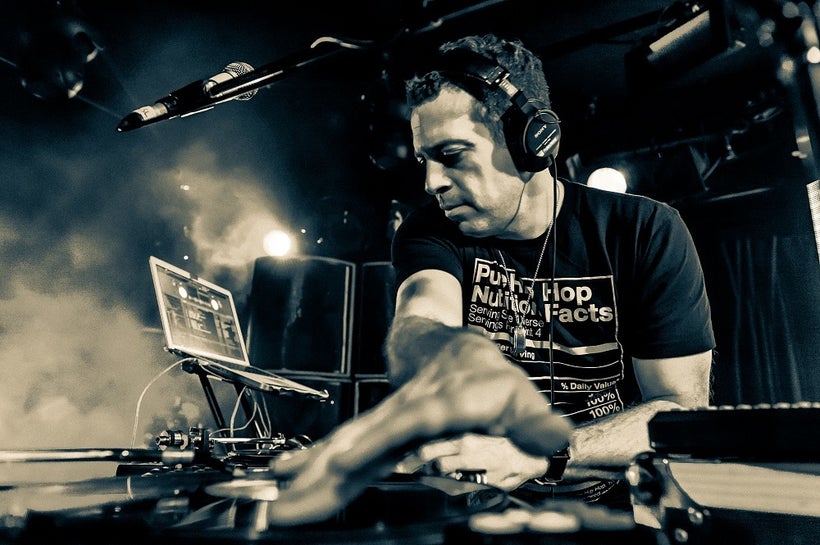 "I have these spirit animal sets that are translating into actual sets in different styles," he says after recalling that moment at Shambhala when he made his spirit animal realization. "When an elephant stomps through the jungle, you hear it and that's kind of like what bass is—the bass represents the foot stomping of the elephants. Then you have the horn which represents the top end and is the call to let people know that the elephant's here."
For his next Shambhala appearance, he will be performing at two stages—one stage will feature an elephant set and the other will feature a wolf set. Two very different animals representing two distinctive sets. Z-Trip playing back-to-back with A.Skillz is the genesis of bigger goals for the duo. With similar crowds and styles of music, a collaboration between the two was inevitable. Mills flew in from the U.K. early this week and the two have been tirelessly working on their set as well as on new music to premiere this Saturday, April 29.
"The Boogaloo crew is extremely open-minded musically—they're really open to groove and funk and soul and to not just playing music that is mindless but actually has a heart and a soul to it," he describes. "I can go a little bit deeper and I can dip into certain genres and styles and artists that I know everyone is going to relate to and connect with because it's a very specific kind of sound and I'm really excited about that."
Along with the highly anticipated Z-Trip versus A.Skillz set is an assortment of underground music that will please many tastes and dance styles. Live art, performers, food, vendors, and of course the eccentric crowd, create a Petri dish for entertainment and inspiration. Though still in its nascency, Boogaloo already has the chops to make a lasting impression on the festival community and will hopefully experience the longevity of its festival forefathers.
"Our set's going to be a super highlight for the festival but also a personal highlight for me and A.Skillz 'cause we've been wanting to do this for a while," Sciacca says. "For us it's a very special moment at a very special festival."
REAL LIFE. REAL NEWS. REAL VOICES.
Help us tell more of the stories that matter from voices that too often remain unheard.
This post was published on the now-closed HuffPost Contributor platform. Contributors control their own work and posted freely to our site. If you need to flag this entry as abusive,
send us an email
.