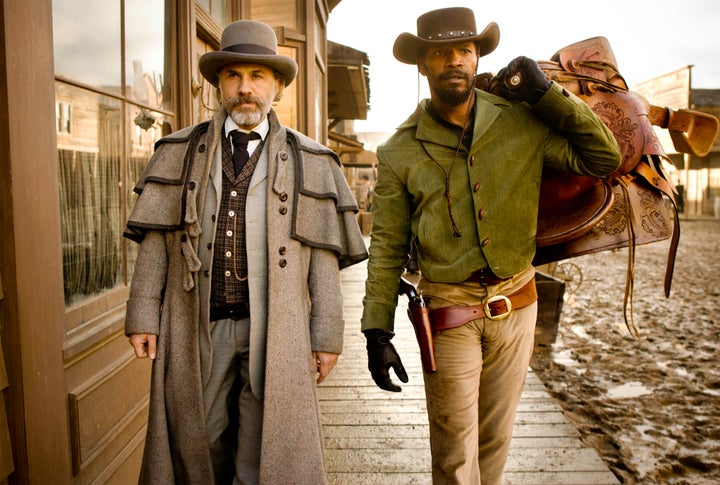 On Saturday afternoon in Hall H at the San Diego Convention Center, Quentin Tarantino and the cast of the (admittedly, pretty terrific looking) "Django Unchained" presented an eight-minute sizzle reel of footage to a quite enthusiastic Comic-Con crowd. You know what? Let's just get to it: Here are the eight most badass things we saw at the "Django Unchained" Comic-Con panel.
Boy, that sizzle reel will awaken a very tired human being.
We'll get to the details of the sizzle real, but, as someone who has had very little sleep over the last fews day while covering Comic-Con, I left that panel with a burst of adrenaline. Good lord, whether you're a fan of Quentin Tarantino or not ... the man knows how to cut a sizzle reel.
Speaking of Quentin Tarantino ...
The man also knows how to play to the Comic-Con crowd; he's well aware that hese are his people. Before presenting the "Django Unchained" footage, Tarantino explained that the sizzle reel was what was sent to industry professionals long before the first trailer was cut. Going as far to say that if this footage was good enough for the industry, it was good enough for the fans. As you might expect, this went over quite swimmingly with the fans in attendance at Hall H.
Christoph Waltz's Dr. King Schultz is Yoda.
At one point the moderator mentioned that Waltz's Schultz has similar relation to Jamie Foxx's Django as Obi-Wan Kenobi did to Luke Skywalker in "Star Wars." Tarantino was having no part of it, claiming that, instead, Shultz plays more of a Yoda-type character. While this was happening, Waltz had a look on his face that could only be read as, "I have no idea what you people are talking about."
Schultz is also at least a little bit based on Doc Holliday.
As Tarantino said, "It's not lost on me that Doc Holliday was a dentist," which also happens to be Schultz's occupation. Though, Tarantino promises a surprise when it comes to Schultz's background. He did admit that Schultz is a fugitive from Germany, but would not elaborate for fear that Waltz would "hit [him] in the head."
Don Johnson, who was at the presentation, is currently sporting a ponytail.
I have nothing more to add to that.
So, about that footage ...
Tarantino explained that all of the footage comes from the first half of the film. And, yes, some of the footage also appears in the trailers that we've all seen. It starts with the scene of Schultz ambushing a group of slave traders (as we see in the trailer) -- but is expanded on as we watch Schultz training Django.
Django has a shootout with a snowman.
Django practices his gun fighting techniques on an unfortunate snowman. After he successfully draws and shoots his target, Schultz quips, "You are definitely faster than that snowman." This got a big laugh.
And then there's the scene that sent a chill throughout Hall H.
Near the end of the sizzle reel, Django and Waltz visit a plantation owned by Don Johnson's Spencer Gordon Bennet. Django apparently has a grievance with Big John Brittle (M.C. Gainey), the man who is in charge of slaves on this plantation. (As we see via a montage of brutal flashbacks, Django was even branded on his face by Brittle.) When Brittle is about to whip a female slave for breaking some eggs, Django confronts his tormentor and immediately shoots him in the chest. (This isn't a spoiler, necessarily, as it appears in the trailer.) Django then barks, "I like the way you die." An intense beat down follows as Django, yes, very much gets his revenge. Again, as you could imagine, this scene went over quite swimmingly with the fans in attendance.
"Django Unchained" is out in theaters on Dec. 25
Mike Ryan is senior entertainment writer for The Huffington Post. You can contact him directly on Twitter.
RELATED: "Django Unchained" footage reactions from Cannes
Calling all HuffPost superfans!
Sign up for membership to become a founding member and help shape HuffPost's next chapter
BEFORE YOU GO