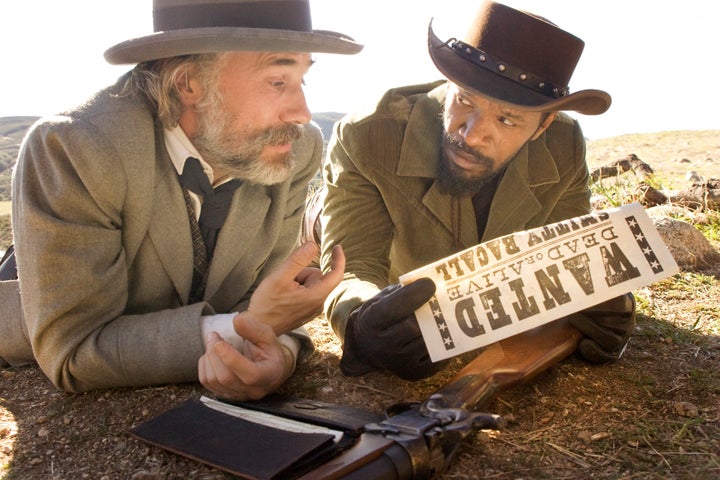 Unlike the "d" in "Django Unchained," the film's reviews are no longer silent. The review embargo on "Django Unchained" lifted at midnight on the East Coast on Tuesday, meaning all forms of praise and criticism about "Django" were dropped online by aggressive film critics when many were already asleep.
"'Django Unchained,' writer-director Quentin Tarantino's latest film, is in many ways also his best film, combining his maniacal style of mashed-up fragments from the cultural canon with a seriousness of intent that turns 'Django' into a discussion of both pop and politics," wrote BoxOffice.com critic James Rocci in a five-star review.
"Django Unchained" stars Jamie Foxx as a freed slave who, with the help of a bounty hunter played by Christoph Waltz, looks to get revenge on the men who have captured his wife (Kerry Washington). Leonardo DiCaprio, Samuel L. Jackson and Walton Goggins are among the evildoers Foxx's Django must dispose of over the course of the two-hour-and-45-minute film. As with usual Tarantino films, "Django Unchained" is filled with hilarious violence, talky monologues and some incredible music cues.
"The anecdotal, odyssey-like structure of this long, talky saga could be considered indulgent, but Tarantino injects the weighty material with so many jocular, startling and unexpected touches that it's constantly stimulating," noted Todd McCarthy for THR. "A stellar cast and strong action and comedy elements will attract a good-sized audience internationally, though distaste for the subject matter and the irreverent take on a tragic subject might make some prospective viewers hesitate."
"There are two things Tarantino, as a director, has virtually perfected -- staging Mexican standoffs and spinning dialogue for delayed gratification -- and expert examples of both await at Candyland," wrote Variety critic Peter Debruge, referring to the plantation that DiCaprio's villainous Calvin Candie calls home.
[T]he film also comes across like a rough cut that was never looked at as a coherent whole, and some segments that start off as promising become interminable while others feel entirely unnecessary. There's no pressure on or expectation for Tarantino to please anyone other than himself, and the film feels overstuffed with ideas that should have been pruned. That sense of fun needed to power something this outsized wanes before the film reaches its ending, two hours and 45 minutes later — it's not a feature that you want to last forever, but one that seems to take it for granted that you feel that way. There's a good movie inside Django Unchained, maybe even a great one, but it hasn't been carved out of the lopsided excess.
"Honestly, there's a tight 120-minute movie in there, somewhere," Ryan wrote.
"Django Unchained" might be called a love story or a comedy, but it's not particularly funny or moving and it's terribly self-indulgent. Flamboyance and cartoonishness rule, there's hardly a moment of genuine emotion, and most overtures in that direction are superficial. As a picture ostensibly about love, revenge and the ugliness of slavery, "Django Unchained" has almost zero subtext and is a largely soulless bloodbath, in which the history of pain and retribution is coupled carelessly with a cool soundtrack and some verbose dialogue. Though it might just entertain the shit out of the less discerning.
Popular in the Community