It's something we don't talk about much but can no longer afford to ignore.
This was the thinking of Sophia Domeville, Hatian-american artist and member of the Akoma Newark Sister Circle. Sophia and the Akoma Newark Sister Circle are hosting an event called Djembe, a film screening and discussion about mental illness and wellness for men of color. I sat with Sophia and asked her some questions about the event.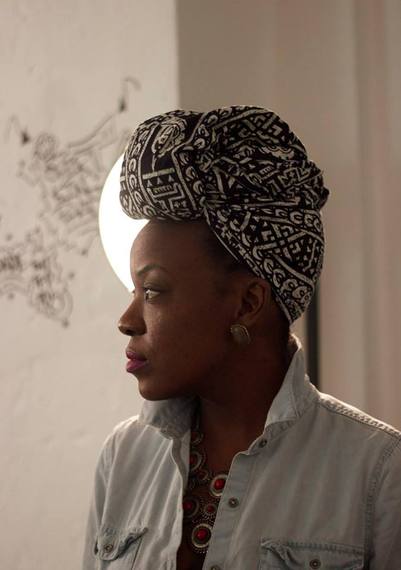 Explain the concept behind Djembe.
The concept that became DJEMBE was an idea I had one evening in early March after seeing a link posted on Facebook by good friend and amazing filmmaker Francesca Andre regarding a documentary called Faces of Darkness. It's a film about three African American men and chronicles their battle with depression as well as their struggle to overcome it and not be overtaken by it.
Then I received an article by Akoma Newark Sister Member, Jessica Dunston regarding the recent suicide rates with black men within our communities and in the entertainment industry. I was so moved by the article and wondered if men of color were receiving support during difficult moments.
Immediately I thought, "What can I do for the community?", and more importantly, "How can The Akoma Newark Sister Circle help?" I was so concerned about our men, in particular men of color who are killing each other and felt as a leader, a woman, a mentor, a daughter and educator, that it was time we take a stand....break through this taboo and address mental illness within our community.
Around 5am that morning, ideas started to form about creating this event in June preferably during Father's Day weekend and maybe discuss mental illness among our young men. I thought it would be a great concept to host the event at an unconventional setting where Men are known to discuss their own individual issues, a barbershop. In particular, Newark's own Center Stage Cuts. I wanted to personally invite the director/co-producer of the documentary, Kenneth Nelson, notable men within the mental wellness field, community leaders, residents of Newark and in particular Kevin Powell who has had a very powerful voice about this topic.
That same morning, I introduced this idea to The Akoma Newark Sister Circle and it took on a life of its own! Thanks to the insight, research, support, connections and hard work from our Sister Circle, DJEMBE was born!
I decided to use, "Djembe". Dje translates to gather, and be translates to peace. After sitting on the subway and hearing a man play the drums, an idea came to me about the drums. When I mentioned the idea to Akoma Sister Circle member/ co-founder, Tracee Thomas, and she immediately explained the importance of the drums in African traditions. The Djembe drum is traditionally used as a tool for men to gather in the community to discuss issues and find solutions. The idea was to use the symbol of Djembe drum to help heal a community and restore African traditions.
What was the motivation behind creating this event?
It's personal for us as we've all individually either suffered from various forms of mental illness, lost a loved one to suicide, watched our community deteriorate to the lack of mental wellness, and more.
What do you hope to gain from this?
What we hope to do is create a spark within Newark and beyond. To help build a platform for potential programs and workshops for our men and develop a safe space to heal.
What can attendees expect?

What our guests can expect is a day filled with interactive discussion on mental wellness, live African drums, food, a film screening a special surprise and more!
Our panel discussion will be in two sections.
Panel Discussion I - "From Broken-Spirits to Resilience"
During Panel I we will be discussing, naming and (re)-defining mental illness. This panel will provide basic definitions and also name the myths and stereotypical beliefs about mental illness and then debunk them. We first need to get a handle on what illness really is.
Panel Discussion II - " I am not my mental illness"
This has a more testimonial trajectory. What are the personal stories? It'll be powerful to have up to men talk about their experiences and journeys through mental illness, or simply toward better mental health.
Why do you think this is such a difficult subject for our community to address?
There is no one right answer, but from my experience, it is all due to lack of communication, resources, and support. And there's the stigma. The importance of this topic is HUGE especially within our community. The thing I hear the most is we need awareness and information. As a people we have gone through so much physically, spiritually, and emotionally, and talking about those feelings wasn't always allowed. There is such a stigma about mental illness and if it's not discussed or nurtured properly the cycle will continue.
What can the average person do to help further the conversation and spread awareness?
The average person can reach out and invite their local community leaders, organizations, friends and family and attend DJEMBE. There we can build a conversation on how we can create a community of support for our men young and old.
What advice do you have for those of us who want to take better care of ourselves and each other?
I am no professional, but what I learned was that there are many natural ways to heal either by speaking to a professional, change of diet, lifestyle changes and more. I would suggest if you need help, seek it and research by contacting your local mental health facility. Schedule an appointment with a professional to discuss ways in which to heal.
Due to the demand by the community, we are presenting DJEMBE II this Fall.
Popular in the Community