It's a Friday night in April on the California coast, and inside the basketball arena there's a sea of gold-with-blue-trim T-shirts that carry the tagline: "Our City, Our Team, Our Time." At every entrance there are long, winding lines of eager fans bubbling with enthusiasm. Inside, the energy of a capacity crowd boils just before the opening tip-off, the fans mounting an uproarious chant: "Warriors! Warriors! Warriors!"
The Oracle Arena, you might imagine? Think again.
We're actually a little more than an hour down the 880 Highway corridor from Oakland where Golden State's D-League franchise -- the Santa Cruz Warriors -- has captured the imagination, if not the soul, of the entire beachside community.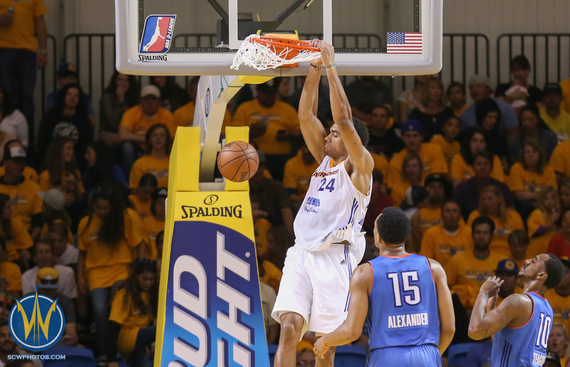 Just like their NBA counterparts who have turned in one of the greatest regular seasons in professional hard-court history, the D-League Warriors are in the playoffs with hoop dreams of their own: they've just completed the regular season with a 35-15 record -- good for first place in the D-League's Western Division and a .700 winning percentage, all under the tutelage of their superb young head coach Casey Hill.
The Warriors went on to win the game over Oklahoma City, 109-97, in classic Surf City style -- with some sturdy defense led by D-League Defensive Player of the Year, Aaron Craft, and with a fine-tuned offense led by forward James Michael McAdoo (on assignment from Golden State) and Mychel Thompson, brother of Golden State's all-star guard Klay Thompson, who happened to be sitting courtside (seated next to Golden State owner Joe Lacob) cheering on his elder sibling.
To cap off what was a total team effort, hard-charging Taylor Griffin (Blake's older brother) scored critical back-to-back baskets late in the fourth quarter, while Ognjen Kuzmic (who's also seen time with Golden State this season) finished with an impressive double-double, collecting 14 points and 15 rebounds. It was a great show -- and the hometown fans left delighted.
In little less than three seasons since their move from Bismarck, North Dakota, the Santa Cruz Warriors have become "a model franchise," in the words of D-League President Malcolm Turner, topping the D-League charts in terms of annual revenues and average ticket sales per game. "They are quality owners and operators," Turner added. "That makes them quality partners."
The team has instituted an intense community outreach program throughout the region, working with a host of nonprofit organizations and local schools. According to Gina Antoniello, Director of Public and Community Relations, the Warriors have hosted or participated in a phenomenal 109 community events this season, everything from golf tournaments to a Salvation Army benefit luncheon for the homeless. They also facilitate a pair of innovative educational endeavors -- Math Warriors and the Read to Achieve Reading Program -- that actually sends players into the classroom. As a result, there's a host of young kids at every game enjoying the play of their hometown heroes.
Anyone who has ever paid attention to Santa Cruz city politics knows that the Warriors' move to Surf City was anything but a slam dunk -- pun very much intended. The local planning process can often be tedious, not to mention extremely contentious. But with the support of Golden State brass Lacob and Peter Guber, Santa Cruz Warriors' President Jim Weyermann has creatively navigated the local political and economic minefield, getting a temporary arena up and running in less than a year, and, even more impressively, filling it night after night.
The NBA D-League is unlike any other in professional sports. The dynamic Weyermann, who came to the Warriors by way of baseball (he served as president and CEO of the Single A San Jose Giants before assuming his position in Santa Cruz), points out that while there are "167 teams in minor league baseball, there are only 18 in professional basketball."
While the vast majority of guys who play minor league baseball never make it to The Show, the D-League (the "D" stands for "development") is a different story. More than half of the current league has NBA experience and, perhaps even more remarkably, 30 percent of current NBA players have spent time in the D-League.
As a result, the 10-man active rosters in the D-League are like a convention of fruit flies, always in flux. McAdoo, for instance, who played a critical role in Santa Cruz' win in the first round of the playoffs, is not likely to play for them again this season. His focus is now with Golden State and an NBA title. Others will fill in his shoes.
Which is why the role of head coach in the D-League is so critical. They serve as the steady hub around which the rest of the team revolves.
The 31-year-old Hill, the scion of a longtime NBA family, began his stint with the Warriors organization as an assistant coach with the Dakota Wizards in 2011, before assuming the head coaching position in Santa Cruz two years later. Hill's father, Bob Hill, served as a longtime NBA coach for the New York Knicks, Indiana Pacers, San Antonio Spurs, and, finally, the Seattle SuperSonics, and the younger Hill worked under his father during the 2010-2011 season as assistant coach of the Tokyo Apache in the Japanese professional league.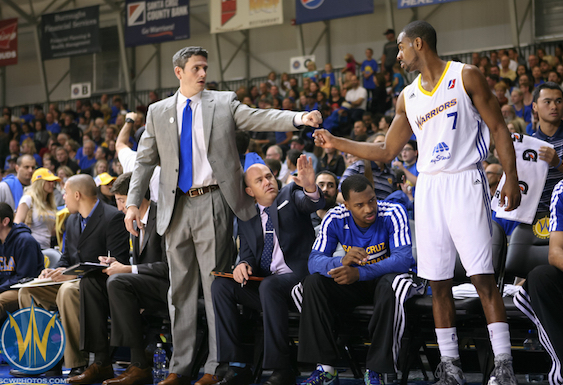 The ever-modest Hill expressed his "gratitude" following his team's win over Oklahoma for being able to coach "this talented group of players." Under Hill's guidance, Santa Cruz ranked first in defensive rating this season (99.6 points allowed per 100 possessions) and first in assist percentage (62 percent).
Pete Newell Jr., also the son of basketball royalty and who himself coached his Santa Cruz High cagers to a California state championship a decade ago, recognizes Hill's significant contribution to the Warriors' success the past two seasons:
"Casey Hill is the steady core of the Santa Cruz Warriors foundation and their ties to the community. They win because of him. The players play hard because of him. They move on to the NBA or overseas because of him. They acclimate from different backgrounds because of him. He has kept the Warriors in title contention these past two years by repetitive fundamentals in practice--allowing his assistants to teach and teach again. He provides meticulous preparation for the next opponent--encouraging players to refocus when they wander away from the team concepts at either end of the court."
Perhaps the most-beloved local player on the D-League Warriors the past two seasons has been Kiwi Gardner, the dynamic 5'7" point guard out of the mean streets of Oakland who first signed with Santa Cruz as a 20-year-old. He, like many of his teammates, has developed a close relationship with Hill, who Gardner says "was born to coach." Gardner's playing time has been limited this season with the likes of Craft, Darington Hobson and D-League all-star Elliot Williams in the Warriors' back court, but his high-charged enthusiasm has been contagious in the college-town community that prides itself on its eccentricities.
All in all, it's made for a winning combination in Surf City -- which sported a California League baseball franchise more than a century ago, and a semi-pro football team in the aftermath of World War II. But never anything close to a professional basketball team.
That's why you can count on a packed house in Santa Cruz tonight at the Kaiser Permanente Arena when the Warriors take on the Austin Spurs in Game Three of the league semi-finals, just one win away from a third-straight trip to the D-League championships. Like their NBA counterparts 70 miles north of them, the Santa Cruz Warriors are gunning for gold.

Geoffrey Dunn is the author of Sports of Santa Cruz County (Arcadia Press) and has won awards for sports writing from the National Newspaper Association and the California Newspaper Publishers Association. Photos courtesy Tim Cattera and the Santa Cruz Warriors.
REAL LIFE. REAL NEWS. REAL VOICES.
Help us tell more of the stories that matter from voices that too often remain unheard.