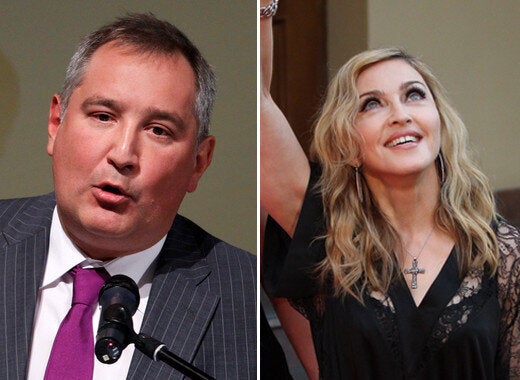 A senior Russian official slammed Madonna on Wednesday for the megastar's support for the jailed members of the punk band Pussy Riot.
"With age, every former s. tries to lecture everyone on morality. Especially during overseas tours," Rogozin wrote, according to a HuffPost translation, using the first letter of the Russian word for "slut" or "whore."
On Tuesday, Madonna expressed admiration for Pussy Riot during a sold-out Moscow concert.
"As an artist, as a human being, as a woman, I have freedom to express my point of view, even if other people don't agree with me. Even if my government doesn't agree with me," Madonna said during the show, according to the New York Times.
She then went on to speak about Pussy Riot directly.
"I know there are many sides to every story, and I mean no disrespect to the church or the government. But I think that [the girls of Pussy Riot] have done something courageous. I think they have paid the price for this act. And I pray for their freedom," she said.
The feminist punk band Pussy Riot is facing a three-year prison sentence on charges of hooliganism motivated by religious hatred after they appeared in Moscow's main cathedral, singing "Virgin Mary, drive Putin away!" just two weeks before Vladimir Putin won Russia's presidency for the third time.
Since Rogozin's tweet about Madonna, a few Russian Twitter users have come out to challenge the Russian official.
"Better to be a former slut, than a former patriot," replied @bezdomny2012, according to a HuffPost translation. Like Rogozin, @bezdomny2012 only used the first letter to signify the derogatory word.
Madonna is expected to perform in St Petersburg on Thursday and has pledged to speak out against a new city law banning "homosexual propaganda." U.S. embassy officials have urged Madonna fans at the concert to be vigilant as there have been threats of physical violence, the New York Post reports.
Note: While this Twitter account appears to be the official account of Dmitry Rogozin, the Russian deputy prime minister has yet to issue any official statements confirming the tweets referred to in this article.