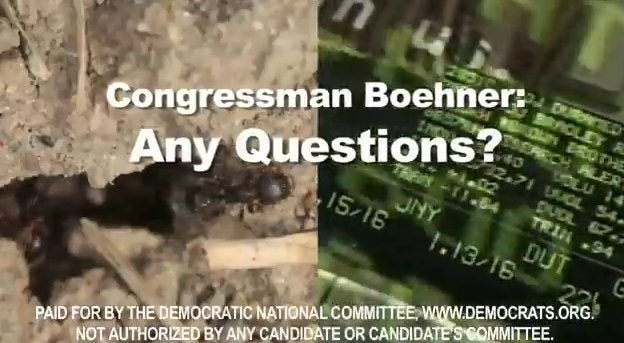 The Democratic National Committee unveiled a new ad Wednesday seeking to highlight what they see as the disconnect between House Minority Leader John Boehner's statement that the recently-negotiated Wall Street reform amounted to "killing an ant with a nuclear weapon," and the actual enormity of the financial crisis.
"Congressman Boehner, this is a bunch of ants," the ad's narrator reads, while ants scurry across the screen. "This is the 2008 financial crisis," the narrator continues, introducing a montage of news footage from the heart of the economic downturn. "Any questions?"
Boehner made the comments Monday during an interview with the Pittsburgh Tribune-Review, in which he also suggested that the retirement age should eventually be increased to 70.
This ad appears to echo a sentiment expressed by White House press secretary Robert Gibbs at a briefing on Tuesday, that Minority Leader Boehner is "completely out of touch with America."
Other Democrats agreed with Gibbs.
"It's the clearest expression yet from the Republicans of what they believe - that the system in place for regulating Wall Street works fine and is in need of minor reforms - if any at all," a Democratic official said, according to CNN. "You can bet Boehner's comments will be heavily featured in DNC ads this fall."
Boehner spokesman Michael Steel defended his boss, however, maintaining that the Minority Leader was simply expressing his unhappiness with the reach of the Democrats' Wall Street reform bill, not downplaying the scope of the financial crisis.
"Boehner was certainly not minimizing the crisis America faced - he was pointing out that Washington Democrats have produced a bill that will actually kill more jobs and make the situation worse," Steel said, according to CNN.