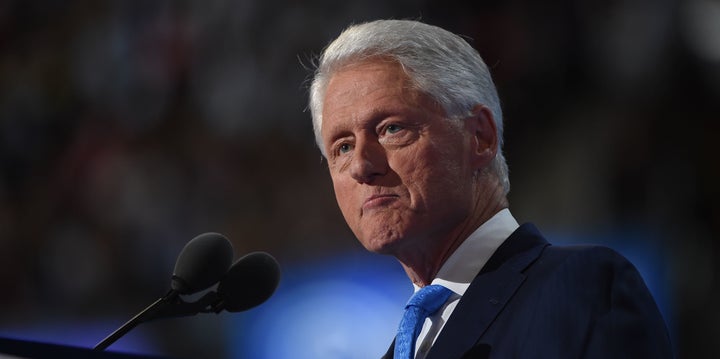 PHILADELPHIA ― Former President Bill Clinton had a chance to grapple with the controversial legacy of his 1994 crime bill during his Tuesday night speech to the Democratic National Convention. He chose not to discuss it.
Political conventions are typically celebrations of their participants, not moral investigations or examinations of a party's past failures. And Clinton skipped over plenty of other uncomfortable facts during his nearly hour-long speech, which presented an inspirational romantic history of his relationship with Hillary Clinton and their life in politics together.
But given the major themes of the evening, the former president's avoidance of the crime bill seemed a particularly bold oversight. The DNC on Tuesday night highlighted eight mothers who had lost children to racially charged violence ― some at the hands of police, others at the hands of civilians.
Sybrina Fulton, Geneva Reed-Veal, Lucy McBath, Gwen Carr, Cleopatra Pendelton, Maria Hamilton, Lezley McSpadden and Wanda Johnson all endorsed Hillary Clinton from the convention stage for their own reasons. Their presentation was powerful, touching on both criminal justice reform and efforts to curb gun violence.
Bill Clinton's history with these issues is messy. The 1994 crime bill that he signed into law significantly toughened sentencing for both violent and nonviolent crimes, helping to fuel a mass incarceration system that just happened to hit black communities particularly hard. Dozens of crimes became newly punishable by the death penalty.
The bill also expanded federal funding for police, without meaningful standards to improve law enforcement methods. Critics of the bill say that it placed an emphasis on more policing rather than better policing, and that this, again, harmed black communities.
The crime bill also included a ban on assault weapons ― a then-new legal term for a variety of semi-automatic guns. That ban expired during George W. Bush's presidency and has never been renewed.
Mothers who lost children to civilian guns called for new, tougher gun laws on the stage Tuesday night, and declared their faith in Hillary Clinton to fight for them.
Their presentation offered the Democratic Party an opportunity to come to terms with its recent history and offer a different path forward during a major party event. Instead, Bill Clinton dodged the issue, calling for young black people to do their part to help build a stronger and safer nation.
"If you're a young African-American, disillusioned and afraid … Help us build a future where no one is afraid, including our people who wear blue," Clinton said.
The crime law was Bill Clinton's legislation, but then-first lady Hillary Clinton advocated for it in public, in terms she has said she now regrets. When Black Lives Matter protesters disrupted a Bill Clinton speech in April, however, he defended his wife's use of the term "super-predator" two decades earlier.
There are dozens of other issues that Democrats and the general public now view differently than they did in the 1990s. Not every issue gets airtime. But the DNC didn't bring out foreclosure victims to talk about how Hillary Clinton would crack down on financial fraud, or refugees to praise her foreign policy.
Tuesday night revealed that while the Democratic Party is eager to look forward on criminal justice reform, it is still uncomfortable looking back.
Popular in the Community