Not a single hand went up.
But for Bernie Sanders supporters still smarting over the perceived partiality of the DNC toward Hillary Clinton in the primaries, there is hope. The truth is a number of them implicitly acknowledged there were problems and proposed substantive reforms to prevent them from happening again.
New Hampshire Democratic Party Chair Ray Buckley, who cherishes his status as the field's process wonk, had some of the most detailed recommendations.
"This is really my wheel well. This is what I am very passionate about," he said.
Buckley has a proposal to ensure that a state's primary or caucus vote reflects the wishes of its voters, regardless of which candidate the state's superdelegates get behind. Currently the superdelegates are party insiders free to support a primary candidate regardless of who their state's voters backed.
He would also make sure that scheduling candidate debates is up to the DNC's executive committee, rather than just the chair, and bar the party from making a joint fundraising agreement with a particular primary candidate.
Rep. Keith Ellison (D-Minn.) said he agreed with the recommendations and added that he would "set a cultural tone that is absolutely respectful of everyone who is running."
"We have got to communicate to every staff member that what you write in an email could well end up being a headline. And so you have got to be scrupulously fair to everyone because you might not think anyone is watching, but probably someone is," he said.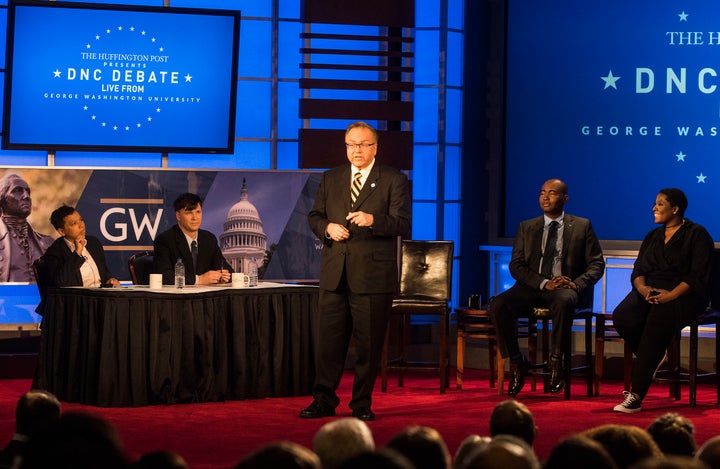 Under normal circumstances it would be odd for DNC chair candidates to be discussing the intricacies of the presidential primary process when the contest is still at least 2½ years away.
This DNC race comes months after not only a crushing election defeat but also a fractious Democratic primary replete with accusations of foul play hurled at the DNC and its then-chair, Rep. Debbie Wasserman Schultz (D-Fla.). And while the seven contenders onstage were loath to admit it, that primary casts a giant shadow over the contest to lead the party.
Every one of the changes Buckley and Ellison put forward at the debate is a direct response to a specific instance of real or perceived DNC interference.
Clinton's Democratic primary race rivals, including Sanders and Maryland Gov. Martin O'Malley, accused the DNC of deliberately limiting the number of debates and scheduling several for the weekends to aid Clinton, as well as allowing illegally high campaign donations to Clinton through their joint fundraising apparatus.
Leaked emails from DNC staffers indeed became headlines, as Ellison hinted, because they revealed party staffers' suggestions of potential attacks on Sanders and mockery of his candidacy.
And the role of superdelegate came under fire during the contentious primary as never before because so many of them endorsed Clinton months before Democratic primary and caucus participants even got a chance to weigh in. Although they did not end up contradicting the popular vote, the notion that they could and the early prestige they lent the former secretary of state incurred major resentment among Sanders supporters.
Buckley argued that he has the credibility to rebuild trust in the party's impartiality, given his record in New Hampshire.
As state party chair, he noted, he helped Sanders overcome early skepticism of his eligibility to participate in the primary, personally accompanying the Vermont independent to register for it at secretary of state's office. He later testified for Sanders in a challenge of his inclusion on the ballot.
"I've done it. I've shown what a fair party can do," he concluded.
The 447 voting DNC members will gather to elect their next chair in Atlanta on Feb. 25.
Calling all HuffPost superfans!
Sign up for membership to become a founding member and help shape HuffPost's next chapter
BEFORE YOU GO
PHOTO GALLERY
Democratic National Committee Chair Candidates