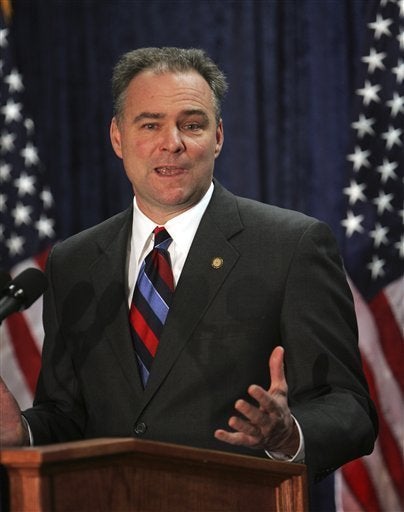 West Virginia Gov. Joe Manchin has made a fairly robust effort to distance himself from President Obama and, more broadly, the policy elements of the Democratic agenda, culminating in a television ad in which he literally shoots a bullet through cap and trade legislation.
Most in the party have chalked up the strategy to blunt politics in a Senate election that few predicted would be quite so close. But not everyone is pleased.
On Thursday, DNC Chairman Tim Kaine said that he was "not wild" about the Manchin ad, particularly the sour message it delivers with respect to health care legislation.
"I'm not wild about it," Kaine said, at a Christian Science Monitor breakfast. "The part that I most don't like is 'fixing what's bad about Obamacare.' He had two Democratic senators [in his state], very good senators, who voted for that bill and they voted for it because it probably has as much to offer the residents of West Virginia as virtually any state, if you look at health stats and things like that."

"He's a hell of a shot [though]," Kaine added, playfully.
The DNC chair has been one of the more outspoken Democrats in arguing that the party should run on -- not away from -- its legislative accomplishments, going so far to call candidates "foolish" for distancing themselves from the president. So his take on the Manchin ad fits with his larger strategic vision for the party's candidates.
"What Democrats ought to do is be proud of being Democrats and be proud of their accomplishments," Kaine said on Thursday. "[Manchin's] in a bit of a different spot. He wasn't a member of the Senate. So if he was a member of the Senate he should be running on accomplishments. Now he is not that so he is clearly positioning himself, he has his own thing. And the good news is, as I travel, the majority of Democrats are proud to be Democrats and proud of their accomplishments."
But in an election climate where observers are harping on any perceived friction within the Democratic Party, Kaine's criticism of the Manchin ad does stand out, although it's hard to imagine the West Virginia governor losing sleep over this. A rebuke from the head of the DNC only reinforces the anti-establishment, party-line-bucking image that Manchin is seeking.

Popular in the Community