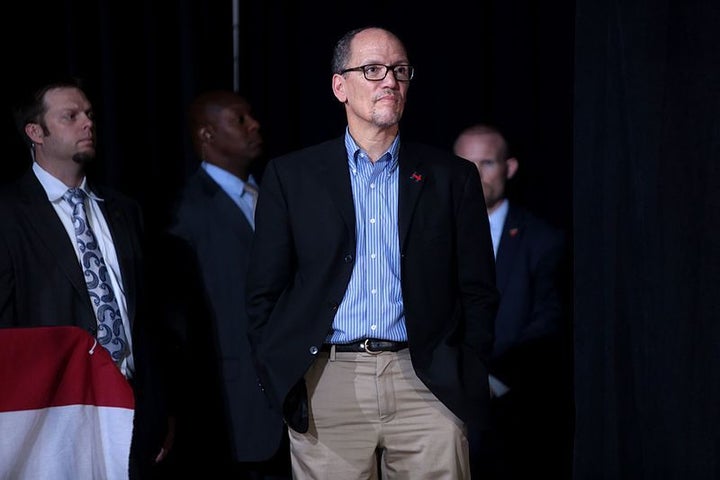 "Call me Tom."
Tom fired no one, but he made everyone resign.
Everyone. All current DNC staffers have been asked for their resignation dated April 15. Thus begins the epic rebuilding project of Tom Perez, first Latino ever elected to the top job at the Democratic National Committee.
When everyone resigns, Tom may be unpopular for a time in the Beltway. Tom will need loyalists like Xochitl Xinojosa, the Hillary press shop operative from Texas who engineered Tom's win over Congressman Keith Ellison and Peter Buttengieg, the unknown prodigal Mayor of South Bend, Indiana who stole the show during the DNC chair race. Tom will need Keith and Peter, too, along with so many others if Tom is going to Make Democrats Great Again before the 2018 midterms.
A Ruthless Winner
Bottom line: Tom must become a ruthless winner of American elections. In his era, Democratic Party candidates must thrive, which is to say Tom must crush Republicans up-and-down the ticket in fifty states, or Democrats are doomed. I've blogged a lot about the DNC lately, some posts kinder than others. Lately, though, I've been impressed with Tom. Of course, I hope he succeeds and quickly ... but it's more than that. As a Hispanic, I'm damn proud to see so many so many Democrats on Fox News lately.
To help Tom succeed (and quickly), when he returns to DNC headquarters on Capitol Hill, there are two women and an immigrant downstairs it would be worth Tom's time to invite for a cup of coffee. They are as follows —
Lauren Dillon: In the overused analogy of political campaigns being like war, opposition research is ammunition. Tom cannot go to battle without ammunition. Thanks to Lauren Dillon, Tom is inheriting an arsenal. Dillon is, pound for pound, probably the DNC's most-valuable political operative. For years her team has built and maintained (and sadly, oft-neglected) multimedia library of millions of deeds and misdeeds of Republican candidates and elected officials. If he is playing to win, Tom needs Dillon in his foxhole. He should invite her to coffee and insist she not resign, at all.
Jessica Deloach Sabin: After years of weekly segments versus the top GOP pundits in Arkansas, Jessica Deloach Sabin debuted on Fox News last week. Since then she's sought out the most far-flung corners of conservative media and delivered the Democratic Party messages with discipline and fluidity. If Tom is serious about reaching voters Democrats have lost, Jessica is finding new ways to do just that each week through television, the medium Trump used to beat seventeen GOP in the Republican primary. While Tom has sat for some great television segments lately, he needs the right national broadcast spokesperson to deliver on his promise to win back voters from places that used to vote Democrat, but turned out in droves for Trump last year. Jessica is that spokesperson. Tom should invite her to coffee so she can prove it.
Javier Gamboa: As the first Latino elected chair of the DNC, Tom must grapple with the Democratic Party's plummeting stock amongst Hispanic voters. Thirty percent of Hispanic voters picked Trump on election day last year, as Hispanics at the DNC headquarters on Capitol Hill had seen generations of exclusion at the staff- and vendor-levels. Then there's immigration, another area where the party's credibility has tanked. No one understands the recent cross-sections of Democrats and latinidad better than Javier Gamboa, a press operative on Ben Ray Lujan's team at DCCC. Coffee would Gamboa would help Tom better-understand where the party went wrong with Hispanics and immigrants ... and how to do better.
If you're unfamiliar with Tom and his vision, check him out yesterday morning sitting down for a great #202Live breakfast conversation with journalism god Dan Balz at the new Washington Post headquarters:
Popular in the Community