At a live CNN-sponsored debate in Atlanta on Wednesday night, however, South Bend, Indiana, Mayor Pete Buttigieg and South Carolina Democratic Party Chair Jaime Harrison stood out for their animated performances. They are now fighting for the role of kingmaker in the deal-making that will dominate the race's final days and it showed in their urgent demeanors. 
Buttigieg in particular was clearly on a mission to make an impression with DNC members ― and for that matter, Democrats watching at home.
In an unusually tense moment for a race where public forums have been almost boringly amicable, Buttigieg interrupted Ellison during an answer about past remarks on gun policy. CNN's Dana Bash had asked Ellison to explain why he had called for Democrats to oppose the second amendment of the Constitution. 
Ellison denied that he had ever said such a thing. When Bash confronted him with his exact words, he insisted they were being taken out of context.
"It's a false choice to say that you are either going to ban the second amendment or we are going to have some common sense gun safety laws," he said. "I am for common sense gun safety laws ―"
"Which is why it matters so much to use the right words when we're talking about these issues," Buttigieg interjected.
It was a perfect opportunity for Buttigieg to highlight his main selling point: That as a Democrat who has won in Republican territory, he is best positioned to rebuild the party in the era of President Donald Trump.
"In my part of the country, this is one of the reasons people tune us out immediately. But there are ways of talking about this," Buttigieg said. He went on to list a string of personal stories he uses to explain his support for universal background checks, including one involving his own military service in Afghanistan.
Later, Buttigieg made an appeal for his candidacy that warned of the consequences of not electing someone with his red-state mayoral experience.
"If you do what you've always done, you're gonna get what you've always got. This is a test of whether the DNC is ready for change," he said.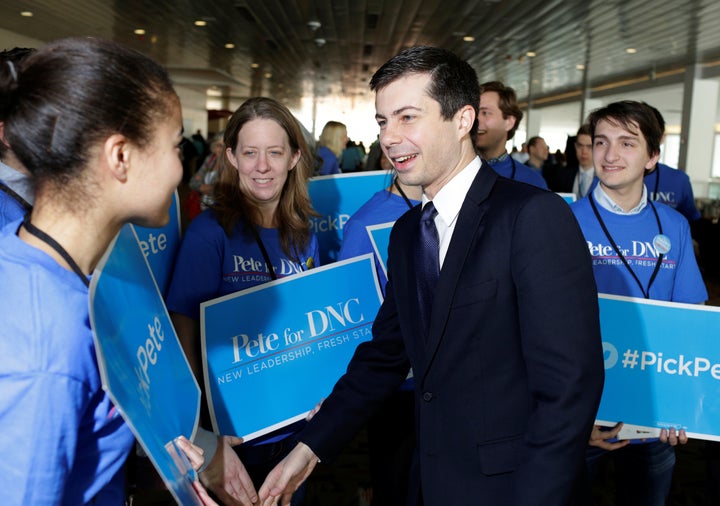 Harrison, for his part, insisted that his experience as the field's sole state party chair made him uniquely equipped to head the DNC. (New Hampshire Democratic Party chair Ray Buckley dropped out of the race on Saturday and endorsed Ellison.)
"I know the mayor likes to say he's the 'only person,'" Harrison said, referring to Buttigieg. "Well, listen, I'm the only person that is a party chair that is building a party right now in the state."
And Harrison, who has endured some scrutiny for his lobbying work on behalf of controversial industries, argued that his impoverished upbringing actually made him the candidate most prepared to understand the needs of the less fortunate.
"I will be probably the only chair that has been on food stamps; the only chair that has lost their home, not once, but twice; the only chair that knows what the hardship that working people have to go through in this country," he said in his closing remarks.
It is not likely that either Harrison or Buttigieg tipped the scales of the race decisively in their favor on Wednesday night.
But that was undoubtedly not the goal. Neither Perez nor Ellison has locked up a majority of the DNC's 447 voting members. If that trend holds, then Saturday's voting will proceed to multiple rounds where securing a third candidate's supporters could make a difference.
As a result, figures like Buttigieg, Harrison and Idaho Democratic Party executive director Sally Boynton could barter their votes for some form of influence in the party. There is even an unlikely scenario in which Ellison and Perez are continually unable to secure a majority, and members coalesce behind another candidate who can transcend their differences. 
Harrison reportedly has the most DNC members' votes of any candidate besides the top two. Buttigieg is armed with his self-proclaimed outsider status, unique life story, and, as of Wednesday, the endorsement of the respected former DNC chair Howard Dean.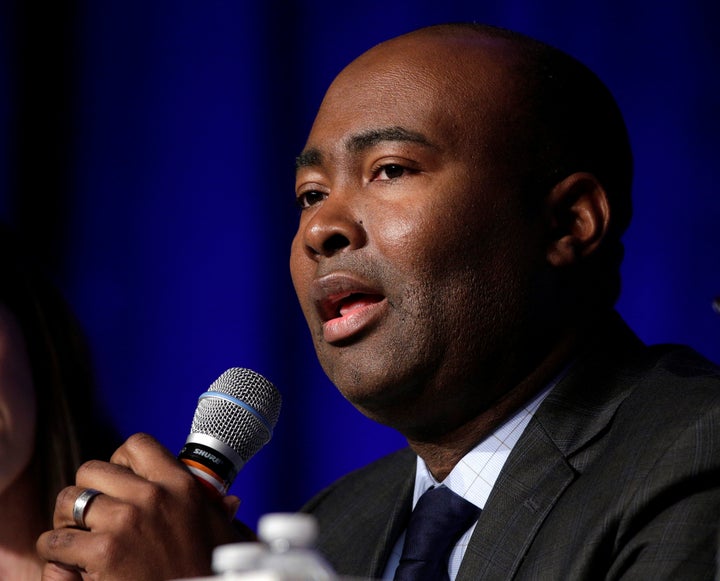 Many activists and operatives view the showdown between Perez and Ellison as a proxy contest between the establishment and progressive wings of the Democratic Party. Perez, who backed Hillary Clinton in the 2016 Democratic presidential primary, is the establishment favorite, while Ellison, an outspoken supporter of Sen. Bernie Sanders (I-Vt.), has gotten more traction among progressive stalwarts.
But with an eye toward courting the party officials who decide the DNC race, Perez and Ellison have been focusing on their individual strengths, rather than their perceived roles in the party ecosystem. 
The two frontrunners continued to fine-tune those pitches on Wednesday night. Perez highlighted his executive experience at the helm of the Department of Labor, and the Department of Justice's civil rights division before that.
For every outrage-provoking Republican policy that came up, such as voter identification laws or draconian enforcement of immigration laws, Perez pointed to a lawsuit he brought or a regulation he helped write.
"This organization has a crisis of confidence and a crisis of relevance. It requires someone with experience as a turn-around agent at scale," Perez said. His voice was hoarse from what he said was all the campaigning he had been doing.
Ellison emphasized his history as an organizer and elected official, pointing to his experience helping defeat a voter identification law on the ballot in Minnesota in 2012.
"The DNC chair ― we will employ lawyers, but what we really do is we win elections," he concluded.
REAL LIFE. REAL NEWS. REAL VOICES.
Help us tell more of the stories that matter from voices that too often remain unheard.
BEFORE YOU GO
PHOTO GALLERY
Democratic National Committee Chair Candidates