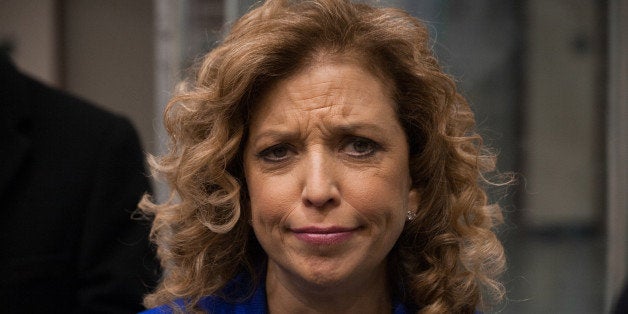 When I heard that DNC Chair Debbie Wasserman Schultz said in an interview that young women have been complacent since Roe V. Wade I was both enraged and also not surprised. As a 34-year-old feminist working for women's rights and social justice since being a teenager, I've encountered my fair share of older feminists that regurgitate this narrative over and over.
First, I don't understand why some older feminists that feel this way approach this from a point of criticism. Criticizing young women is not a way to inspire us to be active on political issues. If women who feel this way really cared about nurturing younger generations to take the lead on women's issues they'd do things like share their stories, listen to our stories and help us feel valued. But instead there's this perception that because we grew up having more rights than our feminist fore-mothers we don't care about women's issues.
In my state of Connecticut alone I know of more amazing young women than I can count. Like Melinda Johnson, a young woman who hosts a weekly TV show called Change Talk Wednesday with the goal of encouraging women to live powerfully. Like Lindsay Farrell who in her early 30's became the Executive Director of Connecticut Working Families and led the movement for paid sick days. Like Camille Joy Sneed who in her 20's started Vision Community Network Inc. which aims to provide a safe haven for inner city children through arts and education. Like Arvia Walker-Stinson who is running a program called #ProjectPeriod and is collecting thousands of feminine hygiene products for homeless women in the state because they lack access to this basic need.
Off the top of my head I can also name several incredible young women making a difference on a national level. Like Patrisse Cullors, Alicia Garza and Opal Tometi who created the #BlackLivesMatter hashtag and movement and who are all under the age of 35. Like Erin Matson and Pamela Merrit who in 2015 co-founded Reproaction because they feel there needs to be more direct action around abortion rights.
So to those older feminists that keep moving forward this unwarranted belief that young women don't care about important social and political issues, please open your eyes. You don't have to look very hard to find us. We're right here, fighting for the issues we care about and quite frankly we face enough pushback from the patriarchy, we don't need it from you.
REAL LIFE. REAL NEWS. REAL VOICES.
Help us tell more of the stories that matter from voices that too often remain unheard.