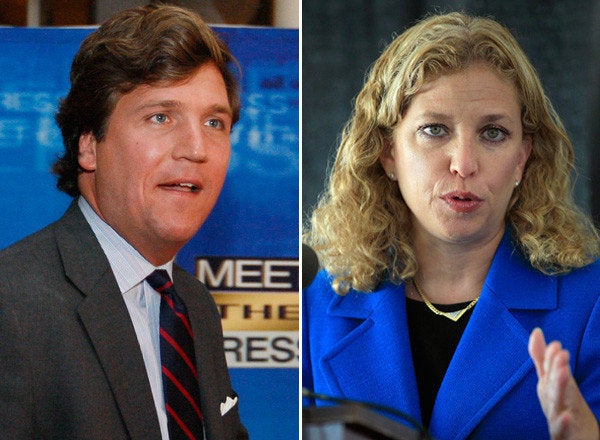 WASHINGTON -- A private spat between the Democratic National Committee's communications shop and a reporter for the Daily Caller, a conservative-leaning web outlet, erupted publicly on Wednesday after a DNC official leaked a heated email exchange to the press.
The Caller reporter, Matthew Boyle, had told DNC Communications Director Brad Woodhouse that if he didn't get back to him with a comment about Attorney General Eric Holder's handling of the "Fast and Furious" controversy, he would report that "Chairwoman Debbie Wasserman Schultz is not supporting Holder." In response, Woodhouse deemed the technique a journalistic form of blackmail.
Boyle defended his tactics Thursday in a statement provided jointly to BuzzFeed and The Huffington Post.
"I've sent several inquiries to the DNC on this," he wrote. "They've had ample opportunity to respond with an indication that they support the attorney general. I wanted to give Brad plenty of time to respond before we reported, correctly, that the DNC would offer The Daily Caller no verbal support for Eric Holder."
By Wednesday evening, Boyle had published his article, which reported that Wasserman Schultz did in fact stand by Holder while noting that Woodhouse had leaked his emails.
The saga and the story, it appeared, would end there. Only Boyle was back with a follow-up request the next morning, once more regarding the chairwoman's position on Fast and Furious. And the subsequent round of emails, which Woodhouse passed along to The Huffington Post, is even more peevish and animated than the first. They are included below in reverse chronological order:
This hardly resembles the typical reporter-flack interaction. And while it does provide a window into how intense and personal such exchanges can get on occasion, threatening to attribute a position to someone simply because they are declining to comment is, as BuzzFeed deemed it, "leaning into the story a bit."
Boyle did not immediately return a request for comment on the most recent email exchanges. But that may be because at the time of this article's publication, the email war was still ongoing.
"Funny you would accuse me of lack of professionalism," Boyle wrote Woodhouse on Thursday. "You're the flack who lost control and tried to run a campaign against a reporter for asking questions and saying he'd accurately report a non-answer if that was the case. I'm just trying to get answers to questions."
He then abruptly offered to meet Woodhouse for lunch of coffee -- in the spirit of "civility" -- only to add: "I hope you'll grow up and realize this issue isn't going away and that I'm not going away either. I'm a solid reporter -- you know that damn well -- and I'm about accuracy and tenacity."
To which Woodhouse replied: "Matthew – do I need to resend you the email where you said you would report that the Chair does not support Holder simply because we didn't respond to your inquiry? There is nothing in that that would have been accurate – it would have been a bald-faced lie. That wasn't tenacity – it was blackmail and we're not going to succumb to it."
Popular in the Community