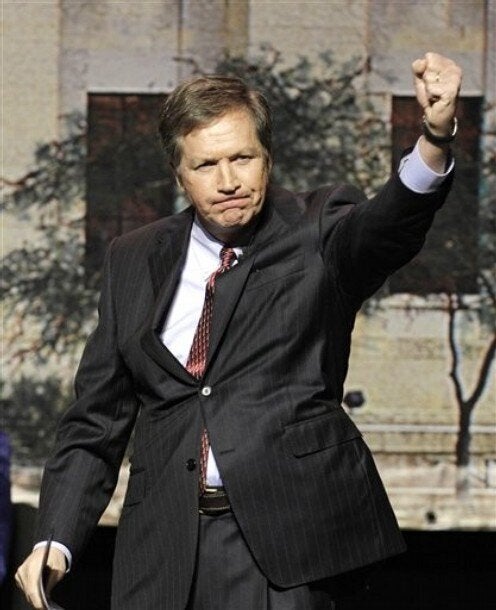 WASHINGTON -- Building on the momentum in Wisconsin, where tens of thousands of protesters have turned out to oppose Republican Gov. Scott Walker's effort to strip collective-bargaining rights from the state's public-employee unions, President Barack Obama's campaign organization is mobilizing its followers in Ohio and Indiana, where similar measures are being considered.
Thousands descended upon the Ohio statehouse Thursday to protest a bill that would eliminate collective-bargaining rights for state employees and curtail the rights of local-level government employees. The debate is similar to that in Wisconsin: Supporters say it's necessary to deal with budget problems, while opponents say it's nothing but a vicious assault on unions.
Now folded into the Democratic National Committee, Obama's campaign group Organizing For America is already actively engaged in Wisconsin and is beginning to ramp up organizing efforts in Ohio, though observers say the latter process is about a week behind that in Wisconsin. The group is also beginning to dig into Indiana, whose legislature is considering a bill to limit collective bargaining by teachers.
A DNC staffer told The Huffington Post that the group upped its efforts in Wisconsin after Chairman Tim Kaine spoke with local legislators last week. OFA then began organizing turnout for Thursday's statehouse rally and running phone banks in Ohio targeting state senators, which are slated to continue next week. This weekend, organizers have set up door-to-door canvassing in key districts that they hope will likewise put pressure on swing lawmakers.
OFA National Deputy Director Jeremy Bird said volunteers first alerted the group to the contested Ohio legislation. "The energy is pretty remarkable," he told The Huffington Post. "People started to contact us, and they'd call our office and our volunteers, and say, 'This is a big deal. This is going to affect my family.' ... That started to really simmer earlier this week in Ohio, and it's starting to pick up the pace."
In Ohio, major labor unions including AFSCME and the AFL-CIO are also stepping up the pressure against Gov. John Kasich (R) and the bill's supporters. The AFL-CIO estimated that tens of thousands of phone calls, emails and handwritten postcards have been delivered to state senators in opposition to the legislation, and a spokesman said the protests will continue in the coming weeks.
"One of the things we're trying to do is reach out more to the general public, especially through media, but also through a lot of this phone-calling and door-to-door efforts," Andy Richards, the field communications director for the AFL-CIO in Ohio, said in an interview with The Huffington Post, noting that the protests have helped re-energize a base frustrated by the November elections. "But I think having them as an ally with that, and being able to reach people we aren't necessarily reaching with our membership, is good."
OFA is also stepping up its online mobilization via Facebook and Twitter, as well as the work of its youth chapters at Ohio State University and other schools.
Indiana isn't yet seeing a similar level of progressive momentum, but OFA blasted out an email Thursday to its members regarding the pertinent legislation.
In an interview with Wisconsin's local WTMJ-TV, Obama condemned Gov. Walker's proposal. "Some of what I've heard coming out of Wisconsin, where you're just making it harder for public employees to collectively bargain, generally seems like more of an assault on unions," Obama said. "And I think it's very important for us to understand that public employees, they're our neighbors, they're our friends."
Popular in the Community