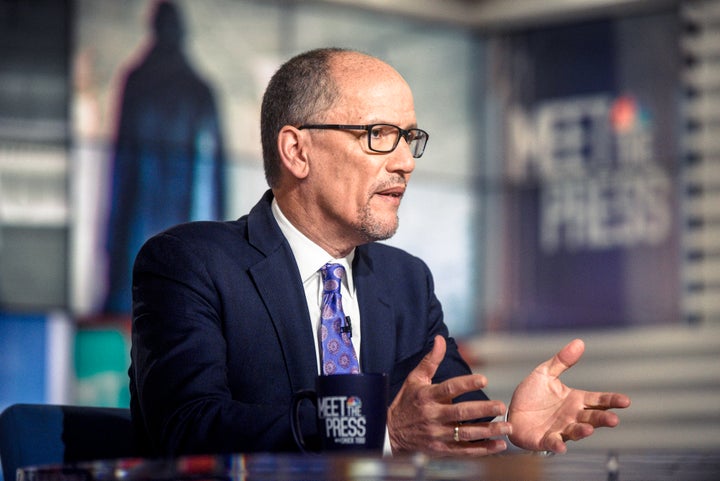 The Democratic National Committee passed a resolution Friday afternoon that activists say effectively reverses a ban on fossil fuel company donations.
The resolution introduced by DNC Chair Tom Perez states that the party "support[s] fossil fuel workers" and will accept donations from "employers' political action committees." It was approved by a 30-2 vote just two months after the committee adopted another resolution prohibiting donations from fossil fuel companies by a unanimous vote.
The new resolution nods to "forward-looking employers" that are "powering America's all-of-the-above energy economy and moving us towards a future fueled by clean and low-emissions energy technology, from renewables to carbon capture and storage to advanced nuclear technology."
"I am furious that the DNC would effectively undo a resolution passed just two months ago just as the movement to ban fossil fuel corporate PAC money is growing (and Democrats are winning)," said R.L. Miller, president of the super PAC Climate Hawks Vote, who co-sponsored the original resolution.
DNC spokeswoman Xochitl Hinojosa said in an email that the new resolution was "not a reversal," noting in a statement after the vote that "any review of our current donations reflects" the Democrats' "commitment" to turn away the fossil fuel industry. The DNC has not accepted any fossil fuel donations since adopting the ban.
The key difference could be if the new resolution applies only to campaigns ― in which case, it may not annul the original resolution but would "repudiate the spirit" of the earlier one, according to Jerald Lentini, deputy director of the Democratic fundraising group It Starts Today.
"Smart Democrats are very good at splitting hairs and nitpicking," Miller said. "It's trying to manufacture distinctions out of whole cloth."
Party activists ― including Christine Pelosi, the main author of the first resolution and House Minority Leader Nancy Pelosi's daughter ― hoped the DNC would consider a second proposal this month to stop accepting contributions over $200 from individuals who work for the fossil fuel industry. That, the thinking went, would limit the influence of high-paid executives while remaining open to the working class that Democrats aim to champion. The original resolution, which Perez voted for in June, barred the DNC from accepting contributions from corporate PACs tied to oil, gas and coal companies. But it allowed for the DNC to continue accepting individual donations from workers in those industries.
Instead, the party appears to be backtracking.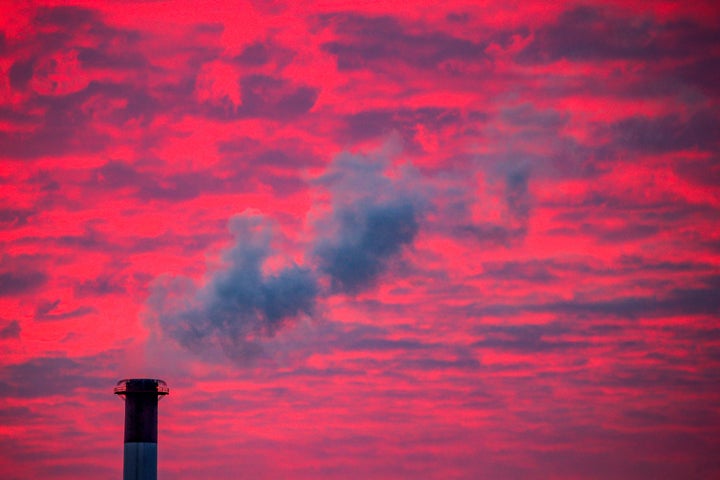 The DNC's new resolution "reaffirms its unwavering and unconditional commitment to the workers, unions and forward-looking employers that power the American economy," according to the text.
As such, it states that the DNC "will continue to welcome the longstanding and generous contributions of workers, including those in energy and related industries, who organize and donate to Democratic candidates individually or through their unions' or employers' political action committees."
The resolution, proposed as historic wildfires are scorching California, makes no mention of climate change.
Hinojosa said the resolution came in response to "concerns from Labor" that the original fossil fuel donations ban "was an attack on workers." Just 4.4 percent of workers in the mining sector ― including coal, oil and gas ― are union members, according to the Union Membership and Coverage Database. The International Brotherhood of Electrical Workers, however, remains a strong supporter of building pipelines and donated more than $305,000 to the DNC this year.
The strength of the fossil fuel donations ban seemed in question almost immediately after it passed. The DNC refused to announce the resolution, declining to comment to HuffPost for a story that made the vote public.
At the Texas Democratic Party's convention two weeks later, a state party official opposed a state-level proposal to ban fossil fuel donations and oppose new gas extraction, arguing that the DNC's own resolution was not set in stone.
A.J. Durrani, a retired engineer and manager at the oil giant Shell who recently joined the national party committee, said the DNC did not include the earlier vote in the minutes from its last executive committee meeting.
"There was no mention in it," Durrani said by phone in June. As far as he was concerned, he said, "As of right now, the DNC has not voted."
Durrani did not immediately respond to a request for comment on Friday.
Texas Democrats ultimately voted down their proposed resolution.
In February 2017, DNC rank-and-file rejected another Pelosi resolution to forbid "registered, federal corporate lobbyists" from serving as "DNC chair-appointed, at-large members" and to reinstate former President Barack Obama's ban on corporate PAC donations.
Obama halted contributions from PACs and lobbyists in 2008 after winning the party's presidential nomination. But then-DNC Chair Debbie Wasserman Schultz loosened the restrictions in July 2015 before completely rolling back the ban in February 2016, nine months before that year's presidential election.
The energy and natural resource sectors, including fossil fuel producers and mining companies, gave $2.6 million to the DNC in 2016, according to data collected by the nonpartisan Center for Responsive Politics. That's less than 5 percent of the $56.1 million that the finance and real estate sectors ― the DNC's largest corporate donors ― contributed that year.
Oil and gas companies spent a record $7.6 million on Democratic races in 2016. That's a pittance compared to the $53.7 million in direct donations to Republicans, who received 88 percent of the industry's contributions during that election cycle. Republicans have taken in 89 percent of the industry's donations so far in 2018. That figure rises to 95 percent of the coal sector's largesse this year.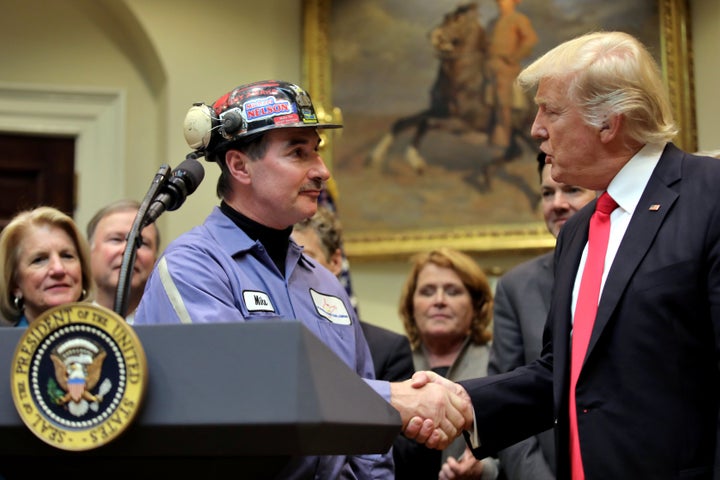 But even as fossil fuel companies entrench with Republicans and the Trump administration continues deregulating drilling, mining and emissions, Democrats remain slow to mount a serious challenge to the industry most responsible for anthropogenic global warming.
On the state level, Washington Gov. Jay Inslee (D) failed to pass the nation's first carbon tax even as his party enjoys complete control over the deep-blue state. New York Gov. Andrew Cuomo (D) has refused to swear off fossil fuel donations, halt new fracked gas infrastructure in the state, or support a widely hailed climate bill despite an aggressive primary challenge from progressive Cynthia Nixon and intense pressure from environmentalists.
On the national level, most bills from Democrats who purport to be Congress' biggest climate hawks amount to half measures, either exempting major polluters such as the meat industry, directing carbon tax revenues that could be used to mitigate the effects of climate change to lowering taxes, or waiting until 2050 to end fossil fuel use.
There are some bright spots. Last September, Rep. Tulsi Gabbard (D-Hawaii) introduced the Off Fossil Fuels for a Better Future Act ― considered one of the most progressive climate bills yet proposed ― which calls for ending oil, gas and coal use by 2035, cutting all subsidies to drilling, mining and refining companies, and funding programs to help workers transition into new industries.
Alexandria Ocasio-Cortez, the likely next representative for New York's 14th Congressional District, has vowed to push for a "Green New Deal," a federal plan to spur "the investment of trillions of dollars and the creation of millions of high-wage jobs." Other progressive candidates are now rallying around the Green New Deal concept and calling for nascent proposals for a jobs guarantee program to be married to renewable energy targets. That, proponents say, may be the key to wooing unions away from supporting lucrative fossil fuel projects.
Before You Go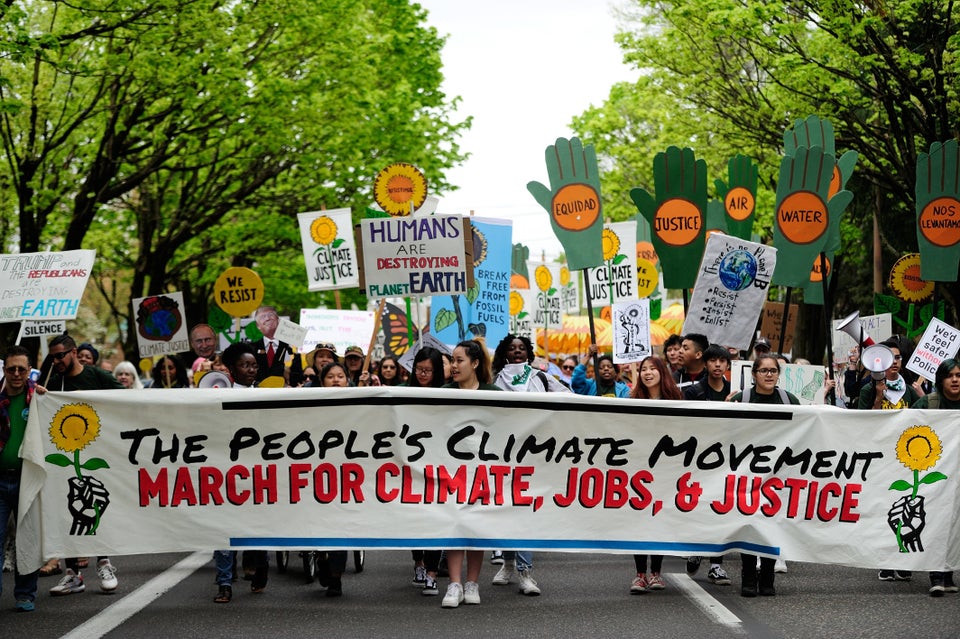 Climate Marches Across The U.S.
Popular in the Community