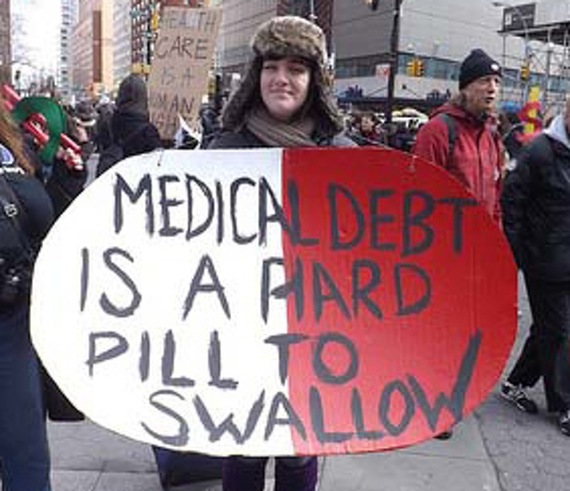 Taking a page from the "John Oliver Last Week Tonight Playbook," a contingent of activists calling themselves Goodwill Vigilantes will use the Democratic Convention to bring national attention to the monstrous burden of medical debt placed on Americans by our broken healthcare system.
Organizers point out that the blight of medical debt affects every community, every city and every state. Over 60% of all personal bankruptcies in the U.S. are medical debt related. Nearly 15 million people will deplete their savings to pay for healthcare costs. One in five Americans have unpaid medical bills on their credit report. This year, more people will declare bankruptcy than will graduate from college.
There is medical debt aplenty in Philadelphia, especially in the neighborhoods surrounding and north of the convention center. That is where the highest percentage of the population is below the federal poverty level.
Philadelphia has the largest amount of deep poverty of the 10 largest cities in America. The worst is located in the 20 zip codes (mostly in Lower North, Center City and South Philly) housing some 825,000 people. Of these, over 225,000, or 27%, are living below the federal poverty level. Individuals and families here owe unsurmountable millions in unpaid and unpayable medical related bills.
$40,000 = $4.5 Million in Abolished Medical Debt
Lead organizer Alison Beth of Goodwill Vigilantes has determined that it would require only 550 "Berners" at the rally or online at $27 apiece to raise $9K - the amount needed to abolish $1,000,000 in medical debt - and only a fraction of current and former online "Occupiers" to achieve the same goal. To reach the lofty goal of $4.5M would require $40,000, or 1,481 Bernie-level donations.
The formula is straightforward. For each $1,000,000 of debt to be forgiven, they will need to raise online (and onsite) something in the neighborhood of $10,000 in donations. To eliminate $2,000,000 would require $20,000 in donations, and so on. (John Oliver purchased almost $15M in medical debt for $60,000.)
The campaign organizers will borrow from two more playbooks to achieve their goal: duplicating the Bernie campaign tactic of securing contributions averaging only $27 per person, and the "Rolling Jubilee" campaign of Occupy Wall Street which attracted over $700,000 in donations to abolish over $30,000,000 in medical debt a few years ago.
The campaign's chances of success? Since both Bernie and the Rolling Jubilee were surprised at the results they got in their campaigns, it is not out of the realm of possibility that the DNC campaign might leave behind minimal dollars in medical debt in the target zip codes.
Craig Antico, CEO of RIP Medical Debt, the 501(c)(3) non-profit that will receive the donated funds and perform the actual debt purchase and abolition, says that his organization presently has access to a debt portfolio of $15.5M in Philadelphia's high poverty areas.
"Even though it would take 5,102 'Bernies' to raise $138,000 to vanquish the entire portfolio, the primary goal is reaching the at least 1,500 caring donors to wipe out over $4.5 million in debt. This would relieve over 1,500 families in parts of our zip codes: 19132, 19133, 19121 and 19122. These are mostly within one mile north of City Hall and the march," Antico declared.
'The criteria of determining the campaign's success and their hashtag #EndMedDebt will not stop with whatever dollars are raised and people rescued," adds Alison Beth.
"The purpose is not only to raise much-needed money to help Philly's most needy. It is our intention to usher in a new paradigm of economic generosity within the reach of every caring American." Essentially, it all depends on the numbers of caring Americans willing to participate in this random act of kindness. Lots of caring Americans.
The team is betting that they are out there and ready to make their strength and numbers known.
For details: PhillyMedDebt@gmail.com.
REAL LIFE. REAL NEWS. REAL VOICES.
Help us tell more of the stories that matter from voices that too often remain unheard.