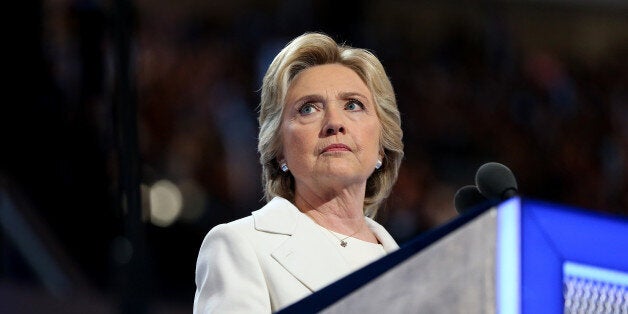 MOSCOW -- The Democratic National Convention was in scandal last week after WikiLeaks released thousands of hacked emails between DNC members, showing what many believed to be corruption in the party's inner workings. The leak led to the resignation of the party's chairwoman and a lot of bad press for Hillary Clinton, but while the information regarding a potential breach of DNC servers has been available since April, we are yet to hear about a similar breach of the Republican National Convention.
The seemingly one-sided nature of the attacks, along with Donald Trump's strikingly pro-Russian rhetoric (including suggestions to abandon some NATO security guarantees, end sanctions on Moscow and repeated endorsements of Russian President Vladimir Putin) contributed to an increasing number of conspiracy theories around the Putin-Trump relationship. Although the scandal is a reminder of the Kremlin's hybrid warfare tools, there is no evidence to support claims about explicit Trump-Putin collaboration.
Specific evidence of personal and/or financial links between Trump and Putin has yet to be found, but Russian fingerprints on the DNC hack are strongly suspected. CrowdStrike, a cybersecurity firm, published a report that describes the particular tools applied by the DNC hackers that are typical of Russian hackers affiliated with the security services.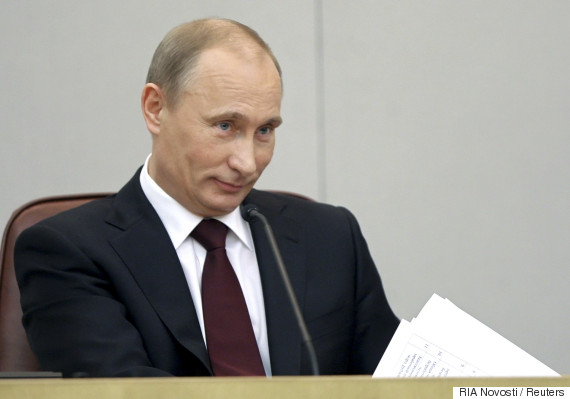 Putin discusses internet security at the Russian parliament on April 20, 2011. (Alexsey Druginyn/Reuters)
This is not a surprise. In February, the Senate Armed Services Committee named Russia the leading U.S. cyber threat in light of its "more assertive cyber posture" and "willingness to target critical infrastructure systems and conduct espionage operations" in the U.S.
Cyber attacks are just one piece of the Kremlin's hybrid warfare -- a military strategy that combines conventional warfare with other tactics, and the U.S. has not been the only target.
As I noted in a report for the Institute for the Study of War, hybrid warfare in Russia consists mostly of deliberate disinformation campaigns supported by Russia's intelligence institutions in order to achieve certain political goals and support Kremlin-favored parties and candidates. The Kremlin often uses three main tools to influence people abroad: proactive political measures, "NGO diplomacy" and the creation and management of favorable media environments. The Kremlin has applied such strategies on multiple occasions in both eastern and western European countries.
Cyber attacks are just one piece of the Kremlin's hybrid warfare.
Recently, the Kremlin shifted its support towards more radical groups on both ends of the political spectrum, like Jobbik in Hungary and Golden Dawn in Greece. Preference for the radicals probably evolved in light of Russia's increasingly strained relations with Europe's mainstream. Radical groups are easier for the Kremlin to manipulate and negotiate with, due to similar positions on nationalism, immigration policies and many others. A dossier of "Russian influence activity" recently collected by the U.S. identified Russian operations and clandestine funding of radical parties running in France, the Netherlands, Hungary, Austria and the Czech Republic.
Trump is similarly favored by the Kremlin as a typical far-right candidate whose isolationist stance is likely to give the Kremlin more leverage on the world stage and possibly lift sanctions (an issue that has been on Putin's top foreign policy priorities list).
In this regard, the DNC attack can be viewed as a typical Kremlin influence operation, which achieves the goal of assisting the Kremlin-favored presidential candidate (Trump) while also pressuring its less-favored candidate (Clinton).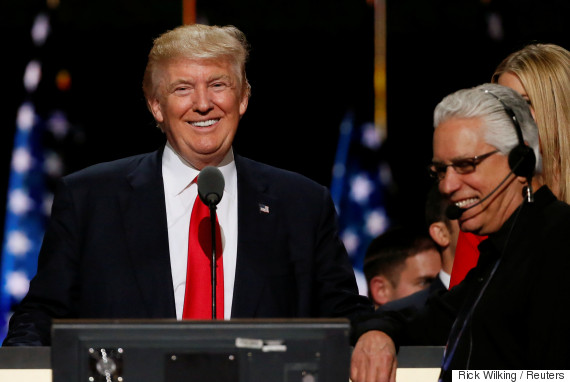 Donald Trump smiles after speaking during his walk through at the Republican National Convention in Cleveland, Ohio, July 21. (Rick Wilking/Reuters)
Some analysts recently questioned the Kremlin's preference for Trump. But Putin himself hardly left any doubt when he endorsed Trump last December. Russian media seems to reflect Putin's sentiment, and watching state-owned TV channels leaves little doubt on Moscow's preferred candidate. Even on BBC Russia recently, a young woman hesitantly smiled as she told a reporter that she supports Trump in the upcoming elections. He is, she said, "quite a good-looking man" and is more Russia oriented than other candidates.
She is not the only one who feels this way. An April survey of over 20,000 adults in every G-20 country revealed that Russia was the only country where Trump was the preferred presidential candidate over Clinton. This sentiment is also shared among some Russian Americans. In Brighton Beach, a neighborhood in Brooklyn that's a haven for Russian immigrants, Trump got 84 percent of the vote in the Republican primary. This is a regular phenomenon -- Russian immigrants living in the U.S. often still watch pro-Kremlin channels, support Putin and hold fast to many Soviet views.
While pro-Kremlin media attack Clinton, they portray Trump in a much more positive light, praising his 'caustic and colorful statements.'
Yet in many private discussions Russians are more moderately optimistic about Trump's prospects for Russia, often naming him a lesser of two evils. This, as I discussed elsewhere, is a direct result of the pro-Kremlin media shaping Russian public opinion.
Elena, who lives in Moscow, says, "If Trump is elected U.S. President the relationship with Russia might improve, become more calm, pragmatic. Trump may contribute to the lifting of sanctions... he would find common ground with Putin."
It is no surprise then that pro-Trump attitudes stem from the Russian media's clear pro-Trump agenda and decidedly anti-Clinton rhetoric. In light of the DNC email scandal the pro-Kremlin media has portrayed Clinton as a lame duck. The broadcasts said everything from "Hillary pretends that everything is under control" while "conceding to Trump in recent polls" to accusing the Democratic Party of shifting the blame of the hacking scandal to Russians as a means of deflecting "one scandal after another." Even the recent bump in Trump's popularity following the Republican National Convention was cited by several of Russia's state-owned channels as strong evidence of Clinton's growing unpopularity.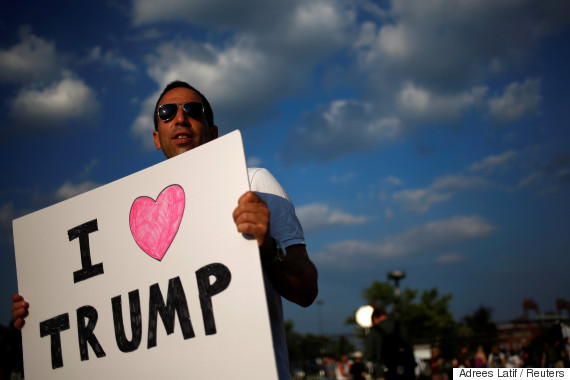 A man holds an "I Love Trump" sign at the DNC in Philadelphia on July 27. (Adrees Latif/Reuters)
As to the alleged Russian source of the DNC hack, in a sharp contrast with the extensive U.S. media coverage, pro-Kremlin outlets either completely ignored or ridiculed such a possibility. None of the broadcasts I've watched even began to mention the widely discussed possibility of the hackers being linked to Russia's security services. Instead, some pro-Kremlin commentators blamed the accusation on a "wave of Russophobe paranoia" and others suggested that Russia was scapegoated to silence the DNC email scandal.
The Kremlin's actions to support Trump's candidacy in the upcoming U.S. election are reminiscent of its operations orchestrated on multiple occasions in support of other far-right parties and candidates all over Europe, and the Russian media's tendency to favor Trump continues to increase his popularity among Russians. Yet despite the history of Putin's meddling in international politics, the recent scandal at the DNC and the lack of a Russian reaction to it tells us very little about the existence of true personal links between Trump and Putin.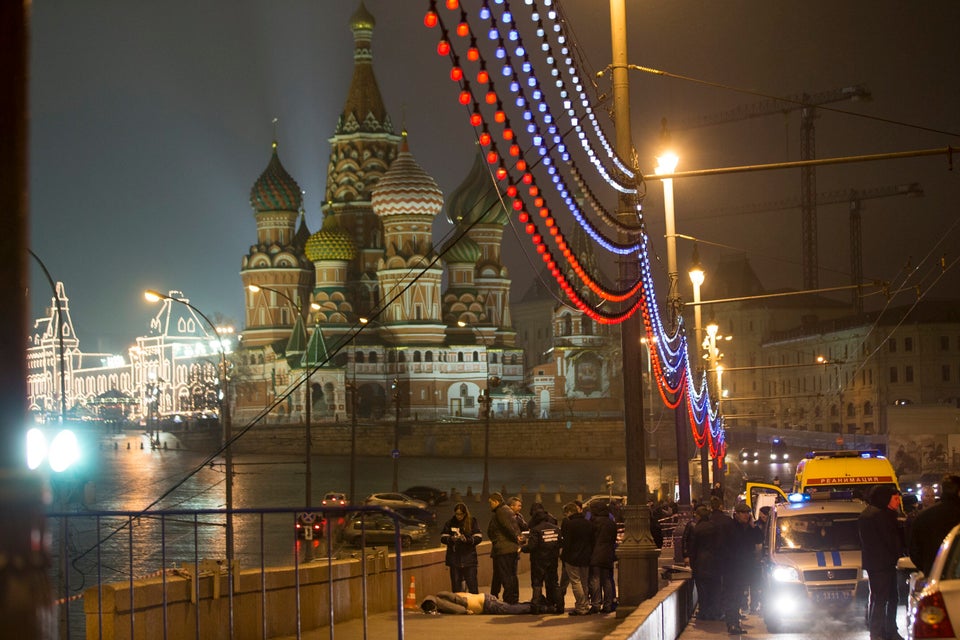 Kremlin Critic Killed
Popular in the Community