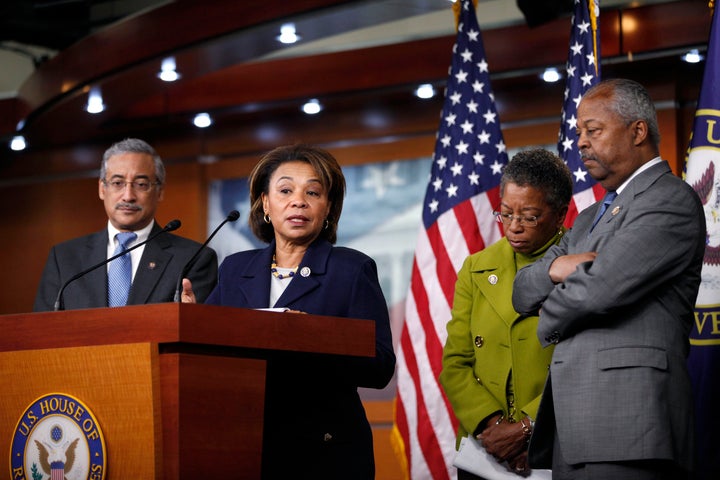 After pressure by black leaders within the Democratic National Committee for the organization to get serious about minority contracting and hiring and an "exhaustive search," the DNC has announced the hiring of US Cellular executive Greg Hinton as its first-ever Chief Diversity Officer.
Hinton, a Chicago native, will oversee diversity staffing and procurement efforts at the three major Democratic political committees, including the DNC, the Democratic Congressional Campaign Committee and the Democratic National Convention Committee.
Hinton will begin at the DNC on October 24.
"It's really encouraging," said Virgie Rollins, the chairwoman of the DNC's Black Caucus. Along with other black DNC members, Rollins had pressed the committee for increased minority contracting, which had remained abysmal despite repeated pledges to improve. The minority caucuses have been calling for the hiring of a diversity officer since August of 2009.
"But we still have to wait and see what happens," Rollins said. "We're just going to wait and see what kind of plan he puts in place."
Black DNC members and members of the minority caucuses expressed frustration over what they called the DNC's "one person rule," which allows a company with only a single minority owner to be recognized as a minority vendor, a designation reserved for historically disadvantaged groups. It was a key loophole, they said, that allowed the committee to claim higher minority contracting rates.
The DNC lumped together women, blacks, Hispanics, Asians, the disabled and members of the LGBT community as "minorities" with little disambiguation. As a result of the umbrella grouping, the share of contracts awarded to racial minorities has further diminished, while the number of contracts going to white women and gay men have gone up, according to people close to the process.
"At its most innocent, the people putting these numbers together just aren't clear of the real definition," a former DNC member who now works as a party operative told The Huffington Post in April. "But all the way over to the most nefarious, maybe they are trying to pull the wool over our eyes to hide what they don't want people to see: that there are not sufficient contracts. So maybe they came up with this alternate definition."
DNC leaders at the time questioned the wisdom of "pitting" women, gays and people of color against one another by comparing contracting data.
"We have taken these steps to redress issues confronting groups that had historically faced institutional obstacles in furthering opportunity. I don't think any Democrat would argue that doesn't include women," said Donna Brazile, a Democratic strategist who was serving as the DNC's interim chairwoman at the time.
Black leaders in the DNC said the hire of Hinton is a step in the right direction.
As the 2012 election season nears, diversity efforts could be critical. Minority outreach is expected to be key in the Democrats' efforts to stabilize its African-American base, since enthusiasm for the president has waned amid double-digit unemployment rates for blacks.
"It's really important," Rollins said of the party's diversity efforts heading into the Democrats' annual convention in Charlotte next fall, where millions will be spent on vendor contracts. "It's especially important with the jobs situation and with the minority job situation being at the lowest point as it has possibly ever been. And this is going to give some encouragement to small business and minority businesses, that they'll have a chance to get a contract to bid on for work during the Democratic National Convention and even some more open access to contracting at the DNC."
Meanwhile, Rollins said that while the announcement of Hinton's hire was made internally about a week ago, she has yet to meet or speak with him. But, she allowed, "He's from Chicago, so I'm sure he's part of the group."
Rep. Debbie Wasserman Schultz (D-Fla.), the DNC chairwoman, said in a statement that the "Democratic Party has long been dedicated to including talented people who reflect the diversity of our great country, and Greg will bring his talents to bear as we make sure we are living up to that commitment."
"I'm proud we're taking this critical step forward and look forward to working closely with Greg as we strive to take our values of inclusion and strength through diversity to the next level," she said.
"Diversity in hiring, contracting and procurement has always been of utmost importance to the Democratic Party and I'm proud to serve in this role to help maintain that commitment," Hinton said in a statement. "Our party is stronger because of our diversity, and in this new role I will be working to make sure we are harnessing our diverse experiences and points of view in the most effective way possible."
WATCH Greg Hinton Discussing Diversity Hiring Efforts At US Cellular
Popular in the Community