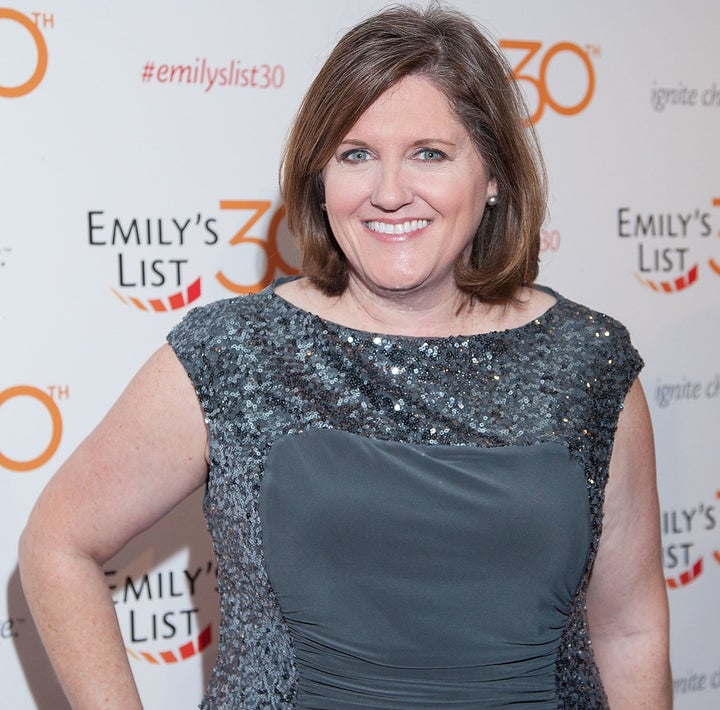 WASHINGTON ― Jess O'Connell, chief executive officer of the Democratic National Committee, said she is leaving her post at the end of February, creating a leadership void at party headquarters nine months before the crucial midterm elections.
The DNC hired O'Connell, a veteran Democratic operative, as leader of its day-to-day operations in May. O'Connell, a former executive director of the pro-choice Democratic group EMILY's List, was billed as an experienced professional who could steady the party.
A DNC spokesperson maintained that O'Connell was not ousted, and that her decision was personal in nature. O'Connell is due to stay on to help with the transition to a new CEO.
O'Connell did not elaborate on her reasons for leaving in a farewell letter to voting DNC members.
"I'm proud to have helped to rebuild our party at a time when we needed it most," O'Connell wrote. "I am grateful to Chairman Tom Perez for the opportunity to serve during such a pivotal moment in our history as we fight with everything we've got to protect and promote Democratic values and to elect more Democrats nationwide."
During O'Connell's tenure, the DNC played an important role in Democratic victories in special elections across the country, as well as the statewide elections in Virginia and New Jersey in November. For example, the DNC invested $1 million to elect Doug Jones to the open Senate seat in Alabama in December.
The party body has come a long way since the 2016 presidential election, when it was penniless and mired in perceptions that it had favored Hillary Clinton during the presidential primary.
In a bid to restore the health of the Democratic Party at the state level, the DNC increased monthly payments to state parties from $7,500 to $10,000. It also shepherded the proceedings of the Unity and Reform Commission, whose recommended changes to DNC budgeting and the presidential nominating process have drawn widespread praise.
"When Jess walked in the door, the Democratic Party was broken," DNC Chair Tom Perez wrote in a letter to staff. "Less than a year later, and we've flipped dozens of state legislative seats from red to blue across the country, we flipped the governorship in New Jersey, we elected Democrats up and down the ballot in Virginia, we've elected Democratic mayors in every corner of the country including a slew of black women who now run major American cities and we elected Doug Jones to the United States Senate in beet red Alabama."
Still, nearly a year into Perez's chairmanship, the DNC continues to deal with staff shakeups and internecine dramas that feed perceptions of party unsteadiness. O'Connell's departure follows the November ouster of DNC finance director Emily Mellencamp Smith. 
O'Connell's exit also comes after griping from some state party chairs about the slow pace at which the DNC was distributing $10 million in promised innovation grants to state parties. Days after a Vice News report about the grants, the DNC announced it would give out its first $1 million bloc of awards. 
In addition, Perez, who defeated progressive favorite Rep. Keith Ellison (D-Minn.) for the DNC chairmanship, has struggled to secure the trust of the party's restive left wing. In October, Perez sparked uproar from some DNC members and progressive activists when he stripped several Ellison supporters of their posts on key party committees.
Several Democratic officials want Perez to appoint Ken Martin, Minnesota Democratic Party chairman and president of the Association of State Democratic Chairs, as O'Connell's successor. Martin, who backed Ellison's chairmanship bid, enjoys the confidence of progressive activists.
"You need to pick somebody like a Ken Martin to be the CEO because you need somebody who is trusted by state party chairs and who understands the party infrastructure and culture," said Jane Kleeb, Nebraska Democratic Party chairwoman, and a member of the board of Our Revolution, the legacy organization of Vermont Sen. Bernie Sanders' presidential campaign. "There is no learning curve time."
Chris Reeves, a Kansas Democratic national committeeman, said Martin "would be a great hire."
Wisconsin Democratic Party Chairwoman Marth Laning said Martin would "be at the top of my list." 
This article has been updated to include Perez's letter to staff.
Calling all HuffPost superfans!
Sign up for membership to become a founding member and help shape HuffPost's next chapter
BEFORE YOU GO