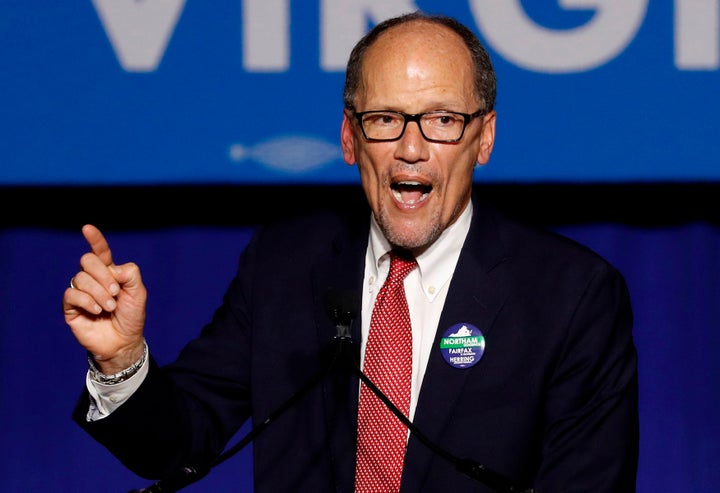 Several members of the Democratic National Committee slammed Chairman Tom Perez's Thursday endorsement of New York Gov. Andrew Cuomo, a two-term incumbent fending off a major left-wing primary challenge.
The members, who said Perez had neglected to inform them of the decision, argued that it would undermine efforts to earn the trust of progressives, young voters and independents already suspicious of the DNC for its role in the 2016 presidential primary.
"I was like, 'Is he crazy?' What does he think the response is going to be from progressives who already had doubts about the DNC?" said Yasmine Taeb, a Virginia Democratic National Committeewoman.
A senior Democratic official and DNC member, who declined to be named for professional reasons, called it an "unforced error."
"Every misstep like this results in us having to spend a lot of time cleaning up the mess and repairing bridges and rebuilding trust," the official said.
Perez's endorsement of Cuomo was "personal" and not a reflection of the DNC's preference, according to Xochitl Hinojosa, his chief spokeswoman at the DNC.
"This was not an endorsement by the DNC, nor will the DNC be using resources toward this primary," Hinojosa said.
Personal or not, the move has elicited criticism within the DNC's ranks at a time when the party is seeking to form a united front for the November elections. Nebraska Democratic Party Chairwoman Jane Kleeb, veteran DNC member Jim Zogby, California Committeeman Michael Kapp and Missouri Committeeman Curtis Wylde condemned the action in similar terms.
They join Rep. Keith Ellison (D-Minn.), a deputy DNC chair whom Perez did not inform of the endorsement in advance. Ellison, a national progressive leader, publicly broke with Perez, reiterating his commitment to the DNC's absolute neutrality in elections.
Other members, including Kansas Committeeman Chris Reeves, Missouri Democratic Party Vice Chairwoman Genevieve Williams and DNC Black Caucus Chairwoman Virgie Rollins questioned the wisdom of Perez's endorsement but stopped short of explicitly condemning him. The chairs of the Michigan, South Carolina and Texas Democratic parties declined to comment on the matter.
The displeasure with Perez's decision to endorse Cuomo reflects a simmering divide between the party's centrist-leaning "establishment" and its progressive wing. The progressive base is disproportionately, though not exclusively, made up of supporters of Ellison's bid for DNC chair in February 2017 and for Sen. Bernie Sanders' 2016 run for the Democratic presidential nomination.
"It was another instance of a party chair who promised to act differently behaving as every previous party chair would, which is do what they want and not tell anybody about it."
Perez's announcement rankled them because they fear it undercuts the work they have done to reassure progressives that reform efforts are bearing fruit ― and because it explicitly contradicts Perez's public statements vowing neutrality in primaries.
"It was another instance of a party chair who promised to act differently behaving as every previous party chair would, which is do what they want and not tell anybody about it," said Zogby, who also serves as president of the Arab-American Institute.
It doesn't help matters that the New York primary, which concludes in September, resembles a replay of the Clinton-Sanders contest. Cuomo, whom Clinton endorsed the same day as Perez, is the object of unbridled scorn among much of the progressive base; his challenger, actress Cynthia Nixon, has seemingly elicited an equivalent level of progressive enthusiasm. And Cuomo's critics point out that he is not even a loyal partisan, having reportedly propped up the breakaway faction of state Democrats that helped Republicans control the New York state Senate for over five years.
The dynamics of the race make it that much more likely that Perez's involvement will dredge up internecine battles that the party would sooner set aside ahead of the general elections in November.
"Five months before the election, we shouldn't have to be re-litigating these battles and yet here we are, having to clean up this mess, because Tom stepped right into it," the senior Democrat said.
Not all proponents of party reform line up neatly into the Ellison-Sanders camp. For example, Kapp backed Ellison in 2017 but had endorsed Clinton in the 2016 primary.
Kapp emphasized that he had a "good working relationship" with Perez but believes that the endorsement "detracts" from Perez's accomplishments at the organization by feeding activist mistrust in the party.
"It's not a positive for our party, especially as we are trying to rebuild and expand," Kapp said.
Hinojosa implied that Perez's "personal endorsement" of Cuomo was still consistent with his criticism of the DCCC's more aggressive intervention in the Texas primary.
"The DNC will not be getting involved in contested primaries," she said. "And the DNC certainly won't be attacking any fellow Democrats running."
Even if Perez had endorsed Cuomo in his official capacity, he would not be violating a written neutrality agreement signed by all DNC officers. The accord allows officers to endorse incumbent elected officials ― a privilege that some officers avail themselves of, while others do not.
Perez likely found himself in a tough position, risking upsetting the progressive part of the party if he jumped in, and alienating donors and many New York Democratic officials if he sat it out.
Nearly all of the nine DNC members who spoke to HuffPost were nonetheless baffled by Perez's decision, noting that Perez's blessing likely added little to Cuomo's already-strong chances of winning. They also maintained that DNC officers generally limit themselves to endorsing in primaries in their home state, where local politics may necessitate it.
But Perez, who was born and raised in Buffalo, New York, has lived in Montgomery County, Maryland, for at least two decades.
Instead, the "personal endorsement" was based on Perez's long-standing relationships with Cuomo and Lt. Gov Kathy Hochul, whom he also endorsed, as well as his "personal ties" to New York dating back to his upbringing, according to Hinojosa.
The explanation is not likely to assuage the concerns of Perez's skeptics who sense that progressive DNC officers and members are held to a higher standard than the party's more moderate leaders.
For example, Ellison has repeatedly turned down requests to endorse Democrats in his ideological mold ― like Marie Newman, who nearly unseated Rep. Dan Lipinski (D-Ill.) in March.
Ellison even waited for the Minnesota Democratic-Farmer-Labor Party to endorse his son Jeremiah's bid for Minneapolis City Council before doing so himself.
Given the public nature of Perez's endorsement of Cuomo ― even if it was a personal statement ― Virgie Rollins, the DNC Black Caucus chairwoman, wondered whether it would remain possible to convince other DNC members not to make endorsements of any kind in primaries.
"The question is going to come up: Are we endorsing now in the primary?" Rollins said.
Support HuffPost
The Stakes Have Never Been Higher
Before You Go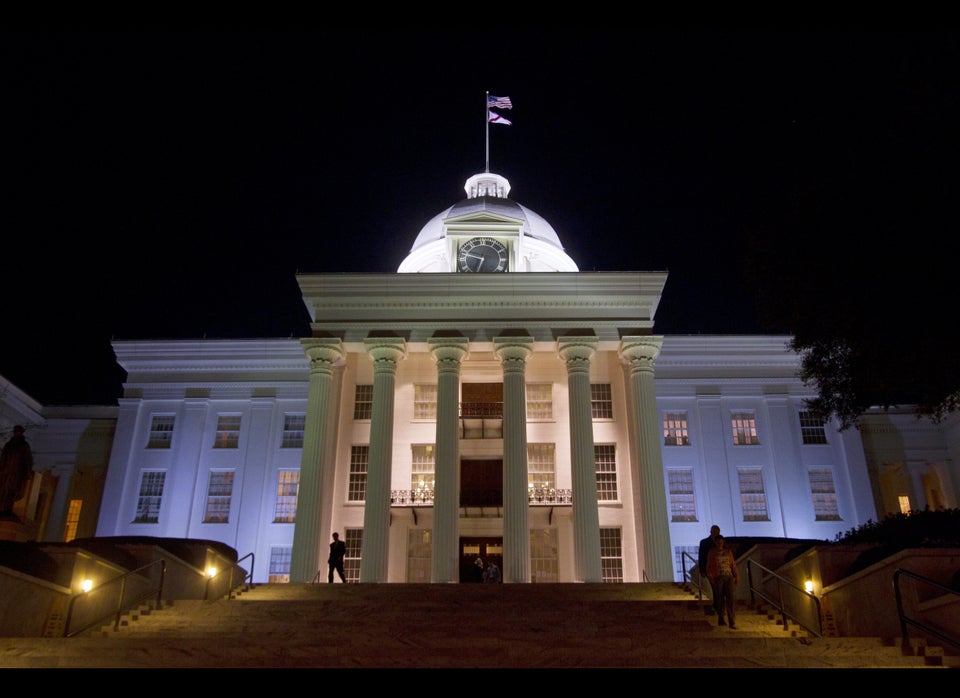 U.S. State Capitol Buildings
Popular in the Community