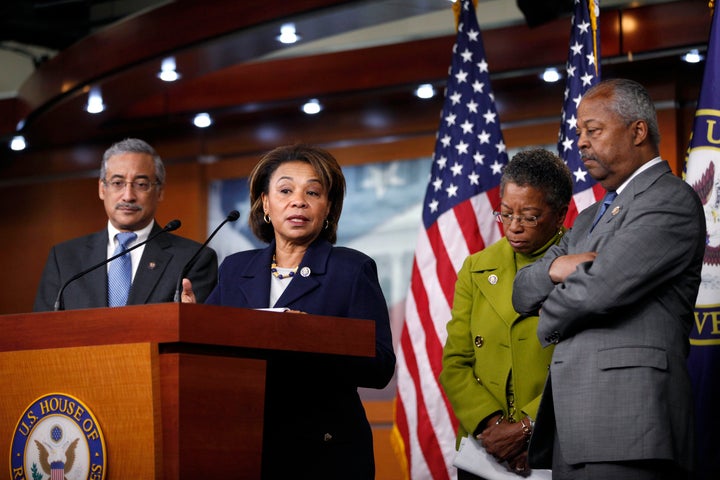 Party insiders say the Democratic National Committee awards few contracts to companies controlled by racial minority groups, despite repeated pledges to increase business to such firms.
Instead, Democratic leaders claim progress by leaning on a broader definition of "minority contractors" that includes white women, the disabled and the gay community, according to internal memos and emails obtained by The Huffington Post and corroborated by those insiders.
The apparent dearth of contracts has fueled frustration and criticism, mostly from African American Democratic loyalists who accuse the party of failing to use its institutional finances to advance the cause of fair racial representation in the lucrative business of politics.
"There is no more loyal group of voters to the DNC than black people, and yet they have done nothing to ensure that that constituency is able to participate fully in the economic benefits of party business," said a DNC member who spoke on the condition of anonymity.
DNC leaders say while they take such concerns seriously, having launched a broad review of the committee's hiring practices, they have been and remain committed to diversity, as does the broader party.
"I appreciate that some folks may think the party has some serious challenges in this regard," said Patrick Gaspard, who was recently appointed the executive director of the DNC, "and one can, in all these kinds of instances, work hard to be more inclusive to make absolute certain and to make sure that the Democratic Party has as big a tent as possible.
"At the same time," he continued, "I say clearly, loudly and vociferously that there's a commitment that is ongoing. That commitment did not just begin today."
Democratic Party committees, including the DNC, spent about $759 million on national politics during the last election cycle. Consultants, including pollsters, fundraisers, strategists and those who send mailers and produce media advertisements, received a portion of the cash.
It's difficult to say how much of that money went to minority-run businesses, since the party committees have repeatedly declined to release detailed breakdowns of their expenditures. But an analysis done for The Huffington Post by the Center for Responsive Politics shows that Democratic campaign spending on firms with at least one African American senior principal was about 1.5 percent of their total spending in 2010.
CRP's analysis included a list of 15 of the top black-owned consulting firms identified by a number of black political consultants. Only five of the firms were awarded contracts, two of which collected the lion's share of that spending. By contrast, the Democratic Party hired hundreds of companies during the same period, according to CRP records, though the breakdown of contracts is more difficult to quantify, the center's analysts say.
Gaspard said that of the $64 million in discretionary contracts the DNC awarded during the 2009-'10 election cycle, $19 million went to minority-run companies, though he and other committee officials declined to provide a further breakdown of the contracts by race or gender.
The executive director did say, however, that over the past few months, under the leadership of former chairman Tim Kaine and former executive director Jennifer O'Malley Dillon, the DNC has undertaken an "exhaustive forensic" look at its minority hiring and procurement, the most extensive in the organization's history.
"When I look at where we are today, when I compare it to what the Democratic Party has been in the past, I have to take issue that some say our performance on this issue is shameful," Gaspard said.
To Gaspard's point, this controversy has been boiling for decades. The minority contracting issue has come up during almost every election cycle and every Democratic National Convention since the 1980s, when the Rev. Jesse Jackson was running for president and challenged the DNC to be more inclusive. But after the hue and cry from the usual band of minority leaders, the fuss generally dies down, with little resulting action.
Several months ago, however, members of the DNC's Black Caucus discovered a little-known loophole in the DNC's contracting process they claim exacerbated their concerns. And after being, they say, "ignored" and "disrespected" by DNC leadership regarding requests for specific information on staffing and contracting, the black, Hispanic and Asian caucuses took the unusual step of using the committee process to force the organization to officially acknowledge their grievances.
According to Democratic insiders and internal DNC memos obtained by The Huffington Post, the DNC applies a loose definition of what a minority and minority business is.
Some call it the "one person rule," in which a company needs only a single minority owner to be recognized as a minority vendor, allowing the favor accorded historically disadvantaged groups.
The federal government and the U.S. Small Business Administration use a different definition to identify minority businesses than the DNC. Those institutions define such companies as those with a majority, or 51 percent, minority ownership.
The DNC also lumps together women, blacks, Hispanics, Asians, the disabled and members of the LGBT community as "minorities" generally, with little disambiguation. As a result of the umbrella grouping, the share of contracts awarded to racial minorities has further diminished, while those going to white women and gay men have bolstered, according to people close to the process.
The broad designation of "minority" clouds interpretation of the data, making it difficult to gauge the true economic inclusion of the individual groups but allowing the appearance of equity.
"At its most innocent, the people putting these numbers together just aren't clear of the real definition," said a former DNC member who now works as a party operative. "But all the way over to the most nefarious, maybe they are trying to pull the wool over our eyes to hide what they don't want people to see, that there are not sufficient contracts. So, maybe they came up with this alternate definition."
DNC leaders questioned the wisdom of "pitting" women, gays and people of color against one another by comparing contracting data.
"We have taken these steps to redress issues confronting groups that had historically faced institutional obstacles in furthering opportunity. I don't think any Democrat would argue that doesn't include women," said DNC interim chair Donna Brazile, who was also the first African American to lead a major presidential campaign: Al Gore's in 2000.
Most who challenge the committee's policy insist they're hardly arguing women have not been historically disadvantaged. The issue, they say, is that anecdotal evidence has led them to believe the women benefiting most are middle- and upper-class and white, not representative of a downtrodden group desperate for a helping hand.
"I have nothing against those groups," said a DNC member who is black, "but what about us?"
Without exact figures, of course, those challenging the committee's practices could not provide much evidence of abuse beyond anecdote. But interviews with current and former DNC members, Democratic leaders across the country and various party consultants and operatives reveal long-simmering frustrations and anger mixed with a sense of powerlessness regarding what they called a "shameful" record of minority contracting.
"A lot of the battles that took place in corporate America around issues of diversity and around large corporations that agreed to have affirmative action programs just never happened within the party," said Cornell Belcher, a Democratic pollster and consultant on a short list of African Americans to have secured major contracts with the Democratic Party. "I'm not saying that there are a bunch of racist people in power making these decisions. They aren't, and quite frankly that's an ignorant avenue to go down and that doesn't move the ball forward. However, whether there is a racial intent or not, there is a racial outcome that is negative. I don't care about the intent."
Rep. James E. Clyburn of South Carolina, the House's assistant Democratic leader and a member of the Congressional Black Caucus, said the core issue was less about race than economics. "Money is the mother's milk of politics," he said.
The problem, Clyburn said, is the party's reliance on favored consultants who steer business to firms that, in turn, offer them kickbacks. The same consultants therefore have an incentive to keep the money flowing to particular companies. The consultants and the companies they are in bed with, he said, happen to be overwhelmingly controlled by whites.
"Truth of the matter is, there is an old boys club that is perched inside some of these party committees," a Democratic consultant and strategist said. "They do not suit the party well. They suit the old boys network economically very well, but they do not suit the party well."
"Whether they win or lose an election," Belcher said of historically-favored companies, "they continue to win financially."
Periodically, the DNC's Black Caucus and the Congressional Black Caucus send letters to the DNC requesting numbers on minority hiring and contracting. Typically, past and present members said, leaders quickly provide the data regardless of what it reveals.
But over the past year, that changed.
On Aug. 26, following the DNC's summer meeting in St. Louis, the DNC Black Caucus, along with its Hispanic and Asian counterparts, sent a letter to the DNC's budget and finance committee requesting specific information about minority contracting and staffing at the DNC, the Democratic Properties Corporation and the 2012 Democratic National Convention Committee.
The caucuses asked for the exact number of contracts that are paid by the DNC and DPC. They requested a breakdown of paid minority vendors and for a review of the policies in place to monitor the distribution and awarding of contracts. And they sought the number of exempt and non-exempt minorities employed at the DNC's headquarters.
According to several people, including DNC members and others who work at the DNC's headquarters in Washington, D.C., then-executive director O'Malley Dillon directed her staff to ignore the requests.
"She told leadership, 'we're not giving them anything,'" a DNC member said. The person said a staff member with direct knowledge of the directive told him that the instructions were specific: "Do not give out any information on this."
"It was a sign of disrespect," another DNC member said. "That was definitely a first."
Through a spokesman, O'Malley Dillon said that account was inaccurate.
The caucuses had requested that information be delivered by Dec. 31, which came and went with no such disclosure.
In mid-January, an internal report was produced by the DNC and delivered to its budget and finance committee. At some point between Jan. 18 and Feb. 2, it was delivered to the DNC Black Caucus, according to internal documents and emails.
The report did not answer the caucus's specific questions. Rather, it presented the data using the broad definitions and the amount spent collectively with the DNC-defined minority group.
But the information did shed some light on contract disbursements. Of the 195 discretionary contracts awarded during the last election cycle, 3.5 percent went to firms with LGBT principals, 3.5 percent went to Asians, 5.1 percent went to Hispanics and 6.7 percent went to African Americans. The DNC declined to disclose the total funds accounted for by those contracts.
But beyond the lack of specificity, what really stood out to members and those who caught wind down the line was the one-sentence definition of a "minority vendor."
"For the purpose of this report, the vendors identified as minority are designated as such because they are, to the extent we are able to identify, fully or partially owned by one or more persons in an applicable minority category -- African American, Hispanic/Latino, Asian American and Pacific Island, Women, Disabled and LGBT," it read.
"I'm baffled by this. They're not even hiding it anymore, which is disturbing," said a DNC member, referring to the "one person rule" and the lack of distinction between the various historically disadvantaged groups. "They came to a budget and finance meeting and presented this in a power point presentation."
The member went on to say that her frustration has grown into anger, which she has yet to find a meaningful way to channel.
"There's a part of me that hasn't even begun to challenge myself as to why I even tolerate it. I almost call myself a coward for not addressing it," she said. "Not only am I baffled by what they do, I'm baffled by us not doing anything about it, particularly those of us who are African American leaders in the party."
Most of those interviewed for this article did so in hushed telephone conversations or during clandestine meetings in darkened restaurants and bar rooms around Washington, D.C. Many agreed to speak on the condition of anonymity for political reasons or because they did not have permission from the DNC to speak on DNC affairs. Others said they have been reluctant to speak out publicly about this issue because of party loyalty or fear of causing problems for President Barack Obama as he gears up for reelection.
But across Washington and throughout the country, the conversation continues among friends and allies.
Rev. Jackson, who said he is not in the best position to analyze goings-on within the DNC, nonetheless said that party loyalists and operatives are definitely concerned about what they have been hearing and have reached out to him on numerous occasions.
"I'm getting calls from all over the nation," said Jackson, adding that contracting and budget agendas are "moral issues" that reflect "values."
"The Democratic Party must represent the values of inclusive democracy, of inclusion. They must set the pace," he said. "Unless you do that you lose the moral authority to challenge Republicans."
The renewed concern has emerged as the Democrats begin to lay the groundwork for the 2012 Democratic National Convention in Charlotte. North Carolina is one of the least-unionized states, which means contracts and cash will be spread around to a wider variety of firms and shops.
The minority caucuses within the DNC pushed through a number of recommendations on the committee level that were approved by the full body, including the formation of an ad hoc committee to keep an eye on minority contracting and hiring, headed by Rep. Barbara Lee of California.
Lee said that while changes have been constructive, more needs to be done.
"I'm pleased we've made some progress on this issue over the last few weeks and months, but we have more work ahead of us to adequately address existing disparities," she said in a written statement. "As a member of the DNC, I believe that it is critically important that our operation reflect the diversity of our party and nation."
The DNC has also agreed to hire a chief diversity officer, a recommendation made by Lee in a recent letter to DNC leadership to "ensure that the DNC's vendors and staff reflect the face of America," she wrote.
That it has taken such a measure to assure that the "big tent" party keep an eye on diversity has some members taken aback.
"We've never needed a chief diversity officer. That tells me there was enough concern and fuss over this issue that they had to do something," a Democratic leader and DNC member said. "That's a shame. That's something you would think would be something for the Republicans to do, but for us, under an African American president, that's sad."
Other such recommendations have also made their way through the committee process, an unusual process in itself because members rarely get involved in the everyday workings of the DNC, a number of former members said.
And even among the changes agreed to by the DNC, such as the hiring of a chief diversity officer, few, if any, have been enacted.
Virgie Rollins, the chairwoman of the DNC's Black Caucus said she was hopeful, if not cautiously optimistic.
"Just like in every household, every family, people have issues, and I think we are going to continue to work with the DNC," said Rollins. "We support the DNC and I believe the DNC supports us."
Success, Rollins said, would entail at least a more transparent, open and fair vending process and a 51 percent minority ownership clause.
Failure, she said, "is if everything is being ignored."
Update: This story has been updated to reflect Jennifer O'Malley Dillon's account of the DNC's response to requests from the DNC minority caucuses.
Correction: An earlier version of this piece misidentified Donna Brazile as a leader of John Kerry's 2004 presidential campaign. She helped lead Al Gore's campaign in 2000.