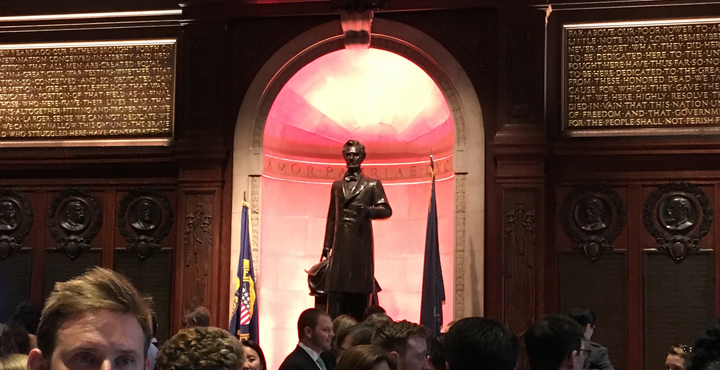 PHILADELPHIA ― It's viciously hot here on the afternoon of Wednesday, July 27, and the transportation logistics of the Democratic National Convention are clumsy. Nobody around the Wells Fargo Center, the arena housing the convention itself, wants to be wearing multiple layers or high heels. But this isn't the Wells Fargo Center. We're across town at the Union League, one of the most elite Republican social organizations in the country, for what is ostensibly a policy forum focused on economics, energy and health care.
The Union League building is magnificent, a Civil War-era structure that feels more like a French palace than a political club. Even the floors are captivating. The polished marble ― white, veined with ash ― seems to gleam with its own internal energy. The neat stone stretches from the entrance on Broad Street down a hallway leading all the way to the other end of the building, nearly the length of a full city block. Classical and Renaissance-style sculptures stand in the corners of adjacent rooms.
The "Union" in "Union League" doesn't refer to organized labor, but rather to the victorious side in the Civil War ― a heritage the GOP is particularly keen to celebrate in the year of Donald Trump. Of all the arresting interior architecture at the group's headquarters, the most imposing is a larger-than-life bronze statue of Abraham Lincoln, who watches over a library-cum-reception room from an apse bathed in rose lighting.
I pass a beautiful baby grand piano with no one at the bench and make my way to a staircase ― more marble, less shine ― at the back of the building. Upstairs a party is underway. Hundreds of people are packed into two rooms; I scan the crowd and recognize two congressmen in the milieu. Colored light floods one room from three stained-glass windows separated by high bookshelves. There's a young man playing another baby grand in the corner as wait staff present oysters and other hors d'oeuvres to men in dark suits and women in cocktail dresses.
The padded leather couches and chairs are occupied. A tower of fruits, cheeses and meats rises over a table draped with white cloth. A caterer is warming five-spice Peking duck in the corner. A self-serve cheesesteak station pays homage to the local cuisine.
A friendly middle-aged man at the cheesesteak bar points to my plate, smiling. "You're putting mustard on that?"
"It's good!" I protest, trying to sound good-natured. He asks what brings me to the party. I tell him I'm a reporter covering convention events and that I thought there'd be some quality food here. He laughs and claps my shoulder. "Honesty!"
He takes out his phone and begins scrolling through a spreadsheet of events, asking me where he should go tonight. "I get invited to so many parties, I don't know which will be good!" There's a fully stocked open bar and everyone is enjoying themselves. I tell him he should go somewhere with live music, then ask what he does for a living.
"I write checks and then I pray to God they work out!" he laughs. He invests in local projects around the city.
My new friend introduces me to a younger man sporting some unusual flair for this crowd. A pin on his convention lanyard declares "WARRENWING," a reference to progressive Sen. Elizabeth Warren (D-Mass.). I tell him I'm a reporter and attempt a joke, pointing to his pin.
"I take it you're on the Republican side of things here?"
He responds with a light chuckle. "No, not exactly."
"So how'd you end up here?" I gesture to the room.
"I'm a political fundraiser," he says, shrugging. "Money is bipartisan."
Bipartisan is the word of the hour. One host of this exceptionally pleasant event is the Bipartisan Policy Center, a D.C. think tank that touts itself as "a non-profit organization that combines the best ideas from both parties to promote health, security, and opportunity for all Americans." The Union League is an appropriate locale for the BPC event: a Republican stronghold at the Democratic convention. Surely this setting can foster a useful exchange of ideas.
In the other room, speakers are discussing public policy. They've closed the massive wooden doors, but the conversation is being piped into our room over closed-circuit TVs. Nobody is paying attention. Between the piano and the ambient noise of conversation, the broadcast is inaudible.
The professional fundraiser is young for the crowd, which, like at any event at a political convention, skews middle-aged, if not elderly. He's funny, charming and clearly good at his job. We walk to the bar and order gin and tonics. He tells me he wants to hold office someday, preferably local. That's where the change happens, he says. Alas, there is work to be done. "Nice meeting you," he says, "but there's a lot of money in this room."
I talk to several other people, all very kind, all very smart and sincere. It's a diverse audience of men and women of every skin tone. But they all look and act rich. No one raises an eyebrow at the fancy bourbon selection or ogles the cheese. This is their kind of scene. It's a nice party, but for them, there's nothing unusual about it.
Two nights before, on the first night of the convention, Warren had addressed an at times unruly crowd at the Wells Fargo Center about bipartisanship.
"So-called experts claim America is in trouble because both political parties in Washington refuse to compromise ― gridlock," Warren said. "That is just flat wrong. Washington works great for those at the top. When giant companies wanted more tax loopholes, Washington got it done. When huge energy companies wanted to tear up our environment, Washington got it done. When enormous Wall Street banks wanted new regulatory loopholes, Washington got it done. No gridlock there. But try to do something, anything, for working people and you'll have a fight on your hands."
Warren was right. Policymaking inside the Beltway has a decidedly corporate bias. But there is also a simple elite bias within political circles. Not everyone at the BPC event hailed from a big bank or oil company, but they did all share a certain well-heeled worldview.
The other sponsor for our party was the Milken Institute, a centrist think tank founded by Michael Milken, a former junk-bond kingpin who fell from grace in the late 1980s and spent two years in prison for securities fraud. He has since reinvented himself as a philanthropist and thought leader, funding important cancer research and hosting an annual public policy conference that routinely draws prestigious speakers, including billionaires and former Treasury secretaries.
The decades-old conviction doesn't mean Milken's more recent efforts are insincere. People change. Redemption is a good thing. But it's hard to imagine many other ex-cons hosting an event at a political convention and drawing such an eager, prestigious crowd. The feds may have put Milken behind bars, but they didn't wipe out his fortune. When he got out, Milken was able to buy his way back into respectable society.
And fortunately for Milken, money is bipartisan.
REAL LIFE. REAL NEWS. REAL VOICES.
Help us tell more of the stories that matter from voices that too often remain unheard.