WASHINGTON ― Tom Perez inherited numerous challenges upon winning the chairmanship of the Democratic National Committee last month. Pulling the committee out of debt wasn't one of them.
Despite a grueling 2016 presidential campaign, the DNC had $10.8 million cash on hand and $3.7 million in debt at the end of January. That balance has given Perez a rare gift in politics: space and resources to turn around a party with immediate organizational needs. And for that luxury, he can thank two people: Hillary Clinton and Donna Brazile.
During the 2016 campaign, the then-candidate struck a deal with the interim DNC chair to ensure that whoever replaced Brazile in the upcoming elections would assume control of a committee in the black.
"[Clinton] felt very strongly that it was responsible to make sure the party was in good financial position," said Charlie Baker, a Democratic strategist who served as the Clinton campaign's chief administrative officer. "And we were able to do that. There were obviously very many generous progressive donors who were happy to contribute to the DNC and it was important to everyone to make sure the party could get off on a good footing going forward."
At the time, the arrangement seemed like a strategic no-brainer. Clinton's election prospects looked comfortable and she had promised, during the primary campaign, to help rebuild a party apparatus that had gone neglected during the Obama years.
But with Clinton's unexpected loss, the question now confronting party officials is whether the $10 million set aside to keep the DNC out of debt could have instead been used to ensure victory.
"It is pretty obvious we thought we were going to win," conceded one top Clinton official. "It was a plan made during a situation that ended with a very unfortunate outcome."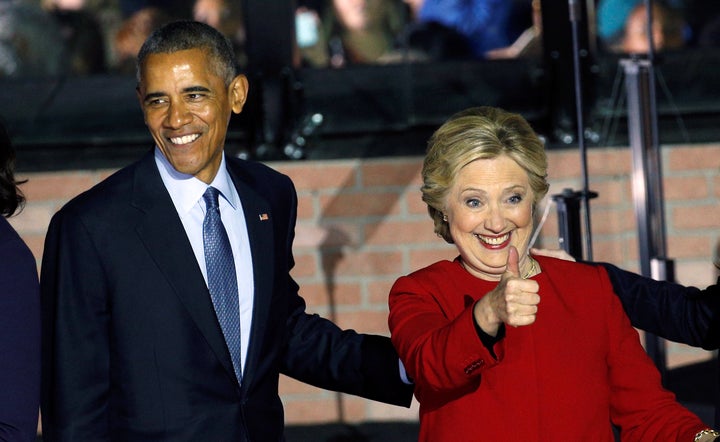 A party's long-term fiscal planning often comes into conflict with its short-term electoral needs. In the Obama years, for example, the DNC was stripped bare of resources during campaign cycles. After the 2012 election, the committee was left with $4.3 million cash on hand and $21 million in debt ― a hole it took two years to dig out of.
It was, in part, that experience that convinced party elders they needed to be more fiscally prudent during the 2016 cycle. When Brazile took the reins of the DNC from Rep. Debbie Wasserman Schultz (D-Fl.) after WikiLeaks revealed hacked DNC emails, she demanded that the committee not stretch itself beyond its means for any one campaign.
"I made it very clear that we would not go into debt for the nominee or anyone else," Brazile recalled. "I wanted it so the next chair could build on our own success."
Brazile's reasoning was straightforward. The committee had needs that existed outside of Clinton's electoral fate. One of those had been exposed during Wasserman Schultz's resignation: a vulnerable cybersecurity infrastructure in need of upkeep. Others were less visible but no less pressing, like updated volunteer and donor lists and staffing outside of central headquarters.
Through fundraising agreements that involved state parties and the DNC, Clinton's campaign far outraised Trump and the Republican National Committee; all of which made the agreement to not go into debt that much less objectionable. By election eve, the thinking was that Clinton would be president, Brazile would transition out of the DNC, and the incoming chair would rebuild the party infrastructure with surplus cash and a Democrat in the White House.
It is pretty obvious we thought we were going to win. It was a plan made during a situation that ended with a very unfortunate outcome.

Top Hillary Clinton official
"[Clinton] has always been committed to a strong Democratic Party apparatus, and it was important to her going into the general election that she do everything she could to leave the DNC with resources," said Clinton spokesman Nick Merrill. "That's why she was committed to raising money for the party and for state committees throughout the fall, and that partnership with the DNC leadership left it in better financial health than it has been in any election cycle in decades."
By the next morning, the question was whether the $10 million could have been better spent flipping some 80,000 votes in Wisconsin, Michigan and Pennsylvania.
Brazile, for one, did not second-guess the decision. "You're talking to someone who has run a campaign," she said, in reference to her time chairing Al Gore's 2000 White House bid. "Of all the reasons I can give you for falling short, money was not the issue. We raised the money we needed to win."
She also noted that even after the election was over, the need to put the DNC on a more sound fiscal footing remained. In November, the DNC began downsizing it staff and consultant contracts. And with Perez now chair, the budget streamlining has continued.
"Tom Perez has instructed a top-to-bottom review of the DNC, which includes the budget and resources needed in order to make sure this is a DNC running on all cylinders," said Perez spokeswoman Xochitl Hinojosa. "He understands that the officers, including himself, have the major task of raising the money necessary to invest in grassroots organizing and in order to win elections. He is committed to this task and will be enlisting the help of Democratic leaders across the country."
Sign up for the HuffPost Must Reads newsletter. Each Sunday, we will bring you the best original reporting, long form writing and breaking news from The Huffington Post and around the web, plus behind-the-scenes looks at how it's all made. Click here to sign up!

Calling all HuffPost superfans!
Sign up for membership to become a founding member and help shape HuffPost's next chapter