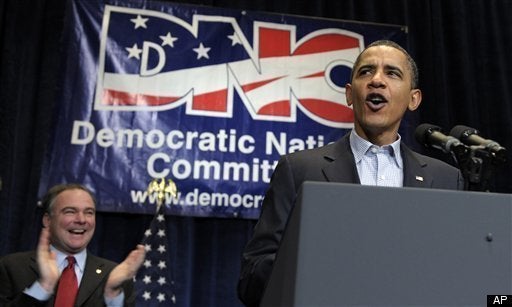 The Democratic National Committee raised at least $13 million in the month of March, nearly $2 million more than the Republican National Committee, a Democratic source tells the Huffington Post.
The haul represents a fairly rare victory for the DNC, which traditionally lags behind its GOP counterpart when it comes to raking in donations. A Democrat with the committee pointed to a rejuvenated and enthusiastic Democratic base that is willing to open up their wallets after the passage of health care reform.
That said, there is no word yet as to how much of that $13 million was immediately spent during the month or how much cash the committee currently has on hand, two other key fundraising metrics.
On Wednesday morning, the RNC announced it had raised $11.4 million in March, a total that was pitched as impressive enough to silence skeptics of its embattled chairman, Michael Steele. The numbers, however, were accompanied by some less positive fine print: only $2 million of that $11.4 was saved, bringing the committee's cash on hand to only $11.3 million.
Popular in the Community