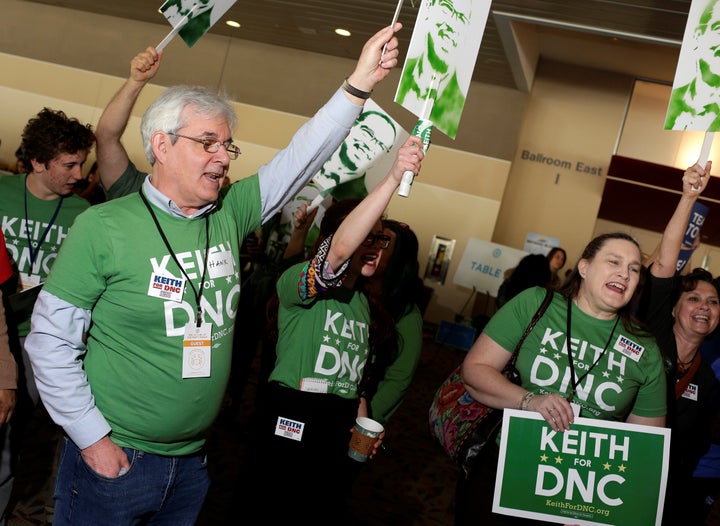 ATLANTA ― Democratic National Committee members on Saturday voted down a resolution that would have reinstated former President Barack Obama's ban on corporate political action committee donations to the party.
Resolution 33, introduced by DNC Vice Chair Christine Pelosi, would also have forbidden "registered, federal corporate lobbyists" from serving as "DNC chair-appointed, at-large members."
A majority of the 442 eligible DNC members rejected the resolution after roughly a dozen members rose to speak for and against it. Supporters of DNC chair candidate Rep. Keith Ellison (D-Minn.) could be heard cheering loudly during arguments in favor of the resolution from their seats in the section of the auditorium open to the public.
The resolution will now go to the DNC's smaller executive committee for consideration.
Obama, as the party's presidential nominee in 2008, banned contributions from political action committees, as well as from lobbyists. Former DNC chair Debbie Wasserman Schultz quietly lifted the ban ahead of the 2016 election.
Bob Mulholland, DNC member from Chico, California, was one of the bill's most vocal opponents and helped lead a successful effort to table the resolution for further review on Friday. He argued that the ban would handicap Democrats at a time when they need all the resources they can muster.
"Just a reminder that Republicans control all three branches of the government right now ― all three branches. We do not have a president in the White House," Mulholland said. "I am not a member of Mother Theresa's sisters organization; I am a member of the Democratic Party."
New York DNC Member Stuart Appelbaum, a co-sponsor of the resolution, insisted that it was crucial for voters to believe the DNC is accountable to them, not corporate interests.
"This resolution provides us an important opportunity to send a message to the people of this country as to our values," said Appelbaum, president of the Retail, Wholesale and Department Store Union.
"It is not something new: We operated this way for seven years!" Appelbaum added, referring to the Obama-era ban.
Resolution 33 appears to be narrower than the ban on contributions from lobbyists and PACs imposed by Obama, explicitly banning donations only from corporate PACs.
Ellison told HuffPost in January that he would reinstate Obama's ban on lobbyist donations. He subsequently walked back the promise, vowing only to make sure the measure was seconded and debated by the DNC's executive committee.
Popular in the Community