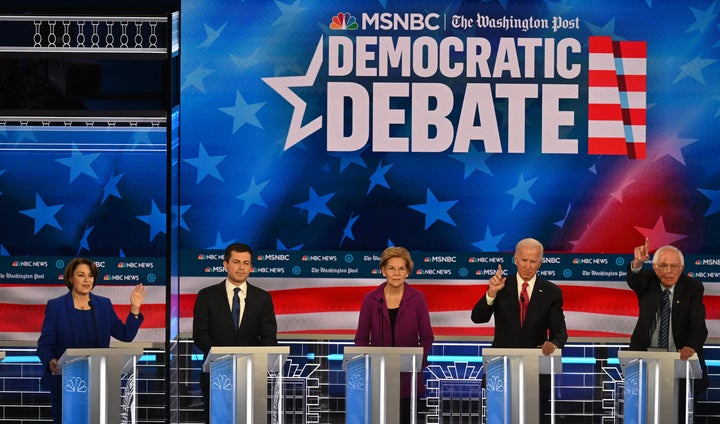 The Democratic National Committee announced the details of the Democratic presidential debates in the first four primary and caucus states on Thursday.
The debates are organized in partnership with the local Democratic parties of Iowa, New Hampshire, Nevada and South Carolina.
Jan. 14: CNN, in partnership with the The Des Moines Register, will host the seventh debate at Drake University in Des Moines, Iowa.

Feb. 7: ABC, in partnership with WMUR-TV and Apple News, will host the eighth Democratic debate at St. Anselm College in Manchester, New Hampshire.

Feb. 19: NBC News & MSNBC will host the ninth Democratic debate in Las Vegas, Nevada — in partnership with The Nevada Independent.

Feb. 25: CBS News and the Congressional Black Caucus Institute will co-host the tenth Democratic debate at The Gaillard Center in Charleston, South Carolina. Twitter will be a debate partner.
Each is scheduled days or weeks ahead of the primary or caucus in that state. The first of those is in Iowa on Feb. 3, then New Hampshire on Feb. 11, Nevada on Feb. 22 and South Carolina on Feb. 29.
Fifteen Democrats remain in the race, though many of them are expected to drop out after the early primaries. Since the 1970s, when the current iteration of the DNC's primary system first formed, only one Democratic candidate has lost in both Iowa and New Hampshire and gone on to win the party's nomination: former President Bill Clinton in 1992.
Democrats have one more debate on Dec. 19 before these primary-specific ones kick off. So far, just seven of the candidates have qualified.
CORRECTION: A previous version of this story stated that no Democrats running for president had lost primaries in Iowa and New Hampshire and gone on to be the nominee. Bill Clinton did so in 1992.